All Roads Lead To Hell
+ an interview with HEAVY author Dan Franklin
One of the most beautiful things about comic-books is that there are no barriers to entry. To get started making comics, all you really need is a blank sheet of paper, a pencil and a pen. There are no monetary budgets limiting what you can put on the page and in theory, nobody can stop you from bringing your vision to life. However, the ease of entry can also lead to a lack of quality control. That same freedom can also become an obstacle that hinders your growth. To improve and identify your own weaknesses, you'll need an editor.
One of the most significant moments in my career as a writer stemmed from one of the first editorial teams that I ever worked with, who opened doors for me that had previously been closed. That moment was working on the eight-page strip, ALL ROADS LEAD TO HELL.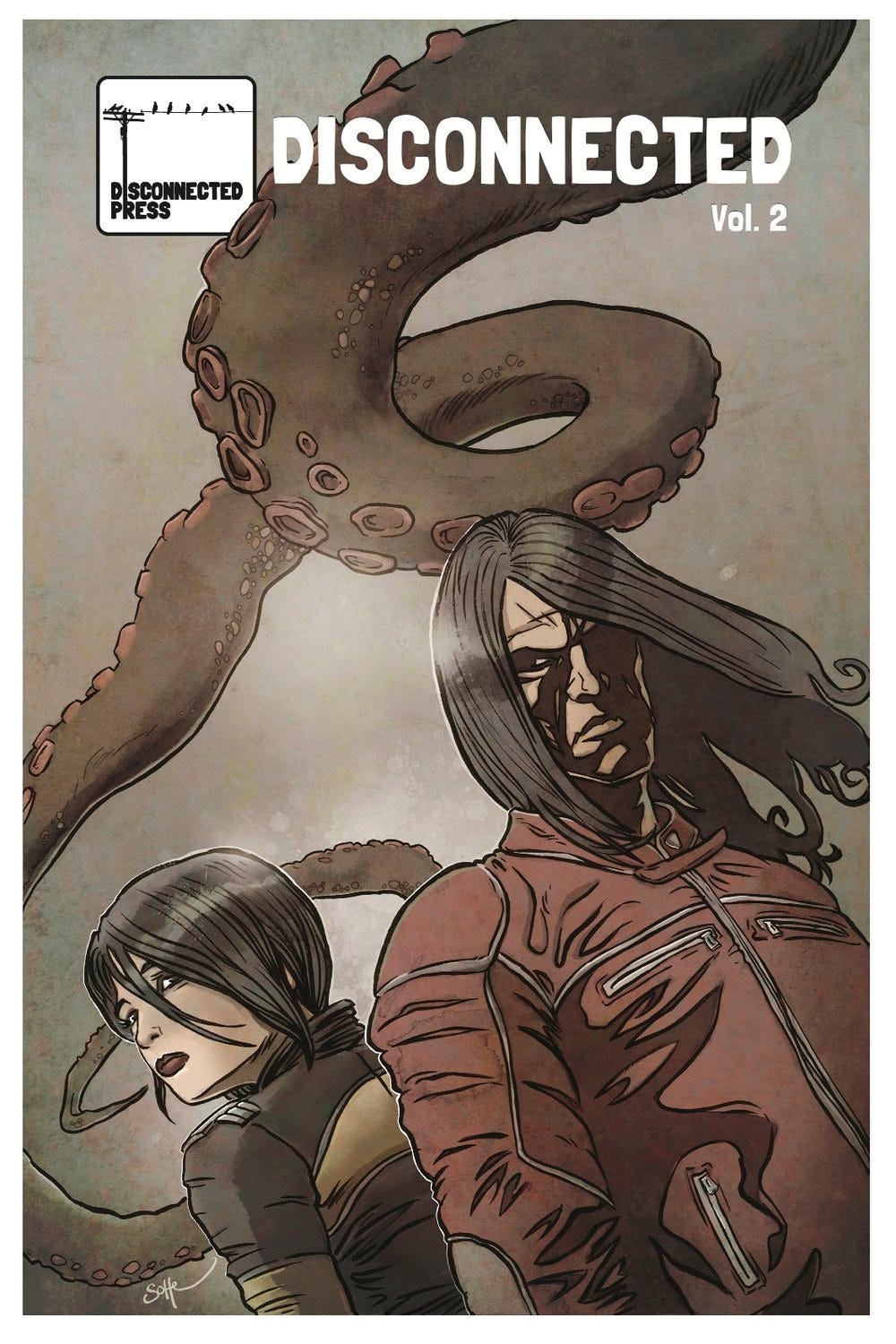 DISCONNECTED Volume Two cover by Matthew Soffe (2012)
In 2012, UK comics felt like they were in a strange place. You could see it in the British Comic Awards (BCAs), which were established that year as an antidote to the bias towards creators working on mainstream US titles that had been championed by the Eagle Awards before their demise. Unfortunately for me and a lot of my peers, the nominees and judges for the BCAs reflected the dominant taste within British comics at the time, which leaned more towards autobiographical diary comics and an aversion to more overtly "genre" comics with fantasy, horror or sci-fi trappings.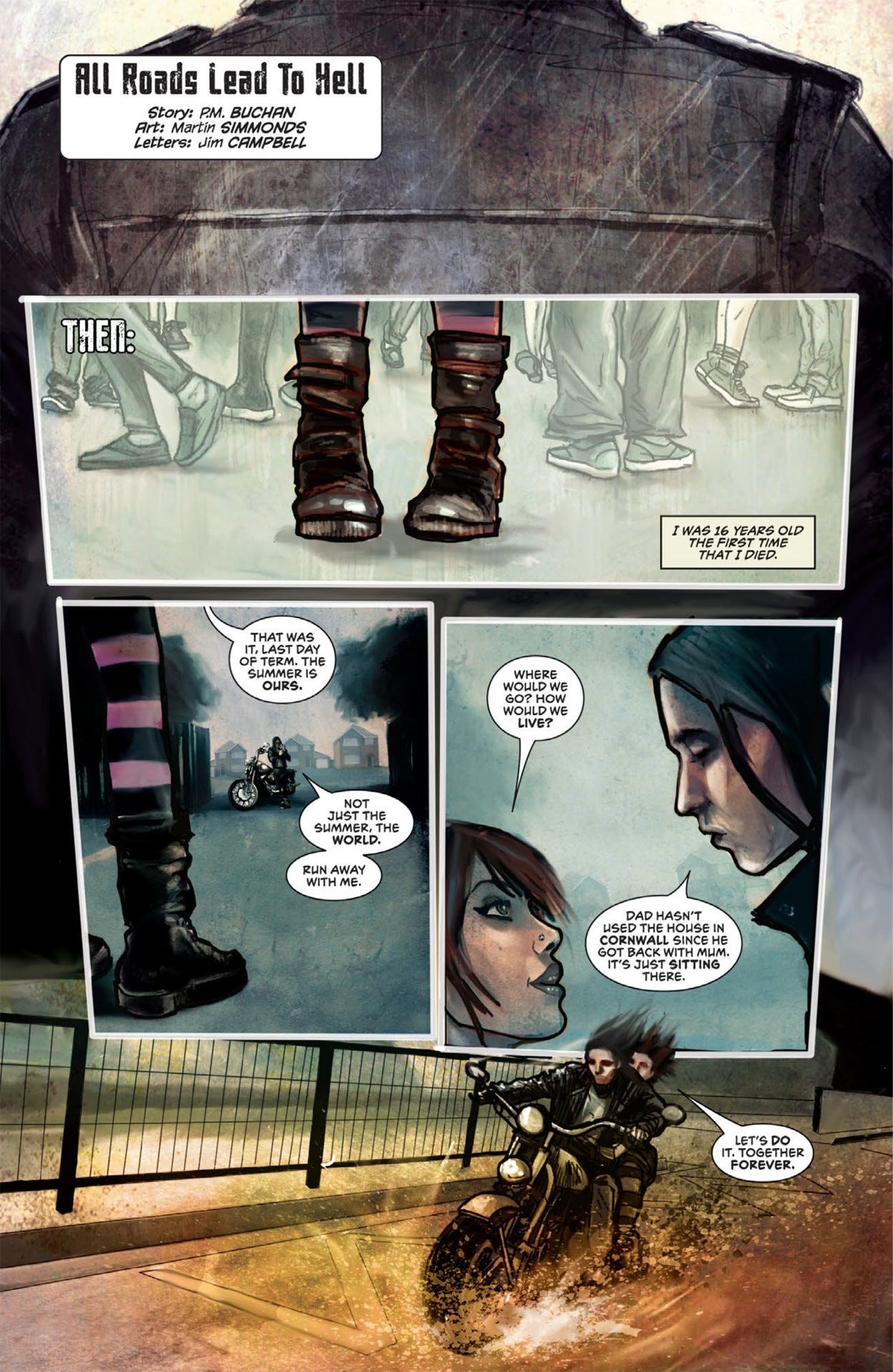 This has been the case in the UK for years, with the majority of mainstream news coverage favouring more ostensibly noble comics, presumably because of the misguided notion that an art form's validity is directly proportionate to how many people it can entertain. I'm joking, but only partially. There should be room for sensitive graphic novels about the end of the summer and historical biographies to be celebrated side-by-side with bubble-gum chewing comics about brash punks on space stations, but the remit of what seems to be deigned worthy of acclaim or scrutiny in the UK is still very narrow and feels fuelled by the same prejudice that values literary fiction over genre fiction.
Around 2012 was the period that I was working on the obscene horror-comix anthology BLACKOUT. I was intensely proud of what we had created, but it felt like I wanted to make comics that nobody in the UK wanted to read. The darker and more offensive the stories that I was writing, the more sweetness and light seemed to be celebrated and sought after by publishers. However, that same year, Lizzie and Conor Boyle set up Disconnected Press, to publish comic anthologies that gave a platform to some of the great emerging talent in UK comics.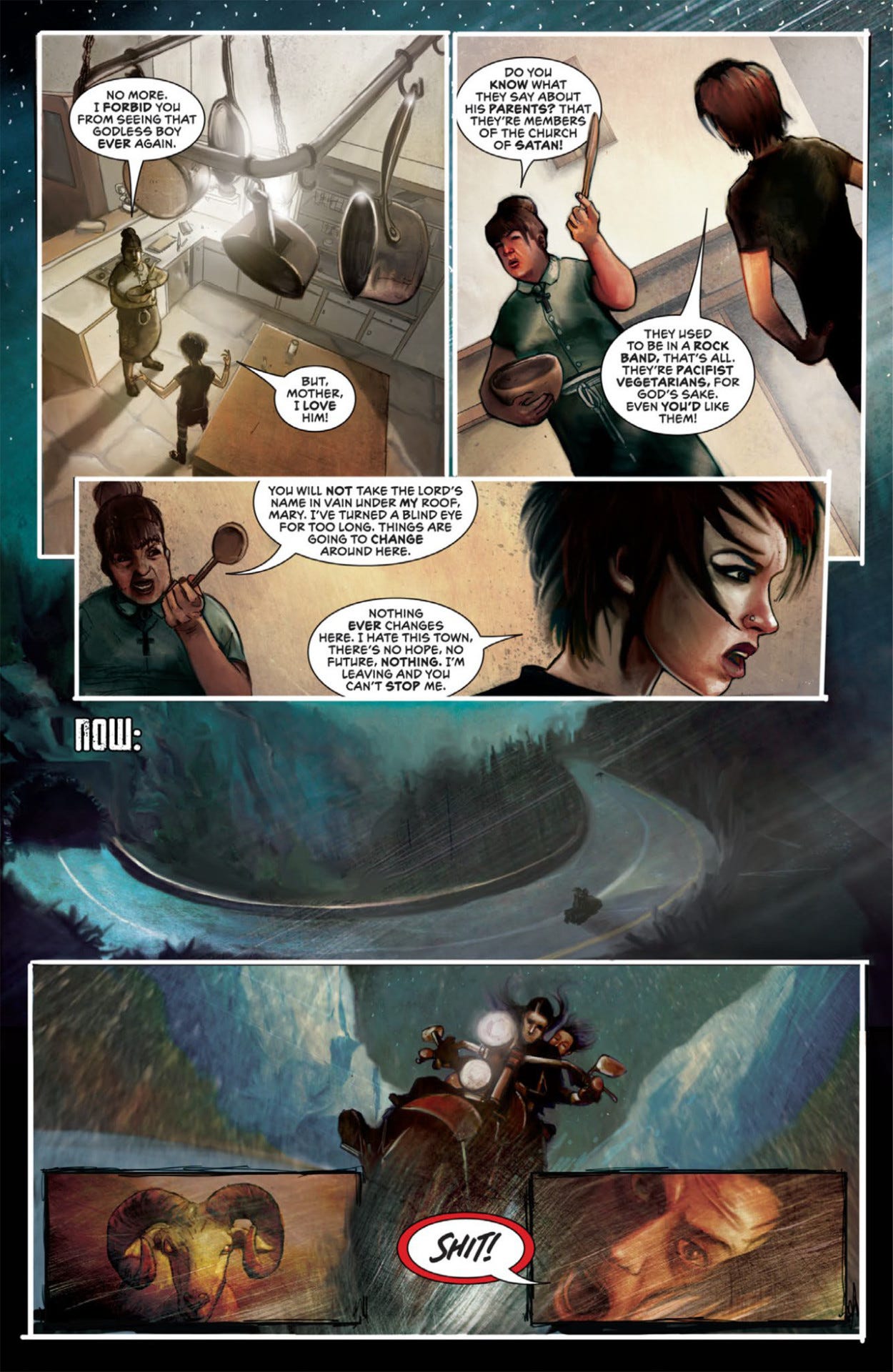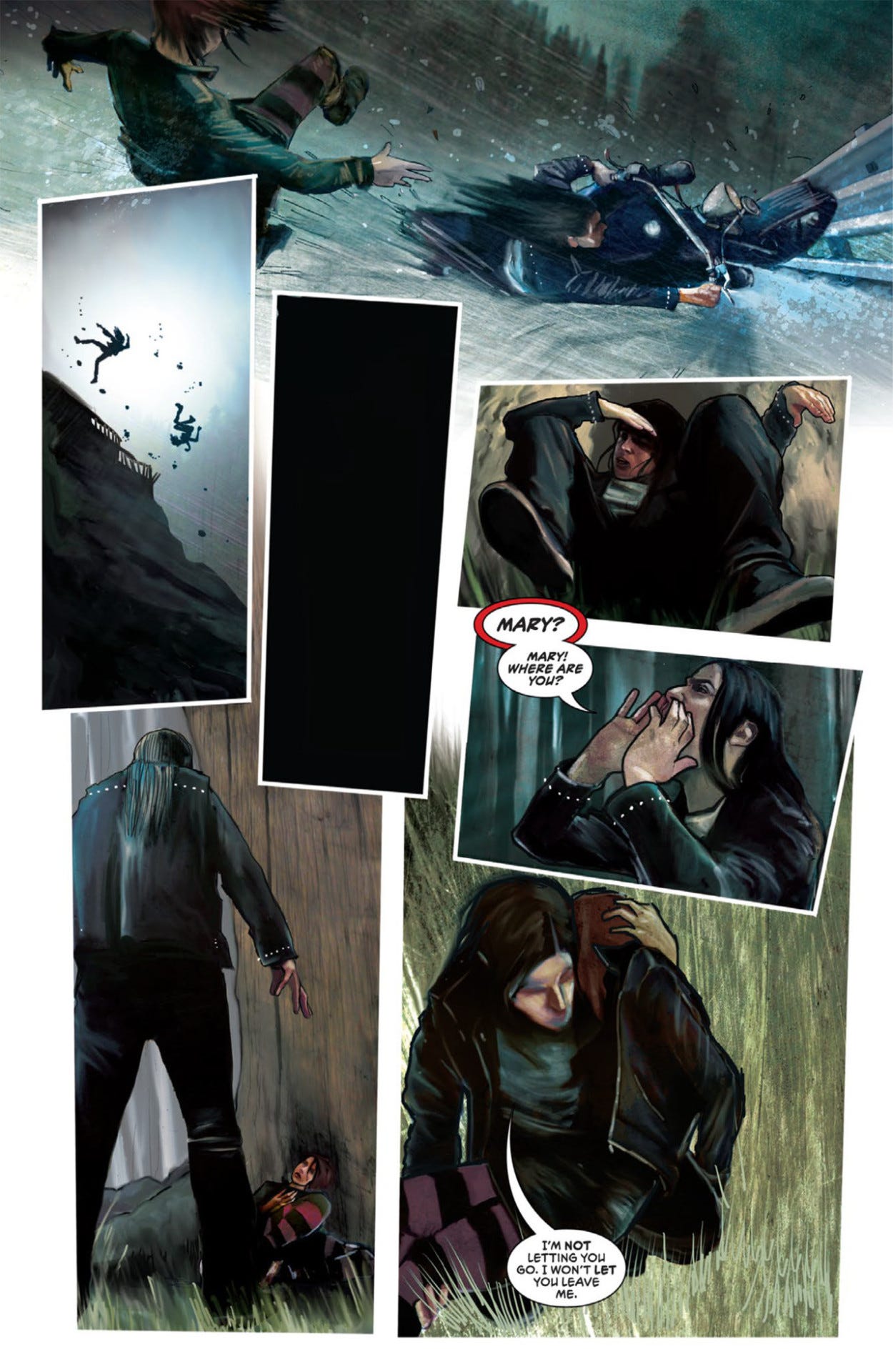 In Lizzie's own words, "There seemed to be a gap between self-publishing your work and being a comics pro, and we thought it was important to give creators a chance to expand their portfolios and their range and to reach a wider audience. We included ourselves in this: we were both aspiring newbies back then."
They knew what they were talking about too. Since then, Lizzie has gone on to write for 2000AD's Scream & Misty and Cor Buster Specials and edited their Tammy & Jinty Special last year. Conor, one of my favourite creators in the UK, has drawn for Heavy Metal, Titan, the National Trust and Historic Scotland, among others. I've been hoping to collaborate on something meaningful with Conor for years, but the closest we've come to date was his inclusion in the HERETICS exhibition that we held as part of Thought Bubble.
When Disconnected Press was a new endeavour, I was trying to stretch myself and contribute to as many anthologies and group projects as possible. Lizzie and Conor edited and published an anthology called DISCONNECTED, pairing up writers and artists who had never met, so as soon as I heard about it there was no question that I'd try submitting something. The artist that they paired me with was, at the time, a relatively unknown illustrator and graphic designer called Martin Simmonds, who is now working with Joe Hill on DYING IS EASY for IDW, after a celebrated run on PUNKS NOT DEAD, also for IDW/Black Crown, with David Barnett, Aditya Bidikar and Shelly Bond.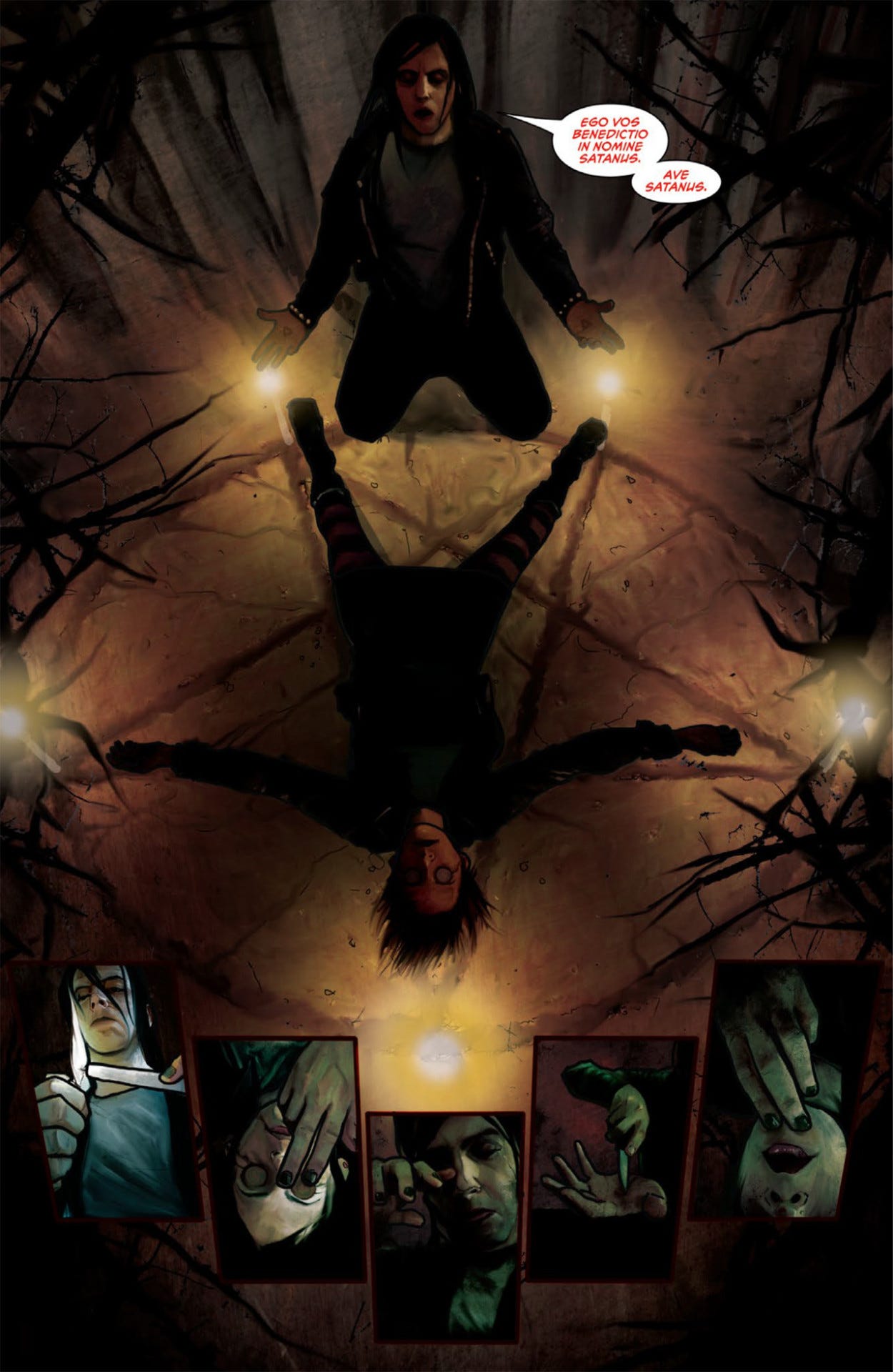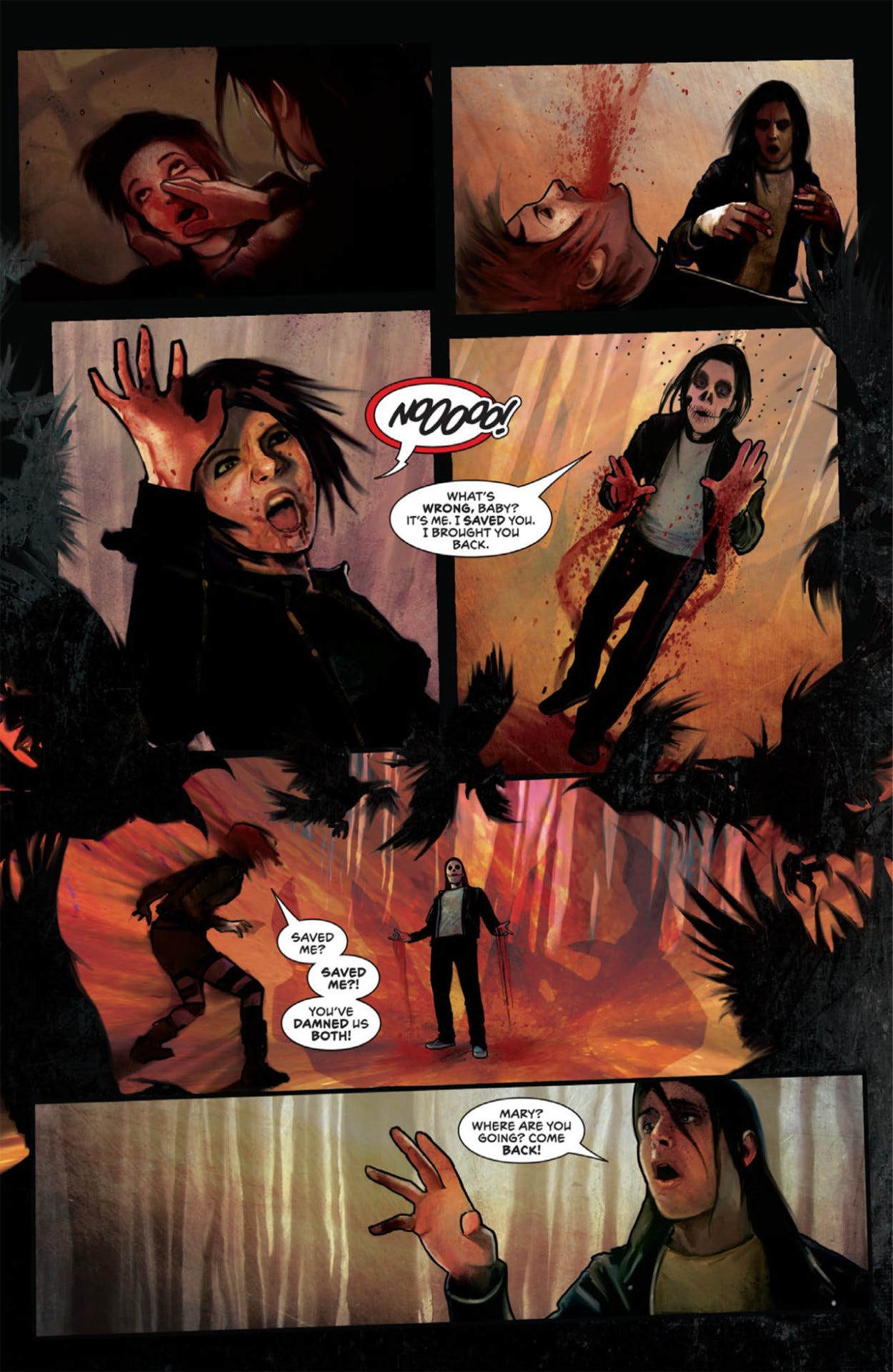 I asked Lizzie why she first paired us up, beginning a series of collaborations that would stretch on for years. "The theme for the DISCONNECTED anthologies was 'stories set in small towns'," Lizzie said, "but we never dictated genre or style. That was up to the creators. So you had these wild rides through horror, mystery, romance, comedy and usually back to horror again."
"We knew that you were always going to write us something dark and there's a tendency to look for the artist that uses the most black ink for those stories. But why not let horror be rich and lush? Martin's work is like walking through a rainforest: it's dense, it's humid, the world is closing in on you, but it's also beautiful and vibrant and alive. With the doomed teen romance horror vibe of the story, why not put those two styles together? We had no idea what it would lead to...!"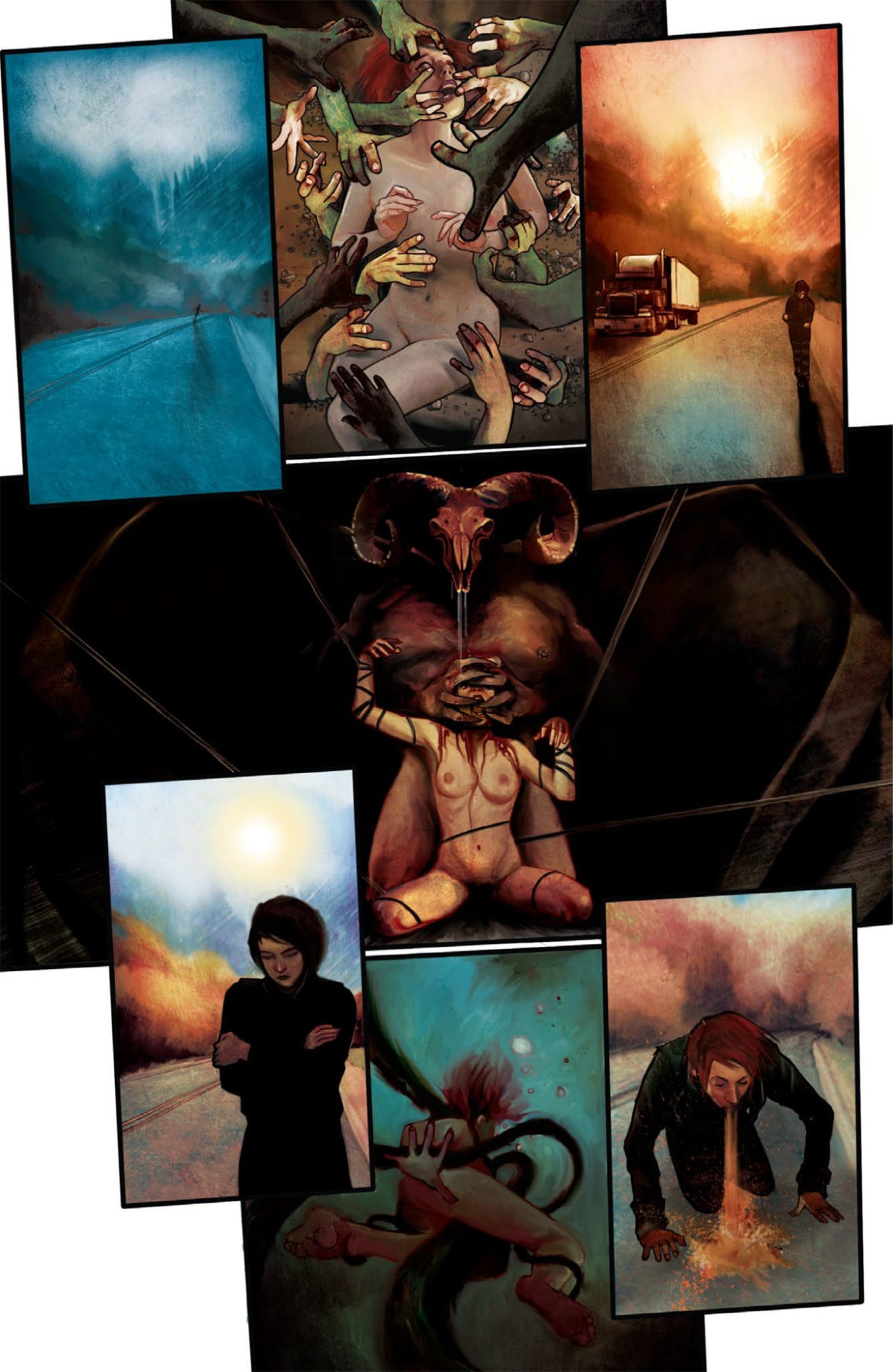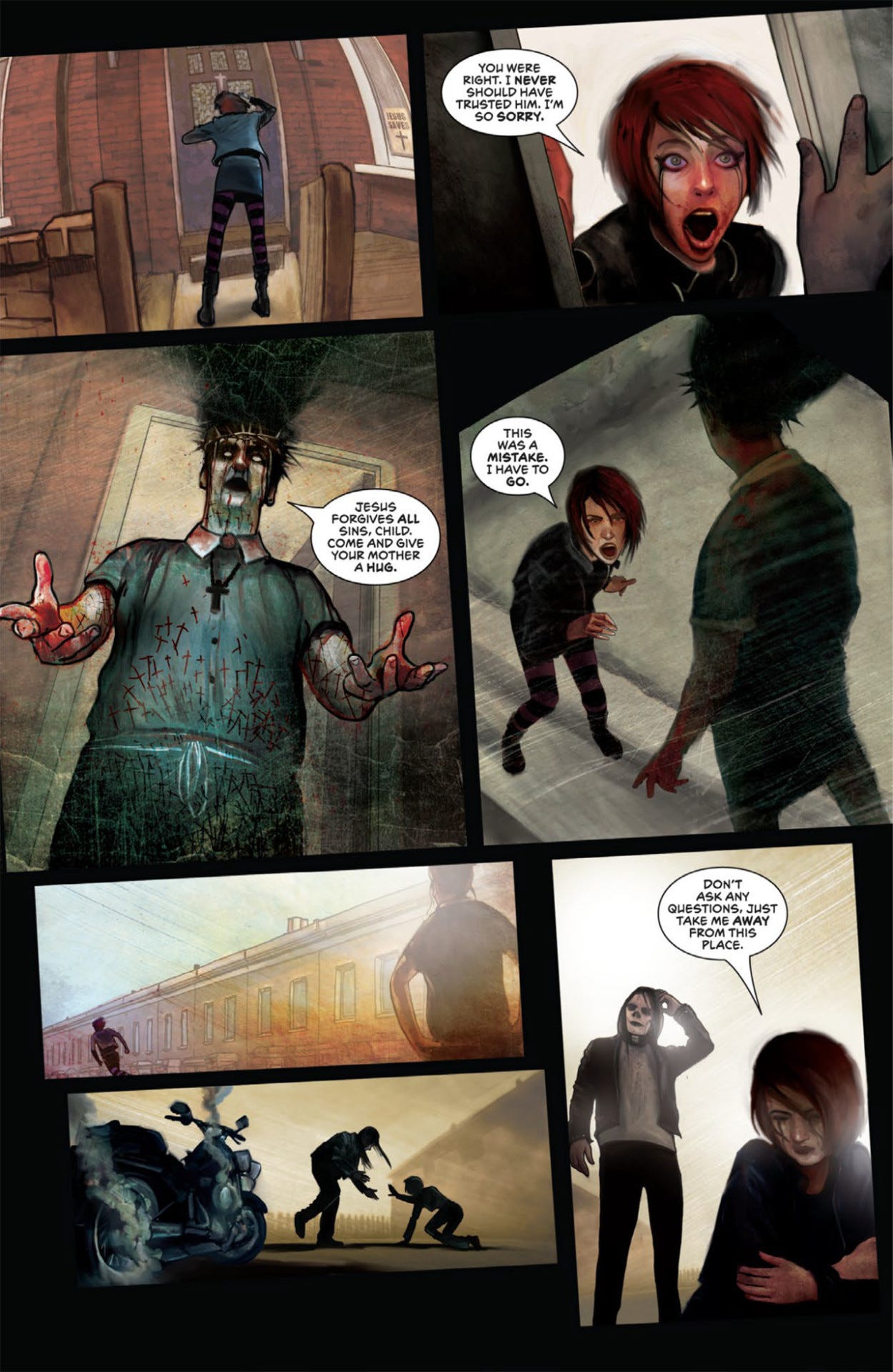 Our eight-page strip, ALL ROADS LEAD TO HELL, was lettered by Jim Campbell and featured in DISCONNECTED Volume Two. The cover of the anthology was even based on our strip, illustrated by Matt Soffe. Because of that strip, Martin and I also worked together on a two-page strip for Starburst Magazine, Martin contributed a cover to my pitch for a DOOMED ROMANTICS anthology of graphic adaptations of dark romanticism, and eventually we worked together on the series HERETICS, the zero issue of which was published by 44FLOOD.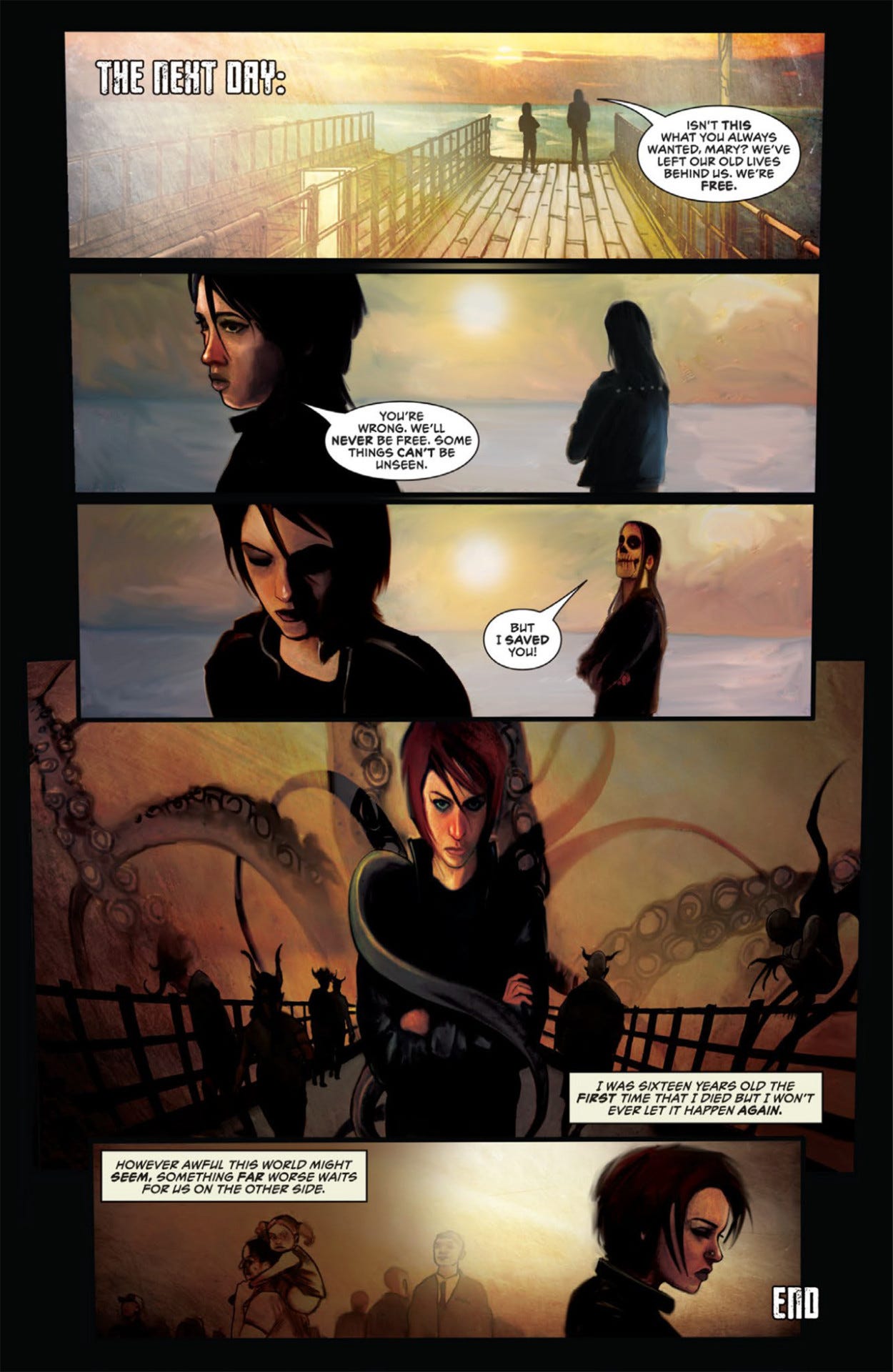 ALL ROADS LEAD TO HELL distilled a lot of the themes that I still circle around in my writing, of death and rebirth and what lies beyond. Collectively, Lizzie and Conor were the first people to show me what an editor could bring to the table in a professional relationship. If they hadn't take a chance on pairing me with Martin, there's a good chance that I wouldn't be making the dark art that I love so much today. Collaborating with Martin allowed me to prove that my ability to create disturbing horror-comedy would translate into something more serious and long-form. They were the first editors to take a chance on me in that way, setting me on the path that led to working with artist John Pearson on our current contemporary folk-horror, BLOOD MOON.
Editors who can connect you with creators you've never collaborated with before are invaluable. I've worked with some incredible artists, people who now regularly carry their own Image series or are commissioned by Marvel and DC for some of their top work-for-hire properties, but having chosen so successfully, that means that when I'm working on pitches to publishers I need to hunt down artists on the cusp of breaking through who are also looking for writers to work with.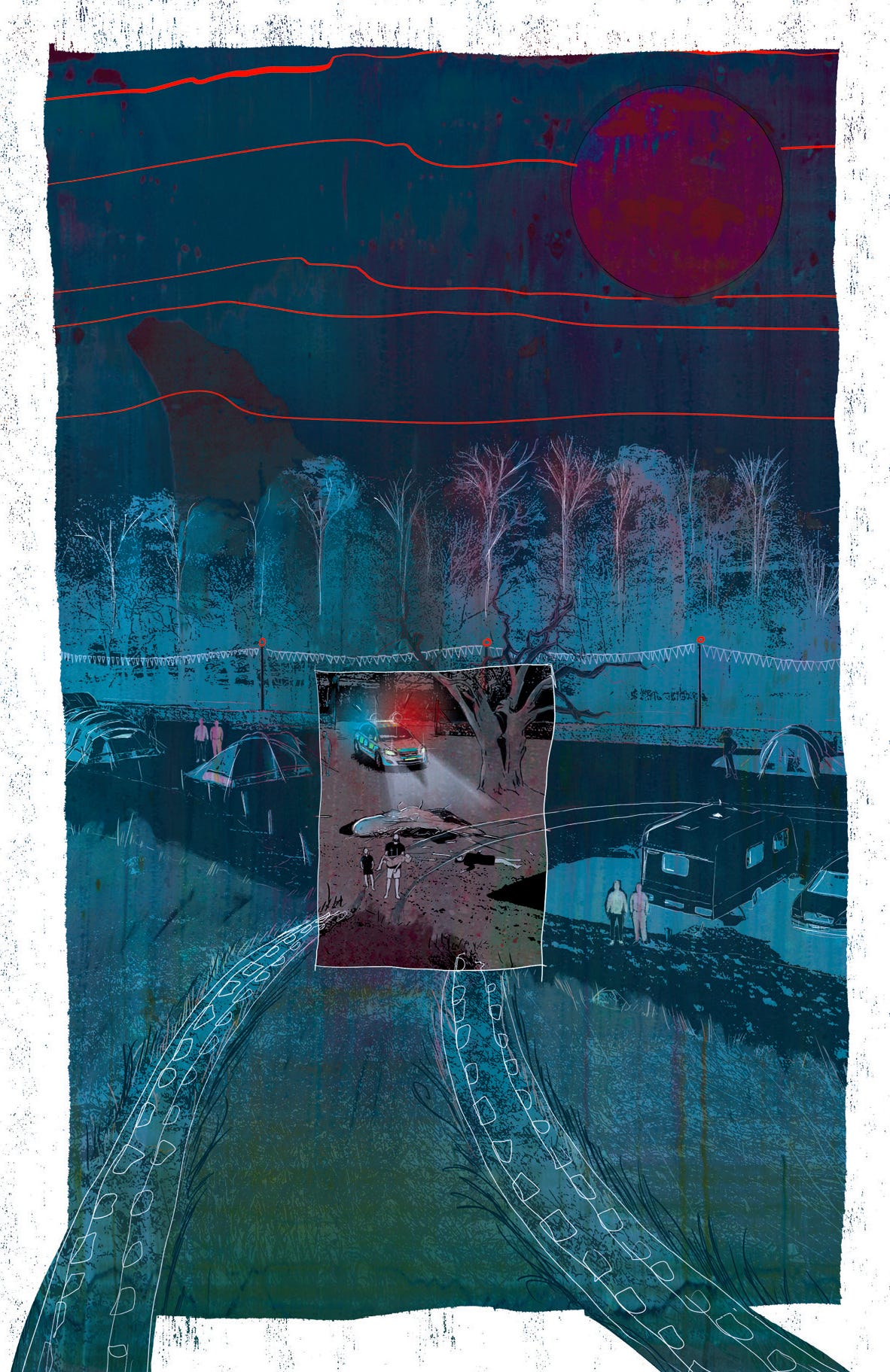 BLOOD MOON Chapter One - Page 11, artwork by John Pearson
As an example, look at the work John Pearson and I are doing together on BLOOD MOON. Since we first came up with those ideas, John has contributed to multiple books for Image, including now colouring BLUE IN GREEN with Ram V, Anand RK, Aditya Bidikar and Tom Muller. If John isn't on the cusp of breaking through to the big time, then I've never met anybody who is! It's like trying to capture lightning in a bottle, being in the right place at the right time to find collaborators on a similar level to you, but editors are ideally placed to make those connections.
On Twitter yesterday Shelly Bond, former Executive Editor and Vice President of Vertigo Comics famous and founder of Black Crown, said "The best editors ask the right questions & most important: hold you accountable. Editing comics has always been an invigorating art form for me. Part conducting a symphony, part yanking out the guts of an old car. There's no greater job on earth." Which sounds like a pretty great summary of what an editor brings to the mix in comics. I've been fortunate enough already to work with some excellent editors, all of whom have taught me something that has improved everything I've written since.
Kasra Ghanbari used to make me read out all of my scripts over a video call while we were editing, a habit that really helps to streamline your dialogue and sift out any clunkers! And Hannah Means-Shannon, who's currently editing BLOOD MOON, used to ask me to cut out, on average, about a million words on every page of dialogue that I had written, until I got the message and started to edit myself more ruthlessly before sharing scripts with her.
For ambitious, emerging comic creators with limited budgets, it feels like editors complicate the process of making comics by adding another person in the mix who needs to get paid for their time. But when you're ready to take that next step towards improving your work, they become absolutely invaluable.
---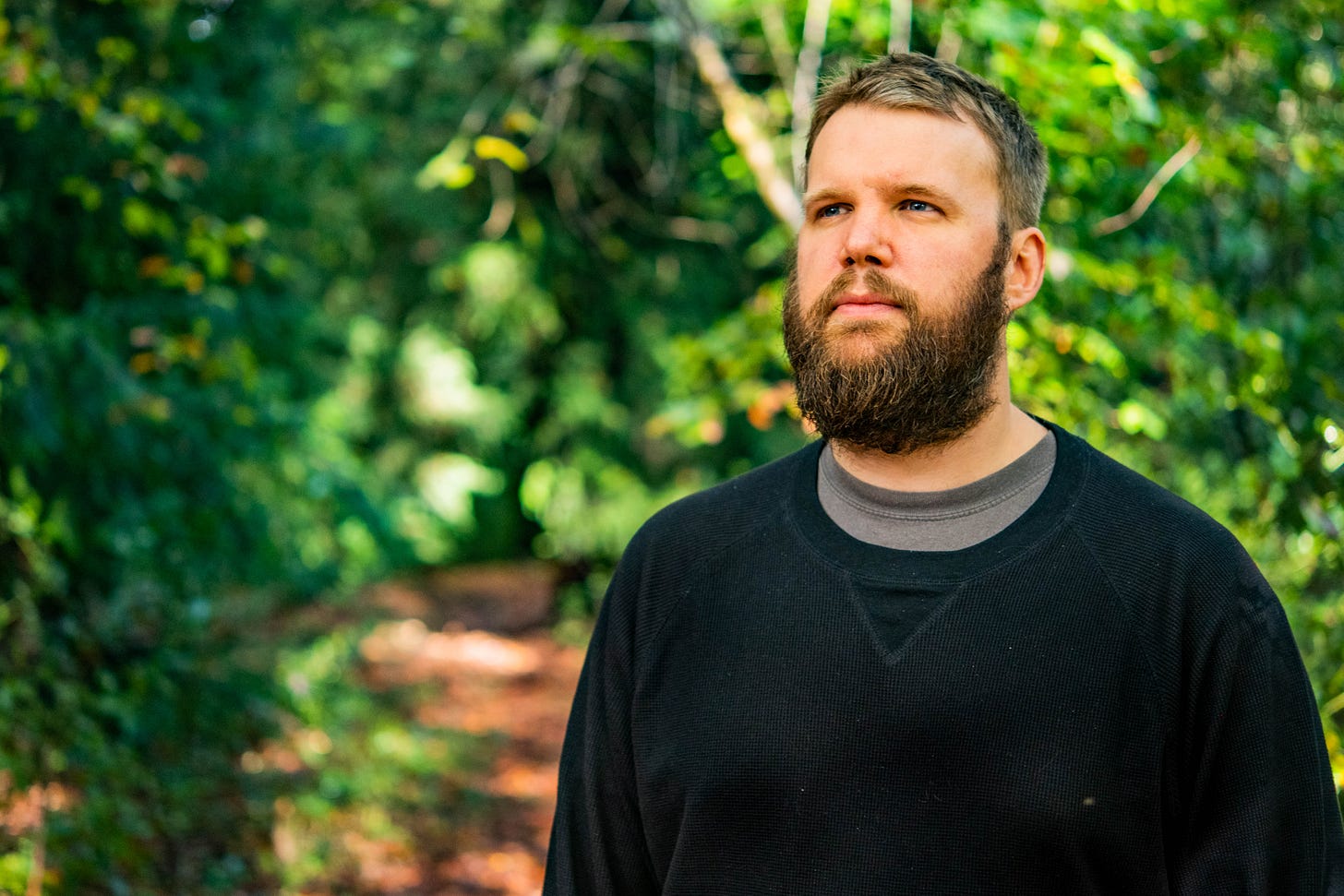 This week I've interviewed Dan Franklin, author of the recently released HEAVY: HOW METAL CHANGES THE WAY WE SEE THE WORLD. I first became aware of Dan's work in 2013, when I narrowly missed meeting him at the launch of Panel Nine's iPad digital graphic novel app, SEQUENTIAL. This was a year before Dan worked with author Rob Sherman on the interactive online fiction project, BLACK CROWN (no relation to Shelly Bond's publishing label!), a grossly physical, Cronenbergian nightmare of a story.
In the course of his career Dan has worked as Digital Editor for Canongate and Penguin Random House, and later as Digital Publisher for Penguin Random House UK and Senior Commissioning Editor for Pottermore Publishing. I'm pretty sure he played an instrumental role in the online version of The British Library's Harry Potter: A History of Magic exhibition. And most relevant to my interests, he writes about some seriously dark and heavy music for The Quietus!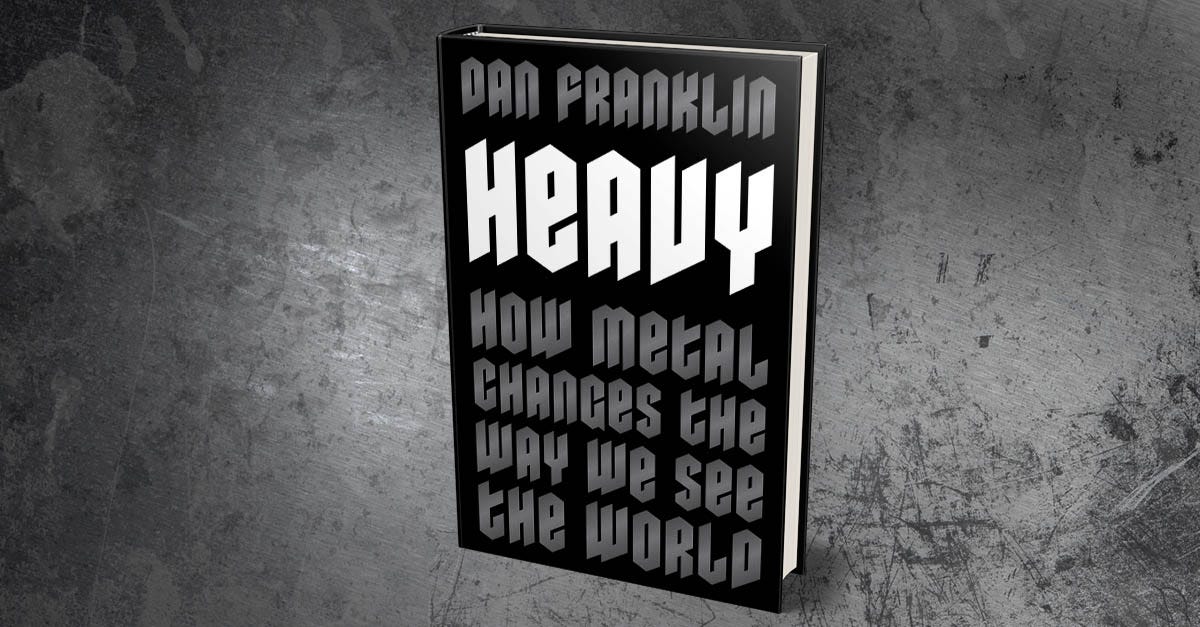 1/ What is the one realisation or event in your life that has most influenced your career to date?
It was being made redundant from my job in the publishing industry in 2016. It knocked me off my axis but spurred me to change my approach and become more dispassionate about work. I also got some good advice when I departed, which was to pursue something I truly 'owned'. As someone who specialises in digital publishing I often got co-opted into projects. It was one of the reasons I pursued writing harder as a second string. No book is published in isolation but when it's got your name on it, it's yours (under license! haha)
2/ What lessons have you learned in publishing or what hunches have you had that you wish more people would act upon?
I love the publishing world, but too often new entrants conform to the way things have always been done. There is very little active mentoring and practical career guidance, so young people have to learn by observation. That lends itself to doing things the tried and tested way: from the cadence of meetings to the types of books being published.
This has improved in the last five years with a generational shift across the industry, but as someone with a specialist interest in digital publishing I didn't like terms like futurologist or any crap like that. I want to be present and active in the 'now', anticipating the future. If more incumbents acted on this mindset I think the industry would have been better prepared for the disruption currently wrecking havoc. 
3/ What is it about heavy music that you feel makes it such a vital part of your life?
Well, I wrote HEAVY to ask this question and attempt to answer it! Even now, things occur to me that I could have included. There is (and I think this is essential) an ineffable quality to heavy music which defies explanation (like a lot of music to those that love it). But to narrow it down, it's a lot to do with the overwhelming sound energy of heavy music - there is no quarter given, it is 'All Out Life' as Slipknot put it.
I like the way that heavy music explodes small stuff into feeling like it is of all-consuming significance: it's quite solipsistic in that sense but also deeply life-affirming. And I like how it grapples with the BIG STUFF (power, death, sex, violence, anger, love, etc), in the same way as Greek tragedy, high opera, 19th-century Russian epic novels. You can listen to more intimate music (and heaviness can be intimate too), but it's just perfect for tapping into the emotional arteries. I'm very happy as a solitary listener to heavy music but I appreciate the passion of the community as well.
4/ If you could travel anywhere in time, what gig or musical event would you travel to and why?
This is tough. I would have loved to have seen Miles Davis and John Coltrane at their height (together or apart, either fine!) I'm lucky that a lot of the seventies heavy rock greats have reformed in one form or another, but to sit in on Pink Floyd recording 'Live At Pompeii' would have been mind-blowing (l've always wanted to be one of the shirtless guys manning the cameras you seen in the wide shot at the beginning). Also, I would have killed to see Pantera in some arena in the midwest of the US when they were at their peak in '96-'98. 
5/ If you woke tomorrow and were no longer constrained by time, budgets or even skills that you haven't learned yet, what would you make?
I would love to create an experience that would last a lifetime. I have a pipe dream about putting on a weekender at the Minack Theatre in Cornwall - like a stoner/doom concert like no other (inspired by something like 'Live At Pompeii'). I have no experience of anything like that or how to go about it, but I have an inkling. Fuck it, I might try it!
---
BLOOD MOON is a contemporary British folk-horror set on the eve of the UK's divisive Brexit referendum. BLOOD MOON is created by me, John Pearson, Aditya Bidikar and Hannah Means-Shannon. You can read the story so far online, with future chapters released to John's Patreon subscribers first before being added to the main webcomic.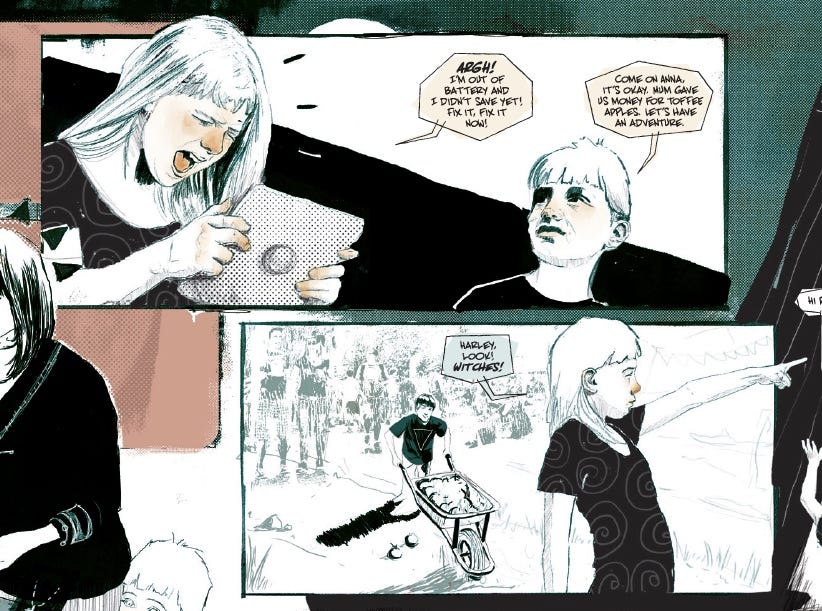 ---
Normally, every newsletter I like to share a Spotify playlist that exposes you to the music that inspires me when I write. This week, however, it seems appropriate to share the link to Dan's HEAVY playlist, designed to "impart something of the power and magic of heavy music". Which is a cause that I believe is worth fighting for! 🤘
---
Stay strong during this period of isolation. We're coping much better at home now after a period of adjustment, my writing has been more productive and I've found time to start playing through the new Final Fantasy VII remake, which has a save structure that's very forgiving towards a dad who can only play in unpredictable 20-minute bursts!
BLOOD MOON chapter two is still on the horizon. I'm not hassling the others in the team, because we're all managing workloads around coronavirus in our own ways and the world won't end if the second part of chapter two takes another week or so. I finished writing chapter three and there's some pretty horrific stuff in there, so it feels like the story is really ramping up. Every story that I write always escalates eventually into the Texas Chainsaw Massacre vibe of "who will survive and what will be left of them?"
Things aren't all rosy, there are people very closer to me with severe vulnerability to the coronavirus, but for now we're all isolating, we have a garden with space for the children to play, and we're reaching a balance that makes the days more manageable, even if it doesn't leave any one of us much personal space. I hope you're managing too, any way you know how.
If you want to talk about anything in this newsletter, hit me up on Twitter @PMBuchan.