Discover more from IF YOU GO AWAY - News from P M Buchan
News about projects from writer P M Buchan, reflections on the creative process for projects that crashed & burned, plus dark & transgressive art recommendations.
Apocalypse Romance
+ an interview with Lucy Sullivan & meditations on Helter Skelter...
Recently I reached the midway point in writing scripts for BLOOD MOON and my mind is circling around what I want to write next. I have around six pitches for graphic novels, ongoing comic-book series and European-style one-shots that I'm hunting for editors or publishers to work on with, but experience has taught me not to get too far ahead writing scripts before finding a way for the artist to get paid for their time. Otherwise, down that road lies the regret of pouring your heart into a project that nobody might ever see. Comics are not prose and a script that will never be illustrated is nothing more than a coaster for your drink.
I'm thinking about what I want to write next and this stage feels familiarly uncertain, as I prod and poke at recurring thoughts and concepts, feelings and images. I make no secret of the fact that in my head, everything I write is a love story, but I don't know whether anybody but me would see my stories that way. When I first started pitching to publishers, I described my style as Apocalypse Romance – transgressive love stories about the difference between dreams and reality. I think that probably that still stands.
My first novel, which was how I taught myself to write, was a love story set at the end of the world, based on the John Keats poems LAMIA and the EVE OF ST AGNES. It was about feeling trapped in my home city, Newcastle-Upon-Tyne, about feeling paralysed by indecision and a lack of conviction. But also, because it was my first novel-length story, it was also about everything else and must have suffered from the same kind of sprawling ambition and lack of focus that drags down so many first novels. Bret Easton Ellis, I was not.
If I'd known what a singular vision I had of growing up in Newcastle, of longing to escape at the same time as desperately trying to fit in with people who never wanted to leave, then I might have written a better novel. I suspect that those are concepts I'll revisit one day.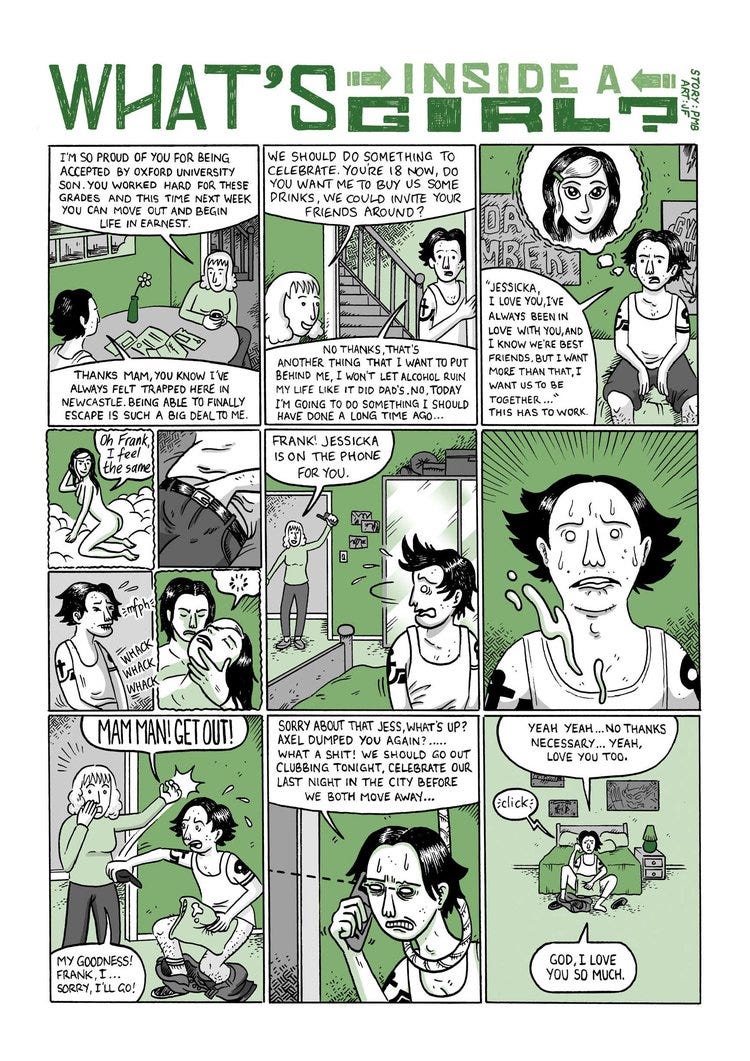 BLACKOUT - WHAT'S INSIDE A GIRL? artwork by Jack Fallows
Our obscene horror-comix anthology, BLACKOUT, is probably the most honest appraisal of how I felt growing up in Newcastle, because thematically most of my strips in the anthology stemmed from fears around the drinking problems that I developed there. As an early teenager, I lost my way at school. I felt isolated, aimless and friendless, until the first time that I drank alcohol, which was also the first time that I went to a bar, the first time I kissed a girl and the first time I kissed somebody else's girlfriend. My social life was transformed overnight and within a month I went from having no friends at school to hanging around with Newcastle's punks, skaters and goths.
Alcohol worked brilliantly, giving me the confidence boost that I needed to grow into the person I'd always wanted to be. It worked brilliantly, until it didn't. One day I had my first blackout, and it seemed funny, like a rite of passage, but they became longer and more frequent, until I couldn't drink in my early twenties without losing any recollection of the night before. Then I started having these intense nightmares about blacking out and waking up to be told that I'd killed somebody and we'd buried the body somewhere and agreed to keep it a secret. I'd wake so disoriented that I couldn't tell the difference between dreams and reality, wondering what had happened, where the body was and who else knew.
My next comic, LA BELLE DAME SANS MERCI, was borne from my love of the poem of the same name by Keats, combined with an inescapable feeling that one of the greatest poems in the English language perpetuated and promoted the misogynistic myth of the wicked woman, which would eventually morph into film noir's femme fatale. Surely nobody is just born evil? We can do wicked things out of necessity, or be shaped by our upbringing and circumstances to behave in seemingly wicked ways, but surely that's not the same as being born evil?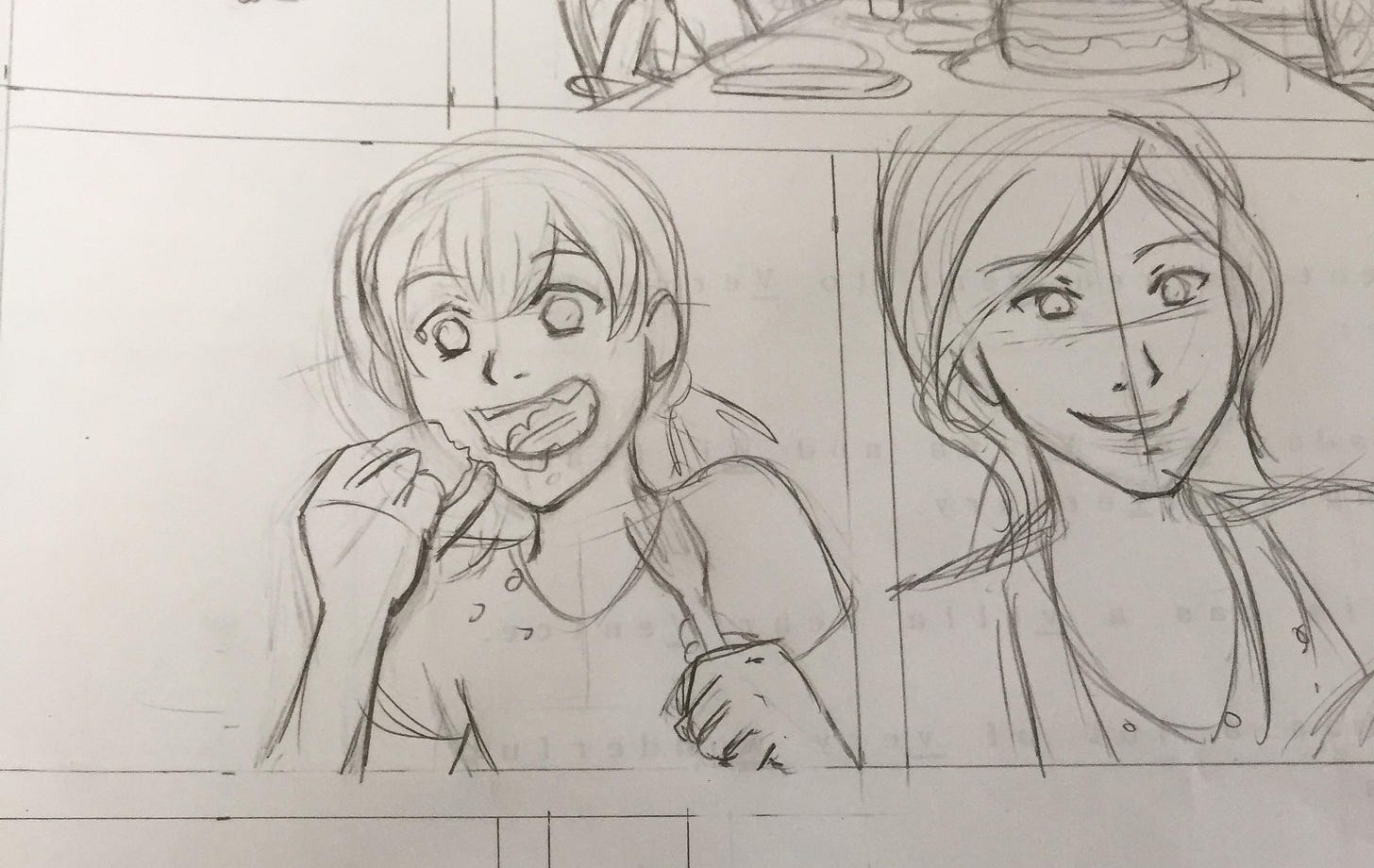 LBDSM Chapter Four preview by Karen Yumi Lusted (work in progress!)
That line of thought led me down an avenue that I've never really escaped. I read Vincent Bugliosi and Curt Gentry's 1974 book HELTER SKELTER: The True Story of The Manson Murders, which was my introduction to a group of all-American teenagers who broke into a famous actor's house and murdered her and her unborn baby. The more I read about Charles Manson and his followers, the more fascinated I became. They were not so much all-American teens, but a collection of individuals who were intrinsically damaged by parental neglect, hardship and cruelty, and whose lives were ruined when they fell under the influence of an older, charismatic self-styled guru whose own childhood was the most horrific of them all.
My second novel, which I still haven't quite finished, is based on those ideas – what it would be like to fall in love with someone who became trapped in the orbit of somebody charismatic and profoundly broken, like Charles Manson.
Some ideas are so complex and compelling that a single story doesn't feel like enough to address them. The Manson Family weren't criminal geniuses, they were mostly kids, off their faces on LSD in the desert, starving in the desert while they waited in vain for stardom to come knocking. Their reign of terror ended because they were overconfident and none of them knew anything about discretion. But what if they hadn't been stopped? If their cult had continued, what would it be like growing up in a family like that? That idea gave birth to HERETICS.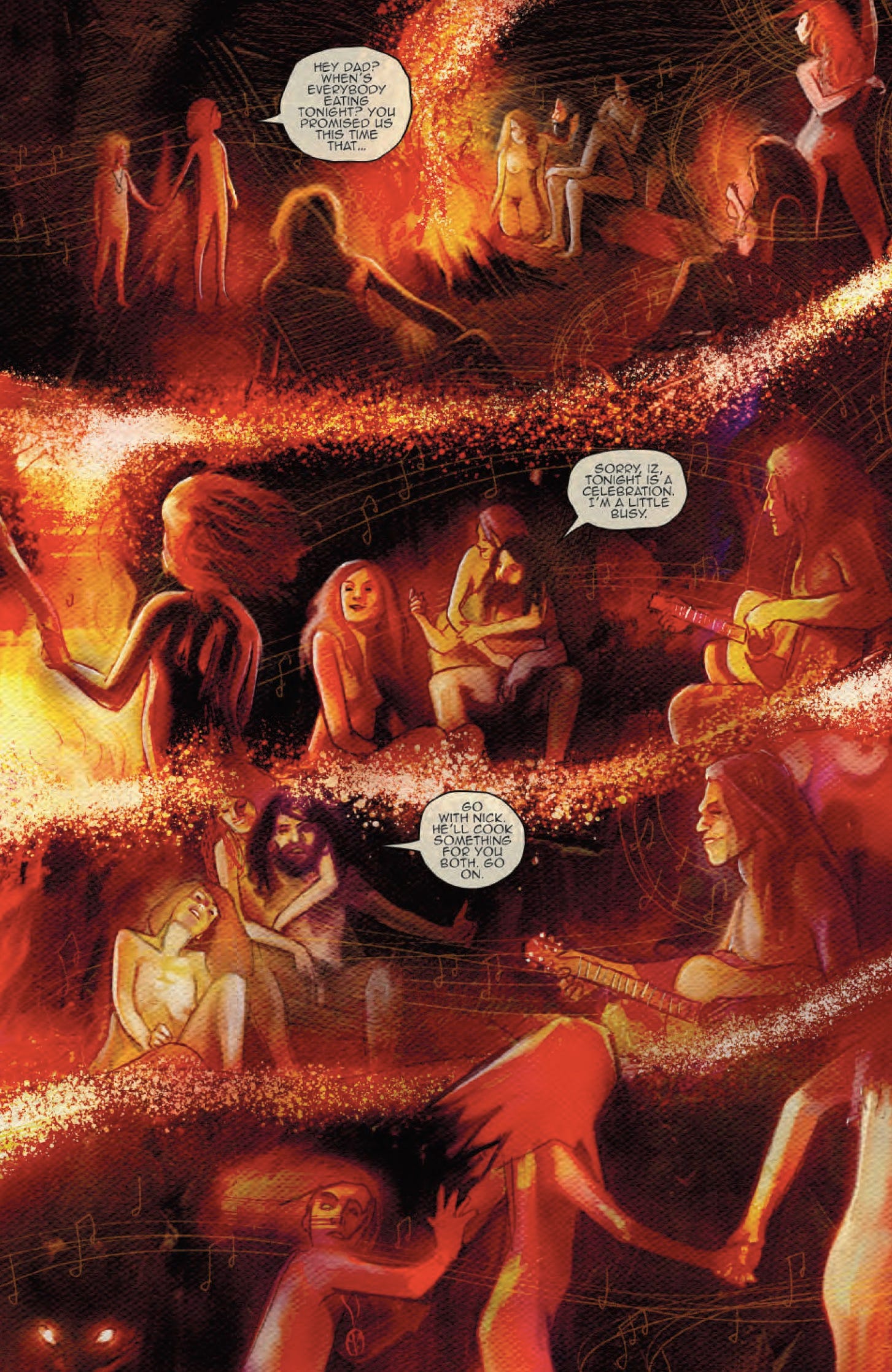 Preview from HERETICS issue zero, artwork by Martin Simmonds
As I've grown older my capacity to love has changed, accommodating more than just the romantic love that preoccupied my twenties. My one-shot, LOVE WILL TEAR US APART, was about the love of a parent, as was the short story that I also included in that collection, DRINKING BLEACH INSTEAD. That one was also about a world ravaged by a new strain of flu, which seems less fantastical now than it did then, sadly.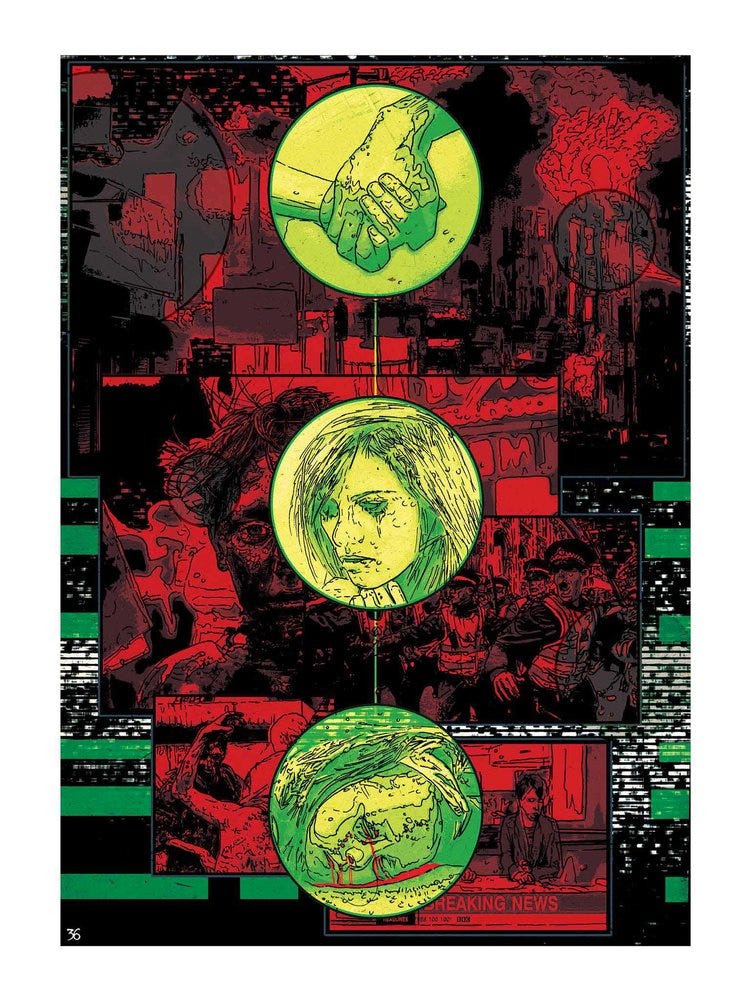 DRINKING BLEACH INSTEAD, illustration by John Pearson
BLOOD MOON is possibly an inevitable response to having relocated cities several times, and the realisation that it's possible to give up one identity and find nothing to replace it with. BLOOD MOON is a response to the feelings of hostility and alienation that so many of us felt around the Brexit referendum. I'll never forget the week before the vote, when I was posting campaign fliers through people's letterboxes and realised how frightened I was that somebody would answer their door and confront me. We've lost the ability in England to disagree without shouting at each other and threatening physical violence.
BLOOD MOON is about the different ways that men and women love, the different love of a father to a mother, of a sister to a son. It's about the resentment and anger that you feel when your child has needs that you don't feel equipped to provide for, about reaching out for help and the world turning its back on you. It's also about witchcraft and demons, I suppose, but isn't everything?
What comes next is uncharted territory. The ideas are percolating, but there's never any knowing how long these snapshot images, hunches and characters will take to bear fruit.
---
BLOOD MOON Chapter Two, part one, is now available to read for John Pearson's Patreon backers. Created by John, Aditya Bidikar, Hannah Means-Shannon and me, this is the second part of our contemporary English folk-horror set on the eve of the UK's divisive Brexit referendum.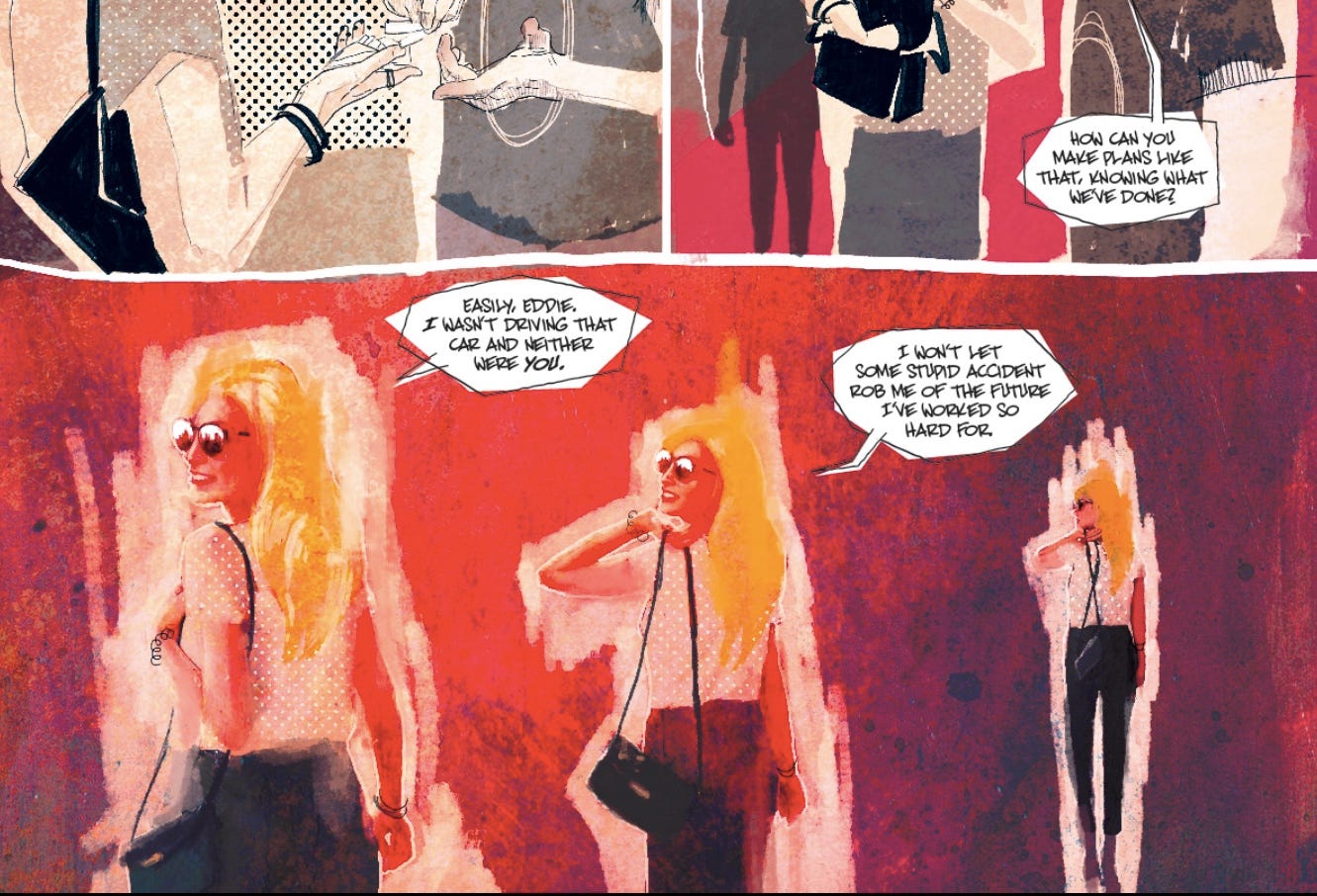 Eddie Morrow and friends are hiding out in Trevarrion Manor, trying to escape the consequences of their actions, while Owen Fitzwilliam comes to terms with the pact that he made to avenge the death of his son, Harley. The noose is tightening as the demon draws nearer.
Chapter Two, part two is underway and hopefully after you've read part one you'll see why I'm so excited, waiting for the dominoes to fall.
---
This week's playlist has absolutely nothing to do with BLOOD MOON or any of the comics that I've ever written. The sun has been fierce here in Devon today, making me long for the days when we can head back to the beach and go out kayaking in the sea. Here are some of the songs I love to listen to on a hot, sunny day:
---
To accompany the release of her first full-length graphic novel, BARKING, I've interviewed Lucy Sullivan. Based in London, Lucy is a freelance artist, storyboard artist and critically-acclaimed animation director, based in London. She graduated from Kingston University in 2005 with BA (Hons) in Illustration & Animation, and has taught Life Drawing, Location Drawing & Observational Drawing for Animation at Kingston University, Westminster University & London College of Communication (University of the Arts London).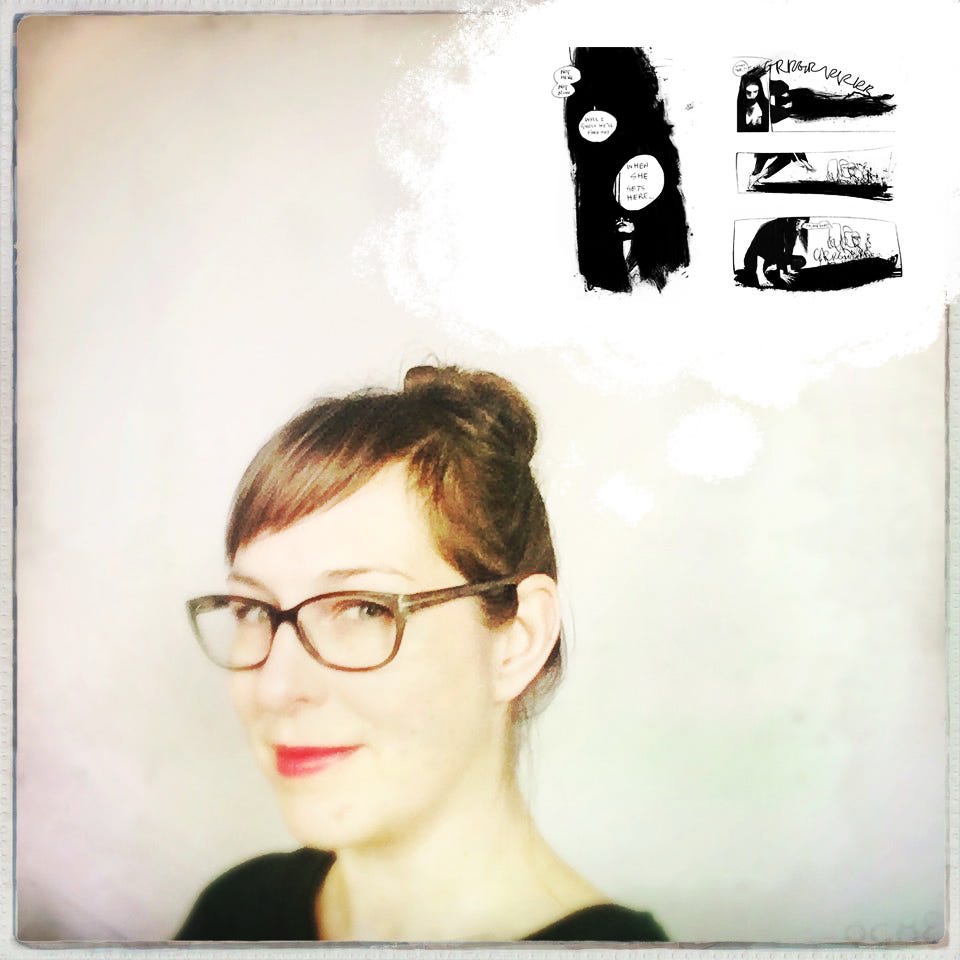 BARKING was successfully crowdfunded with Unbound with over 280 backers, was co-commissioned by The Lakes International Comic Art Festival and supported with public funding by the National Lottery through Arts Council England. Exploring the uncomfortable truths about how society reacts to a person in the grip of a severe mental health crisis, BARKING is reminiscent of the work of Ashley Wood, Ralph Steadman and Dave McKean. In short, it's brilliant, as is Lucy, who's currently working on INDEXED, a low-Fi/sci-fi comic written by the awesomely acerbic Scottish writer, Fraser Campbell.
1/ What first motivated you to want to work professionally as an artist and have these motivations changed over time?
Probably the greatest push was my Dad dying suddenly. I was raised in a pub, so worked in hospitality from about 18. By that age I had flunked out of 6th form college and decided to work bars and travel, driven by a passion for snowboarding. It was an enjoyable but fairly vacuous time. I kept drawing throughout and made myself little comics and illustrations but when I came home from New Zealand, after Dad's death and my subsequent mental health crisis, I had to re-evaluate how I was living. I'd seen a psychotherapist and through that realised how important drawing was for me and decided to go to Uni to pursue it professionally. Initially, I was drawn to Fine Arts and Life Drawing but quickly realised that at Art School this is found more in Illustration.
I took my degree at Kingston School of Art which is a combined Animation & Illustration BA and fell in love with hand-drawn animation. I worked in that area for a while after graduating and taught Life Drawing at the same time before moving into Comics. I do find that I get driven by a particular idea and that tends to push me towards the area I want to work in, for example, when I was making BARKING (always intended as a comic), I took a course in Oil Painting to keep up my Fine Arts practice and that in turn will become an influence on my next comic. It's a kind of rolling, changing motivation influenced by ideas and influences coalescing until they start to take a solid form.
Choosing to be an artist is the best decision I made in those dark days and I'm very grateful to have the circumstances now that can allow me to do it full time.
2/ What piece of art or artist has most inspired you in your life and how?
I have varied influence in terms of Arts & Artists and very open to new inspiration. However, I have definitely been somewhat obsessed by certain creators.
In terms of Comic Artists; Dave McKean, Taiyo Matsumoto, Eleanor Davis, Lorenzo Mattotti, Katsuhiro Otomo & Gipi are continually inspiring. I love painting and traditional artists too and can spend hours staring at a Caravaggio, Egon Schiele or Jenny Saville and there is nothing more relaxing than drifting into the world of Yayoi Kusama. I listen to music constantly, read books or audiobooks whilst working and have a broad tastes there too but a definite focus on science & speculative fiction and fantasy/horror genres. We watch a lot of film, animation and TV in our house too and find I'm as influenced by that as much as anything else and would happily spend a lifetime watching Studio Ghibli or Del Toro films.
I don't think I could pick a singular work to encompass all of that. I am absolutely an amalgamation of influences throughout my lifetime stretching back to the 1970s and hope that continues throughout my life. If I had to name some mind altering creations that I wouldn't be me without… Hitchhikers Guide To The Galaxy, American Werewolf in London, The Dark Crystal, Tank Girl, Pan's Labyrinth and Akira.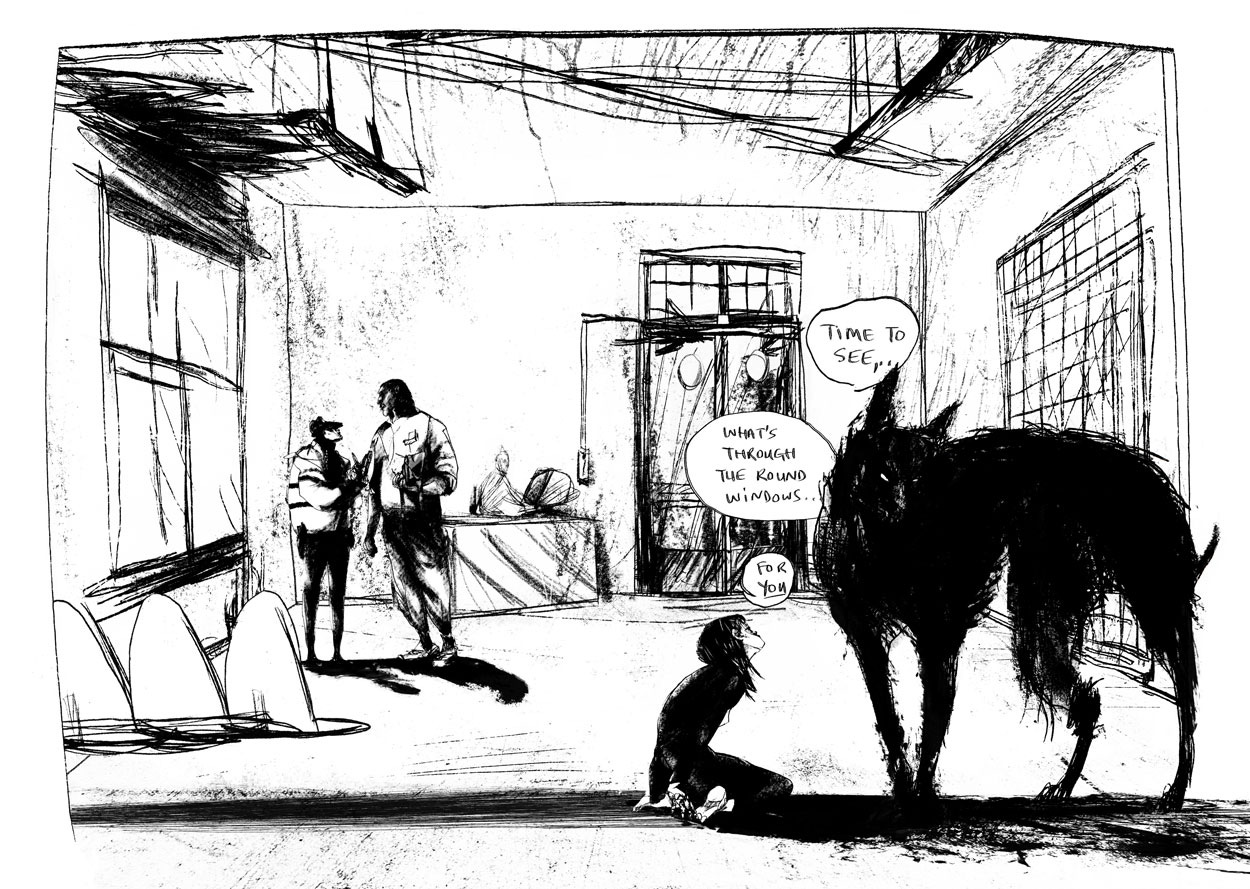 BARKING preview by Lucy Sullivan
3/ What one creative lesson have you learned that you wish you could travel back in time and tell your younger self?
Just get on with it! Stop worrying about what people will think, if it's going to be good or not and just make it. I wish I'd followed my love of comics much earlier on and although I don't think any good comes from regret it's a nagging one for me. However, the other areas I've worked in, particularly animation and taught me a few rules I apply when I work as standard.
Never create for an audience, make your work as you intended it. Be brave enough to discard sections that aren't adding to a project or as writers say 'Kill Your Darlings' and always understand and obey the rules of the universe you create. Other than that, make the bloody thing Lucy and stop procrastinating!
4/ If you could collaborate with anybody in history, living or dead, who would it be and why?
What a quandary! I couldn't choose one though but instead add a time-travelling aspect where I could hop through eras and genres. Learn to paint in Medici era Tuscany or Successionist Vienna, then break all the rules at 1960s art schools with Hockney and Freud and follow it up make 1980s horror films with John Landis and 1990s experimental animation in Bristol and that all gets pulled together on an epic graphic novel with a great writer like Iain Banks in the style of Transition.
I'd be a happy creator. I'd also bite my arm off to work with Margaret Atwood, Max Porter or Nick Harkaway. I love authors whose work taps into my mind in a way that makes me feel like they merely articulated my thoughts but in a far more sophisticated and somewhat nightmarish way than I ever could.
4/ If you woke tomorrow and were no longer constrained by time, budgets or even skills that you haven't learned yet, what would you make?
An animated feature film. It would be hand-drawn and painted, perhaps even with live-action sequences but mostly it would be epic in it's sprawling, narrative arc in the vain of Akira. I would employ some favourite creators, writers, artists and composers to help develop it and bring to life. In fact my next graphic novel idea would be perfect for this and in many ways BARKING was animated in my head. I'd love a crack at a full-length animation of that too. It would take a lifetime but would be time very well spent. I do like being in full control of my stories as an artist/writer but I miss collaborating and working as a team, it would be great to be in a studio environment again and a collective immersion in a creating a singular work.
---
If you can't wait to read BLOOD MOON Chapter Two, part one, sign up at John Pearson's Patreon page and get first access, along with previews of his working methods and tons of other projects that he's working on.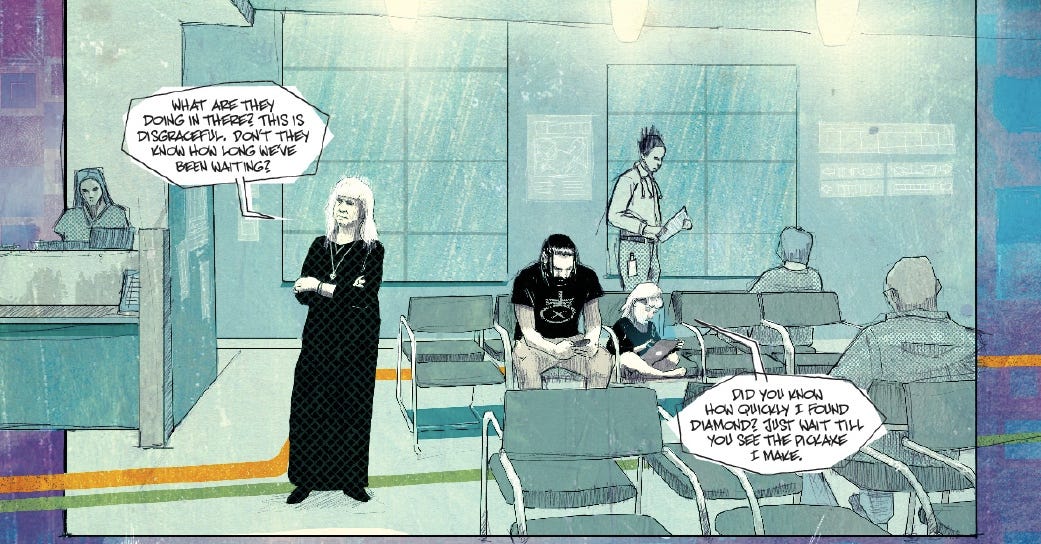 BLOOD MOON Chapter Two preview
Get in touch on Twitter @PMBuchan if you want to talk about anything in this newsletter. Take care of yourself and hang in there for better days.