Discover more from IF YOU GO AWAY - News from P M Buchan
News about projects from writer P M Buchan, reflections on the creative process for projects that crashed & burned, plus dark & transgressive art recommendations.
Front cover of Rue Morgue!
+ an interview with Dan Watters & preview of John Pearson's new Image project...
Happy newsletter day! Given that a big part of what I do alongside writing comics is working in Higher Education on PR and internal comms, 2020 has been dominated by coronavirus planning and briefings from world health organisations that feel a lot like living through the first twenty minutes of a Hollywood blockbuster, before the world is overrun by mutant beasts. Since the announcement that we're living through a pandemic, I'm anticipating serious disruption this year in ways that most of us can't even conceive yet.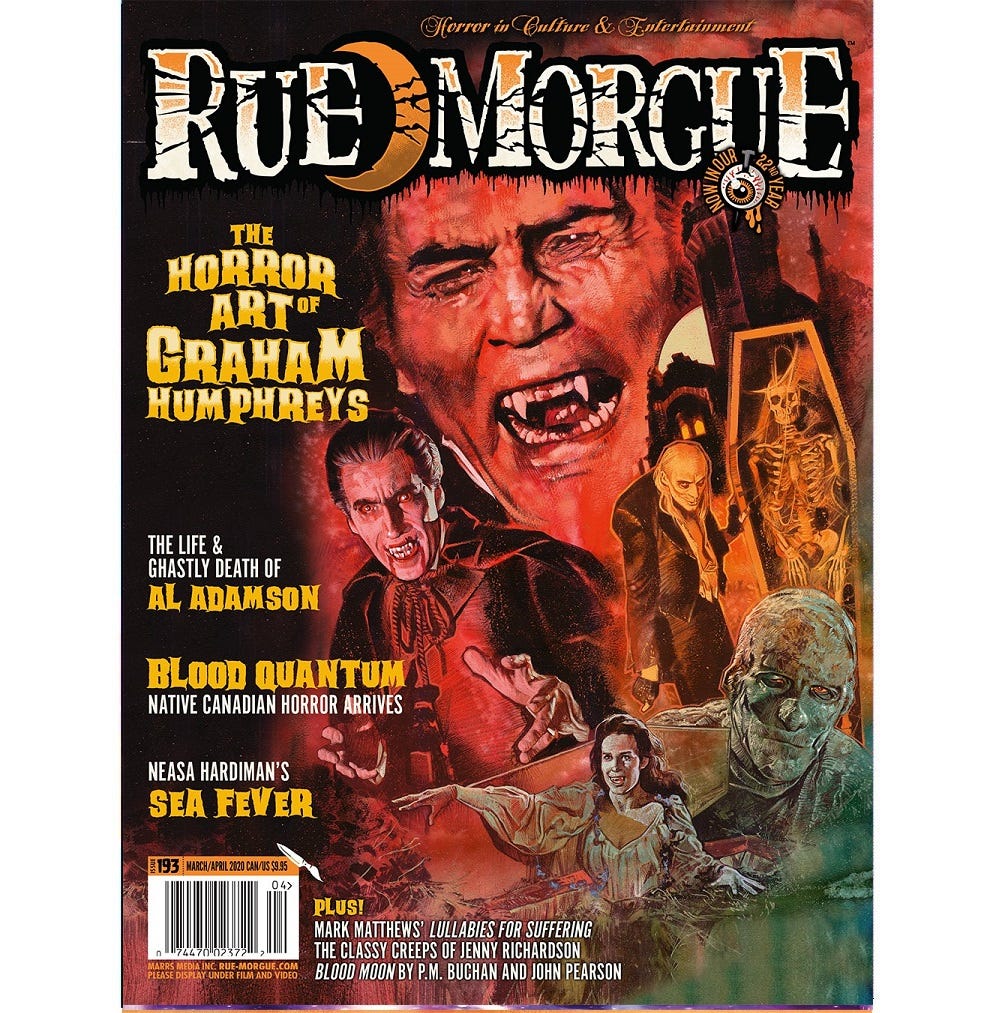 However, putting global pandemics to one side, this has been an amazing week. Earlier this year, journalist Pedro Cabezuelo interviewed me about BLOOD MOON and our inspirations and motivation for creating the story. You can read the interview in Rue Morgue magazine 193, the March/April 2020 issue. This has great significance me because Rue Morgue has been my favourite magazine for the best part of twenty years. There's something about the way everybody contributing to the mag treats horror as something worthy of study, of discussion and of respect that has been consistent throughout its run, creating a magazine that I love dearly.
Most excitingly, however, Rue Morgue named us on the cover, which is a real honour given how religiously I've pored over the magazine and what a lifeline it has been through difficult times in my past. When you're a practising artist, you can easily fall into the groove of constant submissions, rejections and mountains of hard work that few people see, to the point that these wins that you think would mean everything pass you by in a blur. I want to take a moment to acknowledge how lucky I am that in my life to date, I spent my teenage years reading Kerrang! magazine cover to cover as an escape from the stifling oppression of school, and went on to be interviewed by them and have my comic HERETICS featured in the magazine. Later, when things were at their hardest and I didn't know day-by-day if we could afford to keep the house we were raising a baby in, I escaped into the pages of Rue Morgue, and now my name is on the cover. Writing comics has been difficult and filled with disappointments, but these accomplishments make me happier than I can describe and they wouldn't have been possible without the brilliant collaborators who have taken a chance on making comics with me.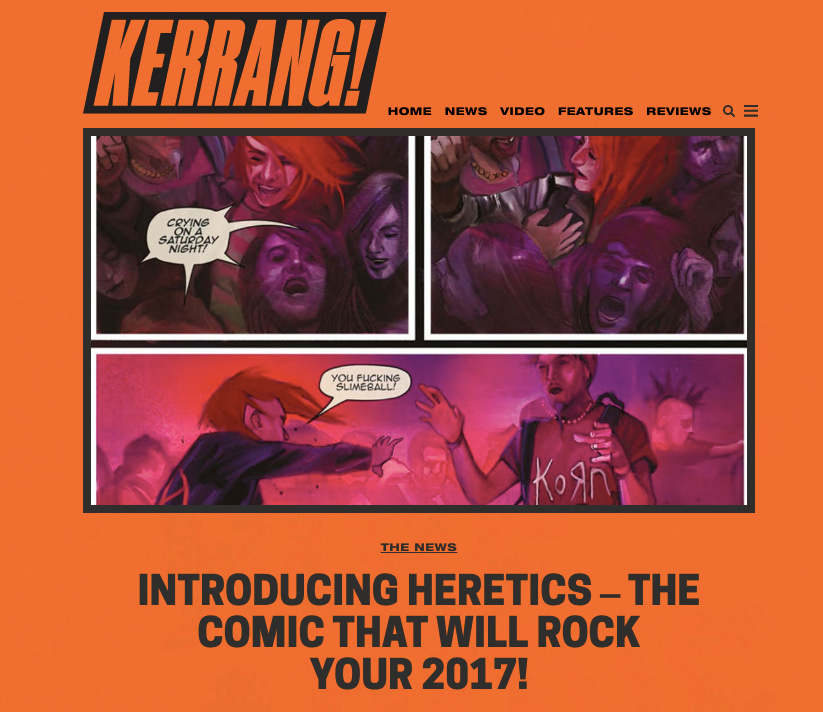 This week I had a great Skype with BLOOD MOON letterer Aditya Bidikar, in India, who I've learned has partially adjusted to a nocturnal schedule that allows him to communicate more easily with collaborators in the UK and US! Aditya is one of the most accomplished letterers in the industry and he's also one hell of a person, elevating the art of the people that he collaborates with whilst living through serious political turbulence at home.
We talked a little about the craft of lettering and he mentioned that the idea that the best lettering should be invisible, as a concept, was something that bothered him. Because bad lettering can ruin a good comic by highlighting the artifice of the medium and distracting from the story being told, I used to believe that the best lettering was invisible, until I worked with artists like Mike Stock and Aditya, whose work pulls all of the other strands of the comic together, so that they're all working in harmony.
The best lettering is not invisible. The best lettering pulls everything else on the page together, combining the words and pictures into something complete and unique.
Plans have been set in motion for some short standalone interludes between each chapter of BLOOD MOON, to add greater depth to the world that we've created and allow other creative teams to share their interpretations of the story. Originally I'd hoped that the interludes would be ready between the release of each chapter, to slot in effortlessly and buy John a little extra time, but because of the ambitious creative teams that we're approaching, some of the interludes might have to be added retrospectively as and when they're ready. We'll probably never work on another comic-book series like this one, paid for out of our own pockets with no publisher attached, so we need to carry on achieving our vision without compromise and know that the finished story won't care how many self-imposed deadlines we did or didn't hit.
A couple of nights ago I had a really encouraging response to a pitch that I submitted to a publisher who I'd never spoken to prior to a couple of weeks ago. Although it was a no, this time, we were asked to resubmit and keep them in mind for future projects. Any of you who are regularly hitting up publishers with pitches and trying to chase that wider distribution will know how rare it is for a publisher or editor to send you a personalised response to an unsolicited pitch. Beginning to make that connection with someone who previously knew nothing about your work is the first step to something bigger. I say this with confidence, in spite of the fact that almost every publishing deal I've ever had has fallen through after it was offered!
BLOOD MOON co-creator John Pearson has been busy recently. He took part in a Thought Bubble comic creators roundtable discussion as part of their Fair Pay for Artists project. Look out for his smiling, bearded face in their video recorded during the roundtable:
The project that he's colouring alongside BLOOD MOON was also announced this week. BLUE IN GREEN is an original graphic novel with the creative team of Ram V, Anand RK, Aditya Bidikar and Tom Muller. Due for release in October through Image Comics, BLUE IN GREEN is billed as a Jazz-infused horror exploring the lengths a young musician might go to in the search of greatness. John shared some preview pages on his Patreon and it looks amazing. I haven't seen any more than you, but with that creative team it's going to be a must-read.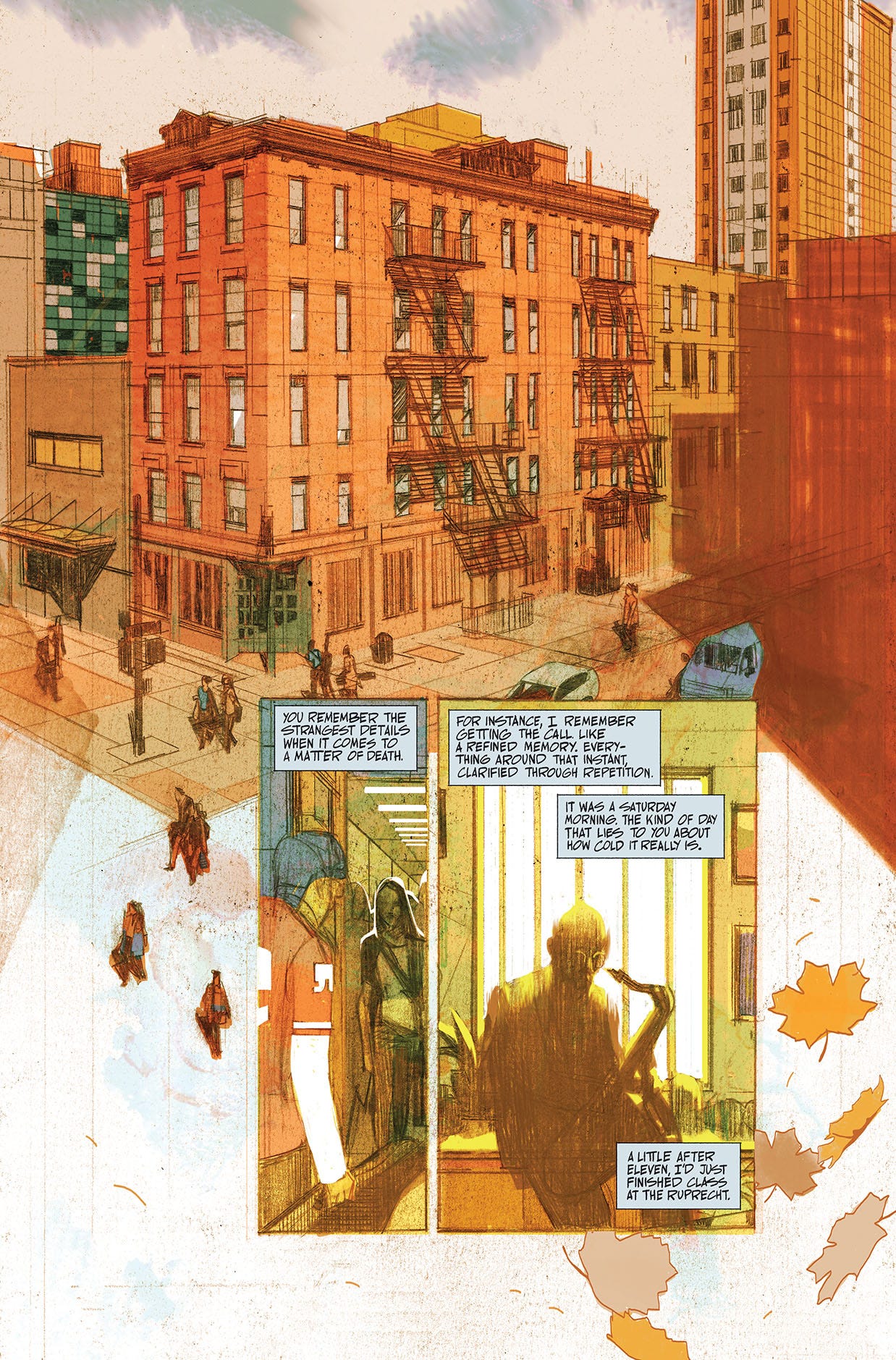 BLUE IN GREEN preview page
For the second year running, I'm part of a live brief that has been set for BA (Hons) Comic & Concept Art students at Leeds Arts University, where John lectures. Last year the students illustrated a five-page script from a pitch that I'm developing with artist Orion Zangara, grandson of Joe Kubert (best known for his work on titles like Sergeant Rock, Enemy Ace and Hawkman) and nephew of Adam and Andy Kubert. This time, I supplied an existing script for a violent fantasy series that doesn't currently have an artist attached, and wrote a completely new six-page sci-fi script based on an idea I pitched to Heavy Metal last year. I can't wait to see what they do with it!
---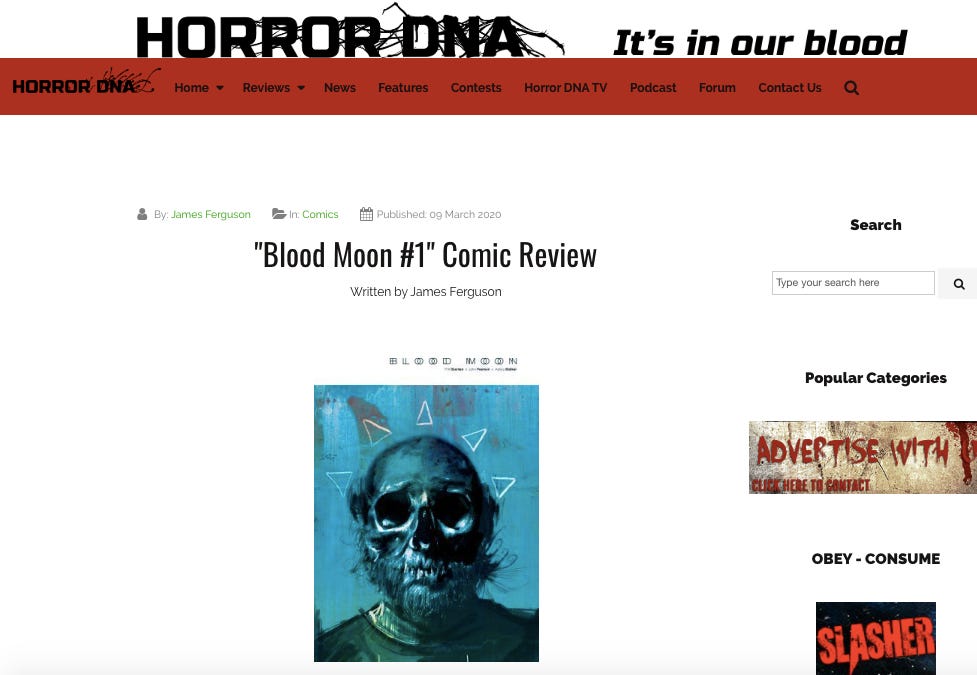 James Ferguson from HorrorDNA.com reviewed BLOOD MOON, saying that the "first chapter has a great hook that hits you right in the heart", that Aditya's "non-traditional approach (to lettering) works well in the book, particularly when the tension rises" and that John's artwork "brings a David Mack vibe to a tragic, revenge-fuelled supernatural thriller." Thanks to James for taking the time to write about our work!
---
This week I'm excited to share my interview with London-based comic-book writer Dan Watters, co-creator of the breathtakingly-good Coffin Bound at Image Comics, also currently writing Lucifer for DC Vertigo's Sandman Universe. I first met Dan years ago when he was working for T Pub comics with Caspar Wijngaard. Later, when Eric Stephenson was holding pitching sessions at Thought Bubble comic festival, Caspar and I pitched one of our ideas in the slot before Dan and Caspar pitched Limbo, which went on to become their first Image Comics series!
Dan's writing abilities have grown exponentially in the time since, to the point where the first volume of Coffin Bound pretty much represents everything that's good about the medium of comics. I always enjoy catching up with Dan and hope you'll enjoy this interview.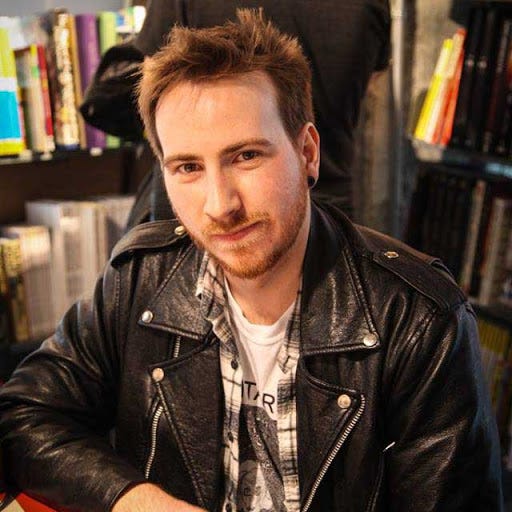 1/ What or who was it that originally inspired you to write and have your inspirations changed over the course of your career?
Writing was always just a thing I did when I was younger. I was always writing scraps of things, and then when I discovered girls and punk rock and other assorted pimply-aged pastimes, I was warned that if I didn't flex those muscles, I'd lose them. Which I probably did for a few years, but I pretty much just transferred them over to music. I've always played in punk bands, and still do. Then when I decided to take things seriously, I started on a film uni course, but was too impatient for film. I wanted to start making things, rather than faffing about.
So I returned to comics and prose, and here I am. It was mostly the old Vertigo stuff that put the idea in my head to write comics. Specifically, I picked up a copy of Morrison/McKean's Arkham Asylum, which had Morrison's annotated script in the back. He goes on at length about how he was utilizing tarot and Jungian archetypes and the intertext with Alice in Wonderland and all that good stuff. Having not read any other comic scripts at the time, I presumed this was the depth of knowledge and care that every comic writer put into every comic, so I set out to learn enough to be able to do that too. I still ascribe to the idea, even having realised that Arkham Asylum is probably an outlier when it comes to density. As for how my inspirations have changed, a lot of it's been a case of exorcising those initial influences from my writing and looking far outside of comics for influence. I find a lot of it in theatre. I'm a big fan of Beckett, Pinter, Stoppard, that whole lineage.
2/ What do you feel that comic-books offer that can't be found in other media?
I think there's probably still a lot to be done in the medium that hasn't been done yet. Comics do juxtaposition better than possibly any other medium. Film does it well, but it's one thing to be able to play classical music over a fight scene, another to juxtapose scenes of cruelty or poverty with a sonnet, or with a soliloquy. It's a way to show both interiority and exteriority all at once, with an immediacy that doesn't exist elsewhere. I'm still really excited each time I sit down to write a script. There are always new voyages to undergo.
There's also an element, which I don't find gets spoken about so much, of how comics have built their own shorthands and tropes that don't really exist in other mediums. There are the superhero tropes, sure, but so many other styles and languages that have been developed from Eisner onwards. Part of the joy of the medium is engaging with them. They're another tool in the box.
3/ If the completed comic is only the tip of the iceberg, tell me about the parts of your creative process that we don't see – what would be a typical journey from inception to completion of an idea?
Oh boy.
Most things explode outwards from a kernel. A what-if. Or taking an existing concept - a trope or a cliché - and turning it on its head. Though that only really works if turning it on its head means it now rings true with some other part of the human experience. Otherwise what you have is a neat trick, not really a story. Coffin Bound was very much a what-if: 'what if you tried to erase all evidence of yourself from the world, and leave it as though you'd never been born?'
Character tends to be born out of that. Plot, in turn, is born out of character. I spend a lot of time with A4 notebooks, scribbling out ideas and scenes and then joining the dots before I start scripting.
4/ If you woke tomorrow and were no longer constrained by time, budgets or even skills that you haven't learned yet, what would you make?
If I had time, I would like to make all the half-simmered things I have sitting in my notebooks. These are for the most part comics, prose, and plays. Those are the mediums I'm really interested in working in for the moment. Film and TV appeal but aren't where my heart is for the moment.
I don't really feel like lack of skill in an area is a thing I really worry about as a barrier to entry - in learning the outside-ins of a medium is where you find the interesting things to play with, so I think if I wanted to work on something I'd probably go ahead and do it. If I had the time. God, I wish I had the time to do everything.
---
My playlist this week, INDSTRL, is a collection of some of the loudest and fastest music in my collection, to take me back to the days as a teenager when I was always either a ska-punk kid dressed in yellow, looking out of place on the dancefloor at goth nights, or getting weird looks at ska nights when I showed up in PVC trousers with eyeliner and nail varnish.
From Essex schoolgirl digital hardcore band Lolita Storm, to the absolute goth-pop brilliance of The Birthday Massacre, I can't see how anybody could fail to love these songs. They're not exactly all industrial tracks, but I feel like they fit together beautifully. This is one to listen to on shuffle.
---
When I was interviewed for Rue Morgue, around half of what we discussed didn't make it into the printed magazine due to space constraints. Interviewer Pedro Cabezuelo has given me permission to share the unused answers below:
1) How did BLOOD MOON come about?
The road to BLOOD MOON began around 2010 when I was struggling with parenthood, working too hard and with almost no spare time. One of my only vices was listening to Tomb Dragomir's Rue Morgue Radio. I didn't have time to watch the movies I was reading about in Rue Morgue, but discovering horror-punk got me through those long days, engendering a love for bands like Harley Poe, Calabrese and Zombina & The Skeletones. I felt so inspired that I tried to edit an anthology of comics created by my favourite horror-punk bands, and amazingly loads of my heroes agreed to contribute, but I didn't know what I was doing and it fell apart as a result. The anthology didn't happen, but I did work with Tomb a few more times and I even made a comic strip with Joe Whiteford, the singer from Harley Poe.
Music became a constant in my writing, leading up to my collaboration with artist John Pearson, letterer Aditya Bidikar and editor Hannah Means-Shannon last year on a strip for Heavy Metal in their Megadeth: Death by Design omnibus.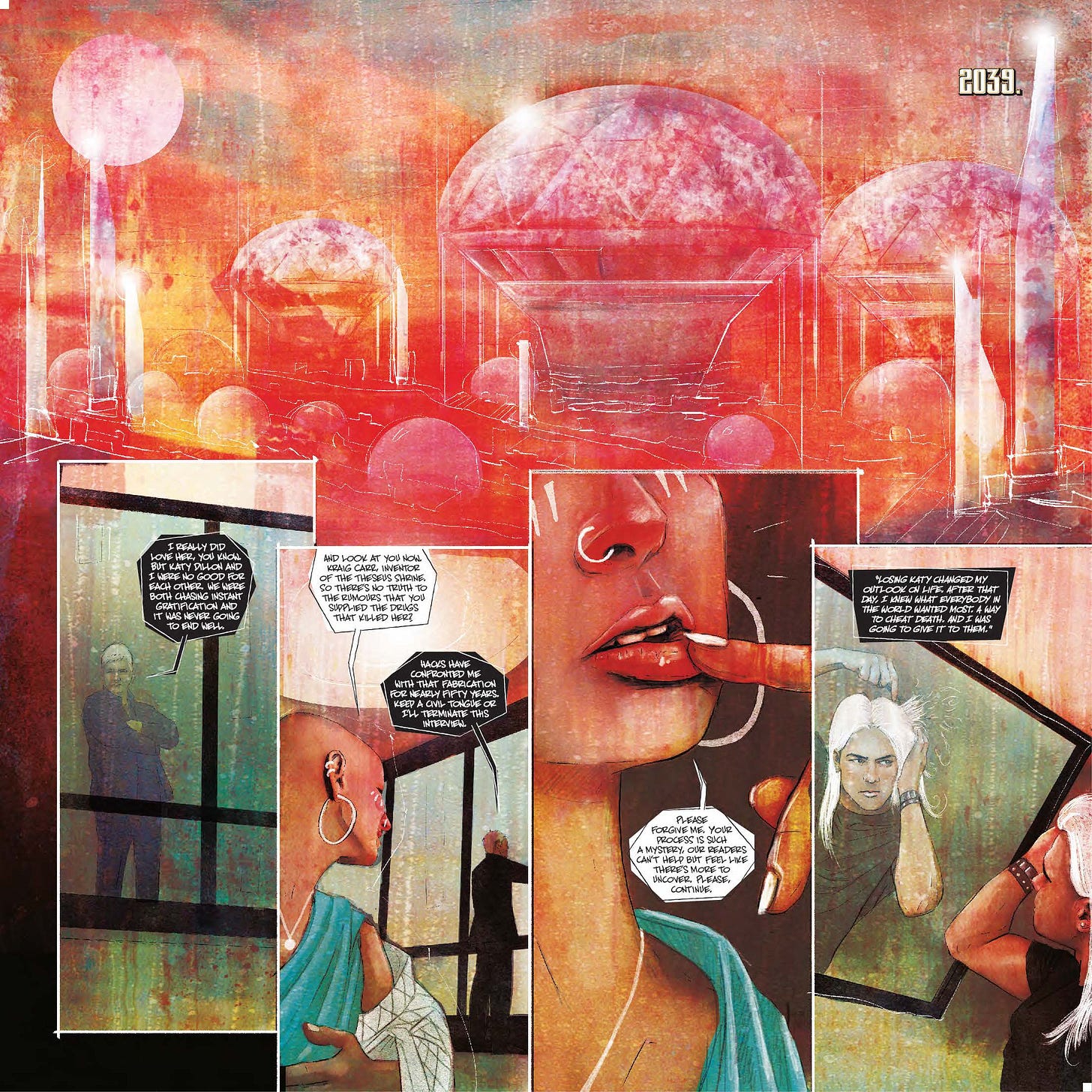 Page two of our strip for Megadeth: Death by Design
Following the success of that strip, we made the decision to work together to serialise BLOOD MOON online to read for free, with the same creative team. There were a lot of other things that happened along the way, but my path writing horror comics all sprang from Rue Morgue Radio, which is why one of the people I'm dedicating the story to is Tomb Dragomir. It would be churlish not to also mention that the main character in BLOOD MOON is a lapsed Christian punk who questions his faith, which is not unlike Harley Poe, who I first heard on the free RUE MORGUE PRESENTS: HYMNS FROM THE HOUSE OF HORROR CD!
2) How would you describe the horror aspects of BLOOD MOON?
I love the classic folk-horror vibe of being an outsider in a community of people who look like you but don't think like you, and that's how a lot of people in England felt when we woke the day after the Brexit referendum. But really the comparison that will probably mean most to Rue Morgue readers is Pumpkinhead.
We're following in the tradition of other supernatural revenge-thrillers, but also borrowing from the concept of women in fridges. Women in fridges is such a fucked up trope, the idea of women being sacrificed to motivate the hero. I guess I wanted to ask the question – what's heroic about giving yourself to complete selfishness, about giving in to your worst self? How would that look for the people left behind? How would it feel if you lost a child and your husband's response was to allow himself to become a monster, leaving you behind to pick up the pieces?
It's also worth noting that comics are such a visual medium that none of this would be worth a damn if John didn't have the freedom to bring that darkness to life on the page. If you look at any of his work for Image Comics, The Ray Harryhausen Foundation, or particularly his movie posters for Gallery1988, you'll see that John IS the horror aspect of BLOOD MOON.
3) From reading the first chapter there seems to me to be a bit more going on than a supernatural revenge story. Owen is an interesting character - though he's grieving for his son, it appears he has some other inner demons haunting him, including those dealing with faith and women. How would you best describe his character arc and it's relation to the more overt horror elements in the book?
In my mind, Maura, the mother, is the real hero of the story, but Owen, the father, is the one that I empathise with. He's struggling to come to terms with his daughter's autism and what that means for his family. He relocated to isolated Cornwall, where he doesn't fit in and has no support network. It felt like he did the right thing marrying Maura when she became pregnant, but he left his record label and loyal Christian-punk fans, he left a lucrative career behind, and he doesn't know what to replace those things with.
Owen thought that his new life with Maura would be liberating, but instead he feels trapped, suffocated, ready to explode. When his son Harley is killed at the beginning of BLOOD MOON, this isn't the beginning of Owen's story. We join him near the end.
---
Take it easy, wherever you are in the world, while we all figure out what it will mean to face coronavirus. Give me a shout on Twitter if you want to talk, @PMBuchan.