Discover more from IF YOU GO AWAY - News from P M Buchan
News about projects from writer P M Buchan, reflections on the creative process for projects that crashed & burned, plus dark & transgressive art recommendations.
These newsletters have been growing to a mammoth size so I'll endeavour (and probably fail) to keep this one brief, with tips for anybody who wants to write comics but doesn't know where to start, a run-down of artist John Pearson's process for creating BLOOD MOON, and an interview with Creative Boom founder, Katy Cowan.
In case you've just signed up, I'm P M Buchan, a comic-book writer based in Plymouth, Devon, UK, currently working primarily on a contemporary British folk-horror called BLOOD MOON, created with John Pearson, Aditya Bidikar and Hannah Means-Shannon. Liam Sharp, who's currently working on DC's Green Lantern with Grant Morrison, recently said: "I love everything about BLOOD MOON. The art, the colours, the design…" We hope you'll feel the same way!
Where to begin writing comics
Getting started as a writer in comics is a tough task. The majority of agents, editors and publishers for the mainstream book trade are looking for cartoonists to publish, who can deliver the full package of a complete graphic novel in a way that's easy to budget for and project manage. The top comic-book publishers in the Direct Market in the USA and UK still operate heavily using a production method with specific roles for editors, writers, artists, colourists and letterers, but even then the truth is that the best writers can juggle multiple stories at a time compared to artists, so to break in as a writer you're competing for attention in a market where illustrating a single monthly series might be a full-time job for an artist whereas established writers might each be juggling four ongoing series at a time.
It's a truth universally acknowledged that the best way to land work in comics is to make comics. Particularly for a writer, editors don't want to read your scripts, they want to judge your ability on completed comics. Everybody will tell you that there's no barrier to entry when it comes to making comics, all you need are paper, pencil, pens and access to a photocopier.
While technically true, this is a disingenuous way of looking at it. Getting started on your first comic will either rely on you having enough rudimentary skills to illustrate it yourself, enough money to pay a creative team to work with you, or enough good luck and charisma to find an artist who's looking to collaborate with a writer, persuade them (without any evidence) that you'd be a safe bet, and to keep that relationship on track with a power dynamic where you're essentially asking them to do two-thirds of the work while you tell them what to do and offer only your ideas in return. It's a big ask.
And you need to collaborate with the best artists on the planet. Because people aren't going to judge the success of your comic on the basis of a script, they're going to judge the quality of the finished product. This is why I've collaborated with artists like John Pearson, who's going to be in such high demand after BLOOD MOON it will be unreal, Martin Simmonds, who since working with me has worked on Marvel's Jessica Jones and who is now working with Joe Hill on their new IDW series Dying Is Easy, and Anna Fitzpatrick, who's a less successful self-promoter but inescapably one of the most talented illustrators in the UK, as you'll see in her newest comic Alien Heart.
I've spent my life horrified by people who prioritise churning out a sub-par 200-page graphic novel over a six-page work of art they can always be proud of. I stand by that opinion and will go so far as to remind you that the world is filled with high-volume, low-worth, pay-per-click mediocrity. Don't contribute to the static on the radio when you should be fighting to take the airwaves back.
The best advice that I can give on getting started collaborating with an artist is to look at it initially as a transactional relationship and ask yourself what else of value can I bring to the table. We've established that you think your ideas and writing merit somebody else giving up vast quantities of time to work with you, so what else can you bring – do you have a relationship with any magazines that you can leverage to give your artist a higher profile? Do you know how to write a press release so that you can lead on PR for the project? Can you take the time to learn how to letter and do graphic design, so that you can do a lot of the costly and time-consuming aspects in house and free the artist to do what they love best?
What do you have to offer an artist?
Take stock of what you have to offer in a professional relationship and you might be surprised. Work in education? Maybe you can help line the artist up with paid work as a guest lecturer or doing workshops for kids. Work in a shop? Maybe you can arrange them to stock the comic and host a signing. Work at a printer? Maybe you can arrange to screenprint t-shirts or cut rates to print the finished comic. Alternatively, maybe you already have a well-paid day job, in which case you can afford to pay your collaborators a fair rate upfront and take the risk away from them. Whether you have all the time in the world so you're learning how to build websites and manage social media, or you're a venture capitalist with money to spare, you have *something* to offer to persuade people to work with you.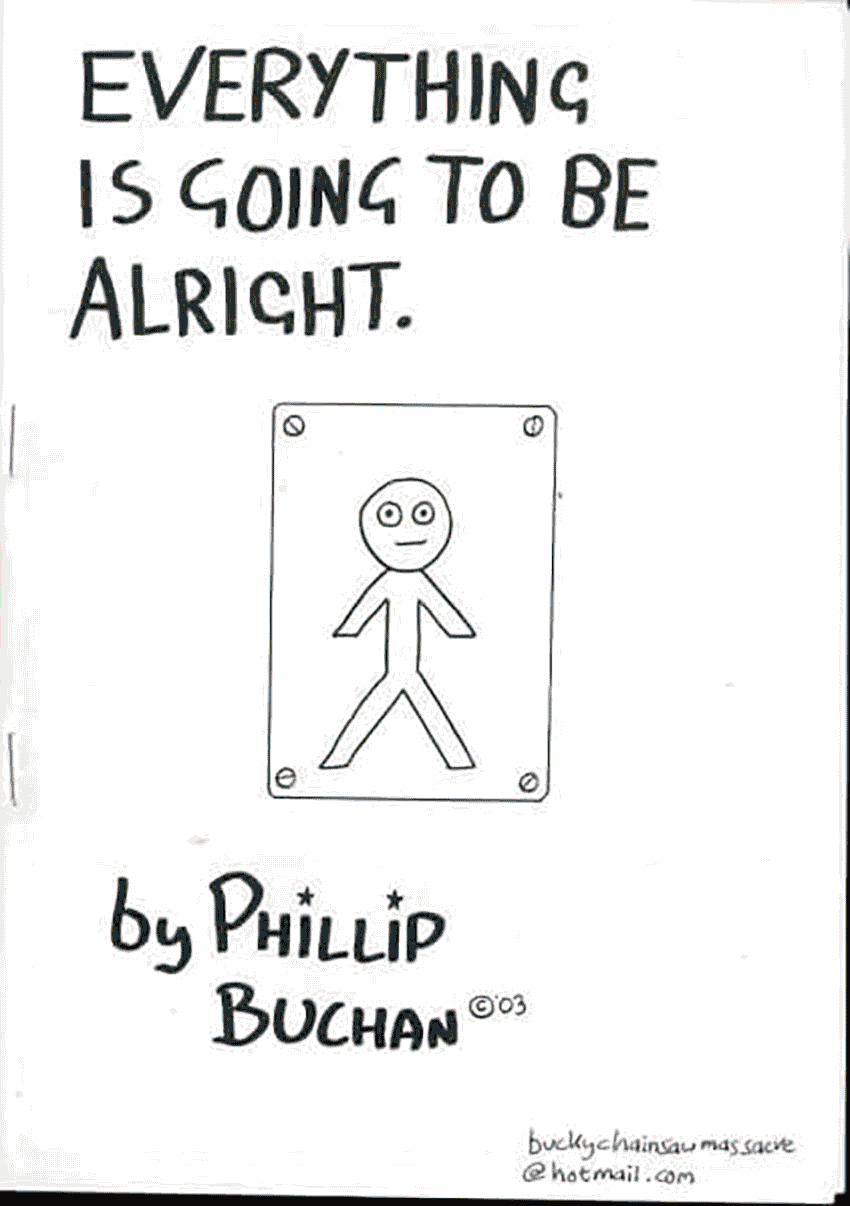 Covers to every self-published comic by P M Buchan since 2003 - Including unpublished pitches
The real trick to making it in comics or any other creative profession is to persevere and not compare yourself to the lucky few who find success quickly or at an early age. It's lovely that they're achieving their dreams young enough to develop across a long, illustrious career. I'm very happy for them. But that can't be everybody.
I made my first comic, EVERYTHING IS GOING TO BE ALRIGHT, in 2003. In the 17 years that have passed, I've written and drawn DIY comix that were printed on photocopiers in workplaces after hours and bound with borrowed staplers, and worked with my heroes and exhibited at international comic conventions. I've earned the respect of writers and artist who I would have idolised growing up, and spent months creating pitches that have been rejected by more publishers than I can count. It has been a slow and painstaking process.
I've been offered deals where I would edit a paid magazine about comic-books, I've been offered brilliant and terrible deals with two of the top five US comic-book publishers, I've had merch companies try to set up deals to distribute clothing based on my comics, I've had a publisher offer a deal for my first novel, and I've been signed by an agent – all of these deals either signed through before the ink was dried on the contract, offered so little money it would have been magical thinking to accept, were too good to be true and fell apart under scrutiny, or ultimately would have taken me away from the thing I love most, writing stories. Every one was an opportunity I'm grateful to have been offered and every one that I had to refuse broke my heart a little.
---
BLOOD MOON chapter two is finally on the horizon. The first half should be going out to BLOOD MOON co-creator John Pearson's Patreon subscribers next week, then will follow online after they've had first access. John is a British Comic Award-shortlisted illustrator and artist based in Leeds UK.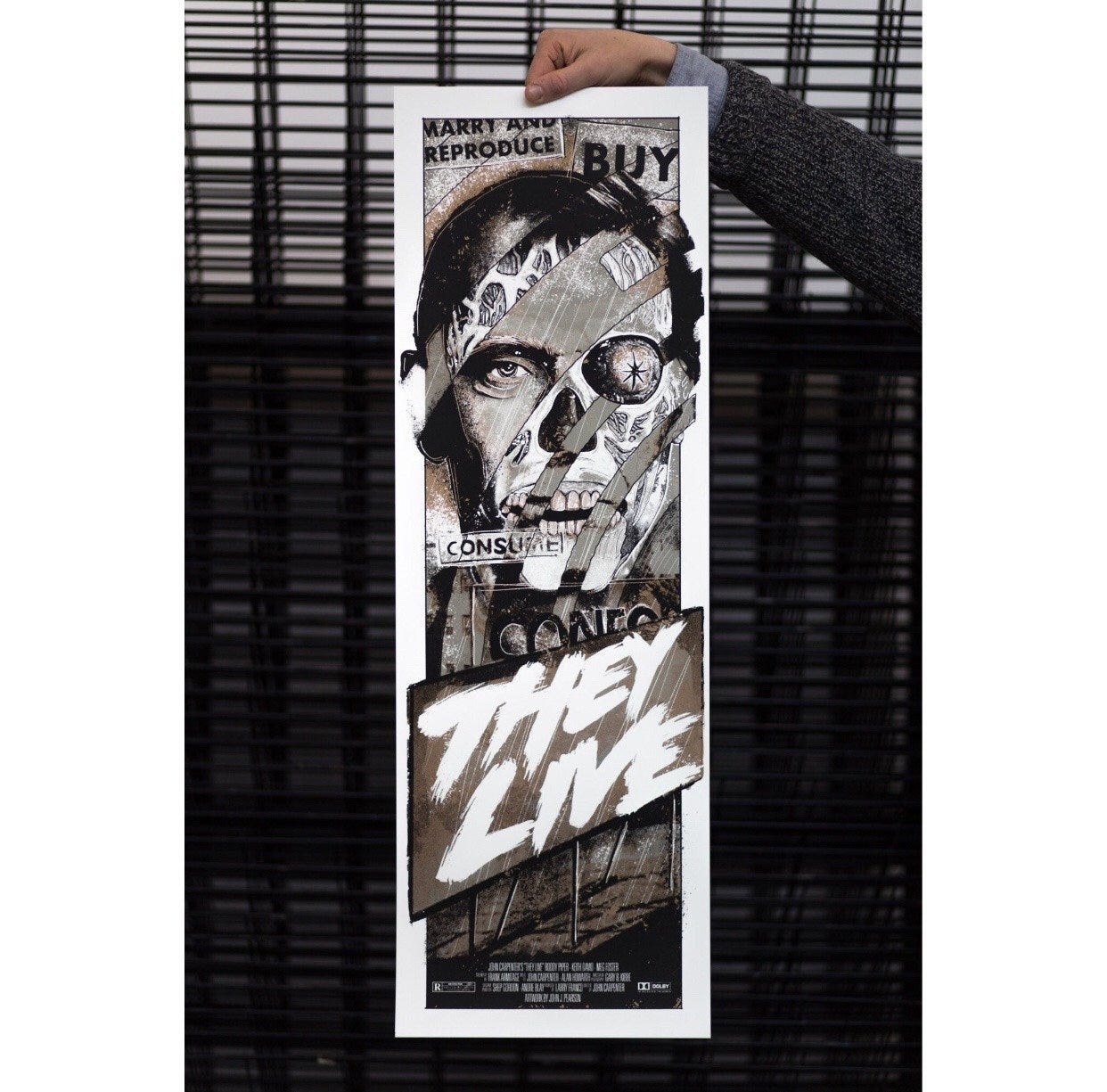 Alongside BLOOD MOON he's currently contributing to a new project by Ram V, which follows some cover work on Ram's Image series Paradiso and John's contribution to last year's Image-published Thought Bubble Anthology.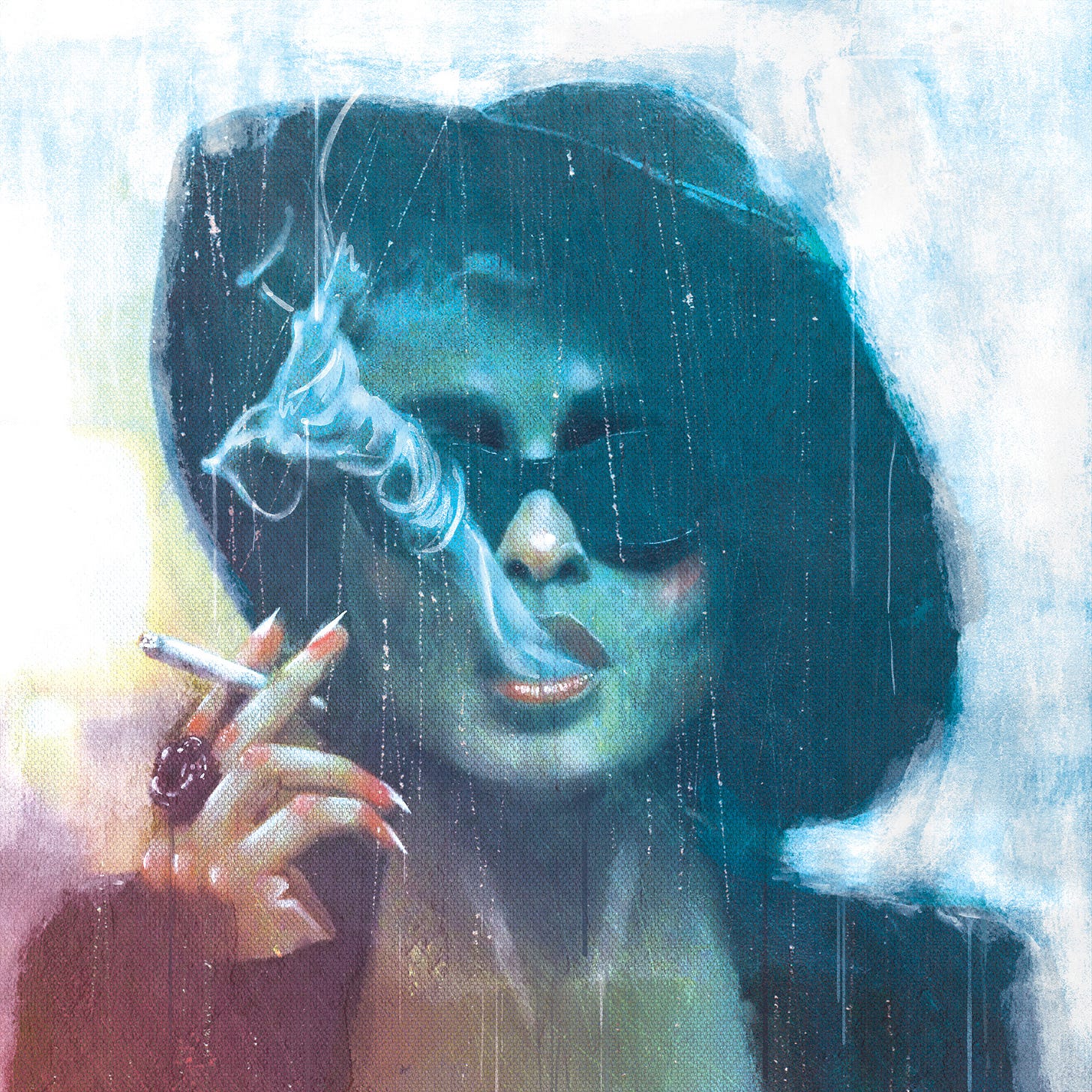 In recent years John has worked with Gallery 1988 in Los Angeles, USA, creating licensed illustrating for WWE and prints based on films including Fight Club and They Live, as well as illustrations for IT: Chapter 2 in collaboration with Warner Bros, and Stranger Things for Netflix. John is also known for his large scale murals and live art across the UK with Leeds-based art collectives, with commissions including murals at festivals such as Kendal Calling and Bluedot.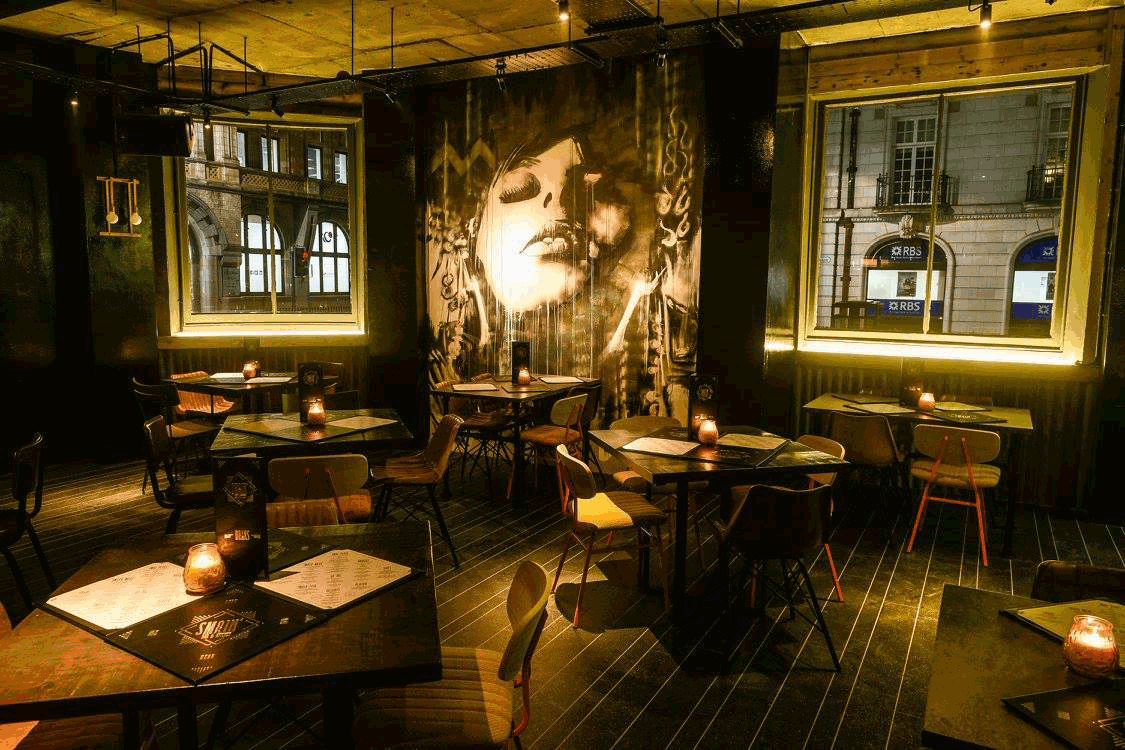 This week I've persuaded John to share a breakdown of the process that goes into creating the artwork for a typical page of BLOOD MOON. I'll hand over to him.
---
BLOOD MOON process by John Pearson
There's a whole other in-depth discussion to be had about the first stages of adapting a comic script to sequential art (which I regularly teach as a workshop for first-year undergraduate students ), but this is more about how I approach the physical creation of the pages, so I'm skipping a small section. Normally I'd chat over the script with Bucky (P M Buchan!), do very rough layouts of the page and rough sketches before hitting this stage. But this is the fun bit.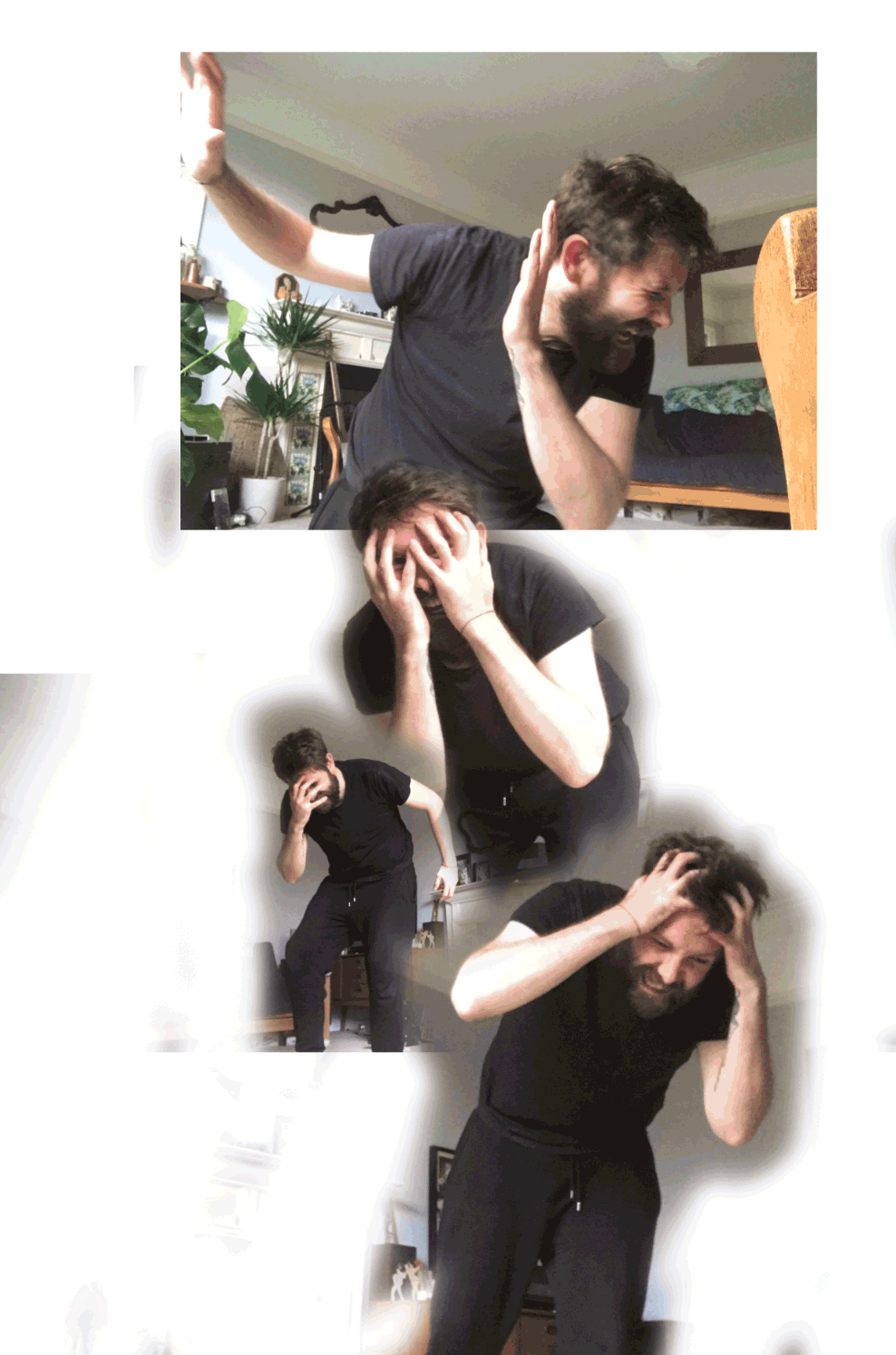 1 - Reference
Because Bucky in his warped way wanted the character Owen to be visually based on me (a "rough around the edges has-been"), it's perfect for getting reference images. I just take photos of myself in weird positions to establish the feel for the character. For this page, Owen is losing his mind from the shock of coming out of a form of demonic possession, so I need to capture the feel of a fractured person.
2 - Linework
Using the reference images as a basis, I sketch out the page digitally in Photoshop, using Kyle T. Webster's Belgian Comics Brush for the linework. I tend to draw basic but fairly accurately at this stage, I find it's a LOT easier later in the process to be looser if there's a solid basis from which I'm working.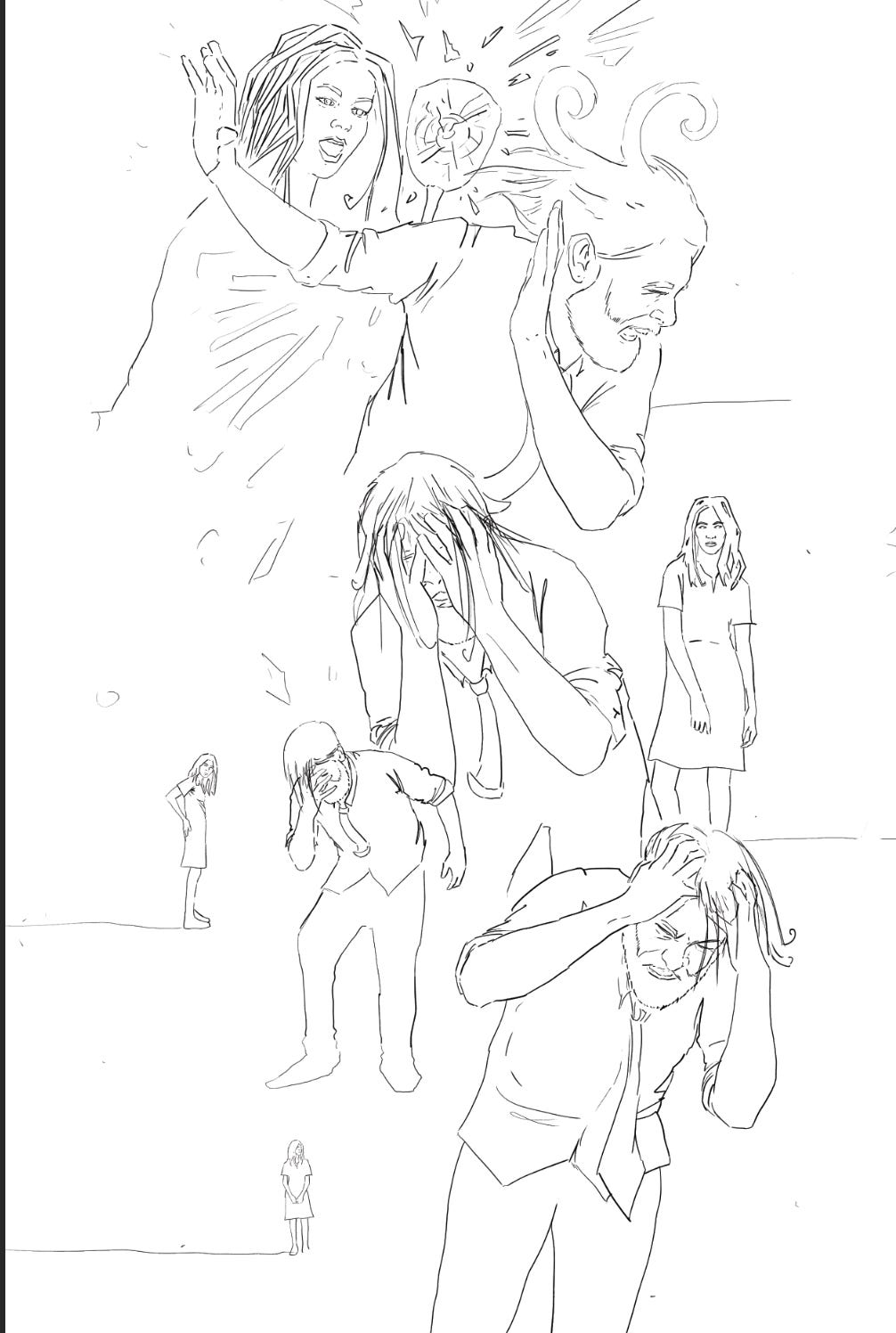 Stage two - linework
3 - Tonal
Here I'm adding in some of the tonal values to check the flow of the page works in the intended way. This is super rough, I'm not adding tonal values to the bodies, more separating the making elements from the background. This page I want to feel like there is a sense of falling in the flow, mirroring the shattered glass in the flow of the main characters down the page.
4 - Initial textures and forms
I throw a paper texture down with the layer adjustment set to multiply for a bit more warmth. On a layer on top of everything, I start to add in the initial forms I want, mainly Owen's shirt and some of the black forms.
5 - Colour and form
I add in more details building up the characters, specifically the flesh tones. I like to go for the red hues on the angular body elements to bring in a feeling of warm flesh. This helps to give the figure more life in a fairly quick way and accentuates highlights in those areas.
6 - Texture
I knew from the start I wanted to use a texture to represent the shattering mirror around the edges of the page. There's minimal panel definition, so the flow needed to be slightly chaotic without misleading the eye, so it felt natural to have a shattering border around the figures. This was done using a concept brush, and ultimately acts as a base layer upon which the rest of the textual elements are built.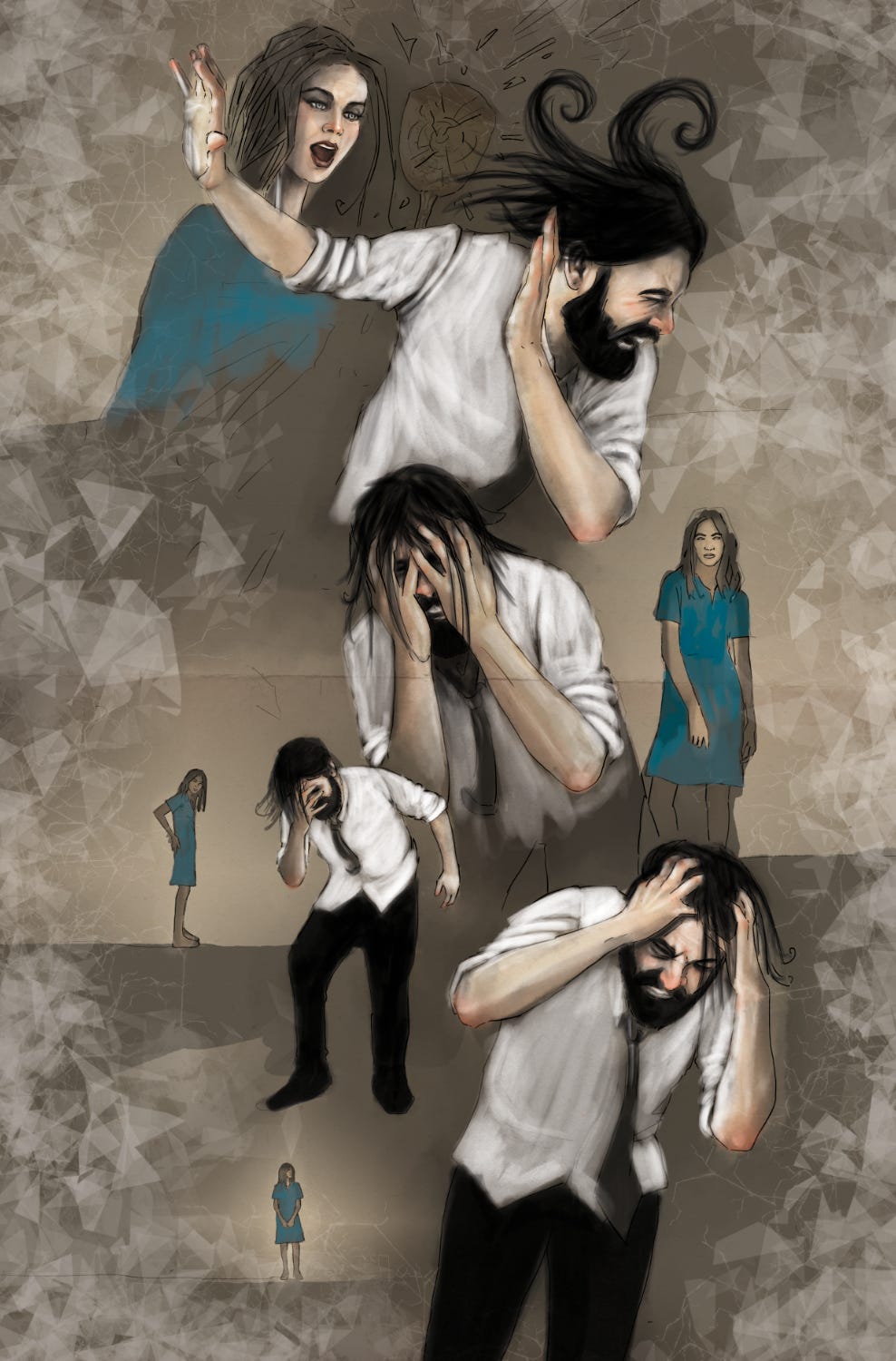 Stage six - texture
7 - Detailing and adjustments
More detailing is added, including the additional glass shards and the details of the Witch and Owen. I wanted Owen to stand out a little more and have the demonic possession resonating somehow, so I went for a red outline to highlight him, but also with the recurring motif of five triangles over his head (which is present throughout the series). I also made him slightly more inhuman, adding in the pure white of the eyes and exaggerated snarl in the final image.
At this stage I also play with the curves, pushing the contrast of the piece and altering the colour to fit more with what I want to achieve tonally.
8 - Final texture and finishing touches
Using an image of real shattered glass, I place the final texture overlays on the image. This ties the piece together with the broken shards as well as the colour unifying everything. I make sure that the shards are focused around Owen, and not the Witch, who is still an observer at this point. The chaos and madness still needed to be on Owen primarily.
A few final tweaks of adjustments and colour, outlines and small additions and the page is done and ready to send over to Bucky and editor Hannah Means-Shannon for final review.
---
I'm really excited about this week's interview, which is with one of the UK's most prolific arts journalists, Katy Cowan. Katy is the founder of Creative Boom, a UK-based online magazine and leading platforms in the creative industries, which gets over 800,000 monthly readers and has 250,000 social media followers. She recently launched the Creative Boom Podcast, which has been topping out the Apple podcast rankings almost since day one! Creative Boom is exciting for artists in the UK for a number of reasons, not least being that Katy is based in Manchester, one of our creative hubs, and as such she avoids the London-centric bias that characterises so much other coverage of the UK's creative industries.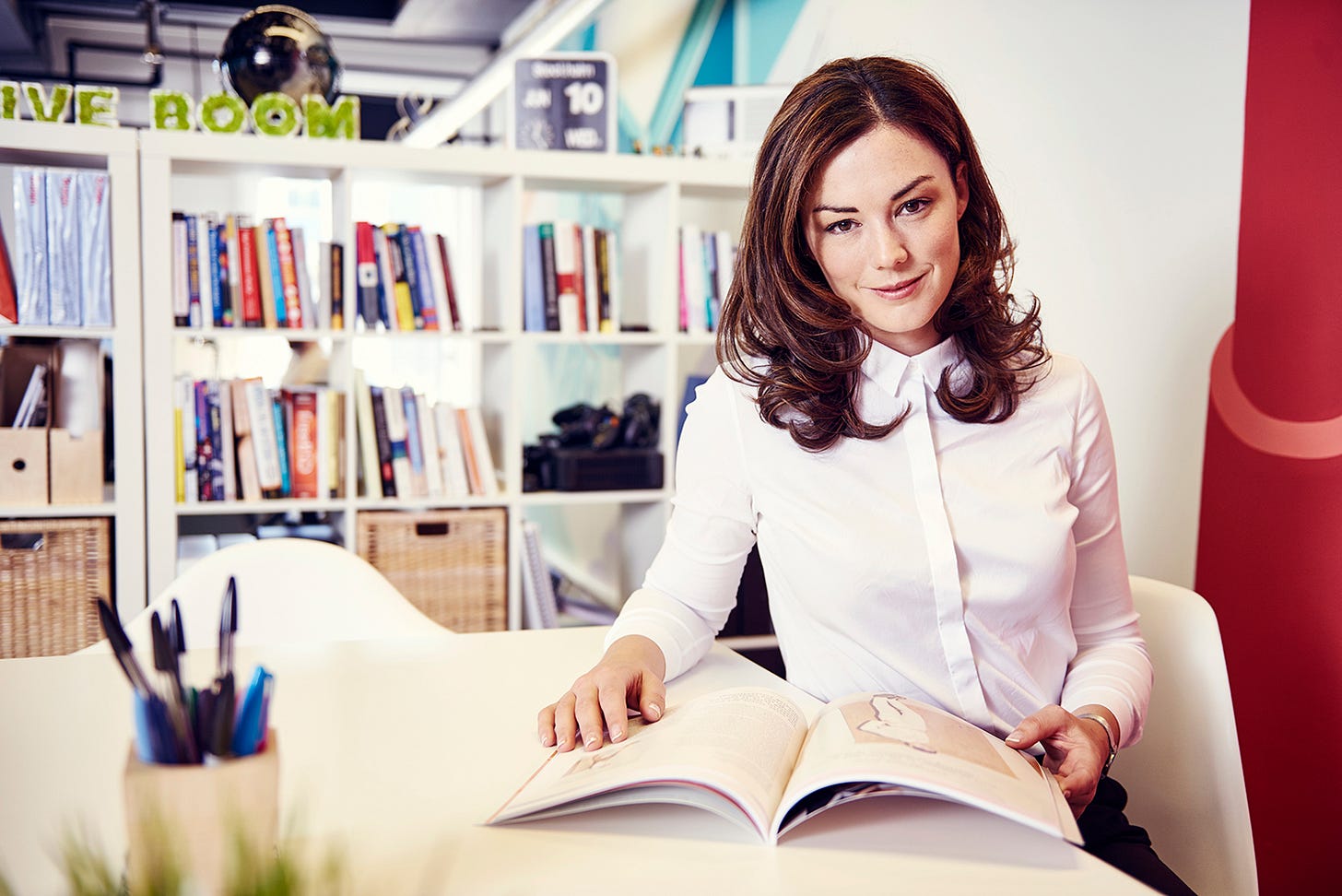 1/ What was it that drove you to establish Creative Boom and have your motivations for publishing changed over time?
It was 2009. We were in the aftermath of a global recession. I'd only been freelancing for two years but suddenly lost a lot of clients overnight – as had many of my Twitter friends. With a degree in Journalism, some experience in PR and lots of extra time on my hands, I thought, why don't I start a blog or something. I wanted to celebrate artists and designers by writing about them and raising their profile, so they could get work again. And perhaps share some tips on running a business. That sort of thing. It's why I came up with the name Creative Boom – because I wanted to give back and make a difference to the creative industries.
It was a hobby. A much-loved side project and passion. And then it became this bigger platform, quite unexpectedly. Today, it's a magazine with over 800,000 monthly readers from across the world. We're big in the UK and Europe but also America, Canada, India (our fastest-growing audience) and Australia. It's no longer just a side venture. It's my main focus.
I've interviewed some of the biggest names in the business and worked with brands such as Samsung, Adobe and WeWork – although to look at the site, many often ask if there's any advertising on there at all. I've done that deliberately – kept it as ad-free as possible. I've travelled all over the world, been to 10 Downing Street to advise the government on small business, written for The Guardian and became part of its Culture Professionals network in 2012 until 2016. I've also met some wonderful people and my magazine has opened many doors. Most importantly, I'm able to do what I set out to achieve and that's to support creatives through inspiration, tips and ideas.
Publishing has transformed enormously over the last decade and has made Creative Boom a huge challenge – at times, I've thought about quitting but then I always come back to why I started it, and I feel I've still got a lot to give back. Besides, a few years ago, Creative Boom became profitable and where I spend most of my time. I'm still part of the team at Boomerang, a communications consultancy in Manchester which I run with my husband Tom – it's just funny how that now feels like my part-time venture instead.
2/ Tell me about the new podcast – what should listeners expect and what do you hope it will offer in addition to the website?
I used to work in radio and really miss it. Podcasts have become increasingly popular and so I thought it was the right time to launch one for Creative Boom. Listeners can expect conversations with creatives. Simple as that. From those conversations, I hope to uncover some inspiring stories and valuable insight to help people in their creative careers.
As for what it will offer, I'm hoping to add a more personal touch to Creative Boom. During the early years, Creative Boom was more of a personal blog and clearly just me. That meant it felt very personal. But as the magazine grew and we introduced a team, I felt it was best to adjust how we presented ourselves – as a team and a bigger brand, and therefore, a magazine. We grew up, so to speak. 
The new podcast will be presented by me – so we hope it will bring back some of that personal touch that made us so approachable 10 years ago. Of course, we do strive to be warm and friendly. It was the reason we rebranded several years ago, as we wanted to bring a little humour and warmth to our identity.
3/ Is there any advice that you'd give to artists and creators with new work to promote, based on your experience over the past decade?
I would share your story. People are interested in seeing the real people behind a logo. They love to hear about processes, work-in-progress. People always want to work with people. Don't be paralysed by the pressure of social media to be "perfect". Embrace "truth" and put yourself out there.
4/ Who in the creative industries past or present has inspired you the most and why?
That is such a difficult question, as Creative Boom constantly puts me in touch with inspiring people. I admire anyone who can apply themselves and be creative. It's tough out there, so if you're running your own business and surviving as a creative, that is very inspiring.
5/ If you woke tomorrow and were no longer constrained by time, budgets or even skills that you haven't learned yet, what would you make?
I would buy a beautiful old building in Manchester – all red bricks and industrial charm – and transform it into a non-profit community hub for the creative community, with a lifelong promise to always provide affordable workspace, co-working, artists' studios – making just enough to cover running costs. I would bring in a bigger team and have the Creative Boom HQ on one of the floors. We would run workshops, provide free courses, stage special events, cinema nights, etc. We'd offer free desks to one startup each year, providing an accelerator fund to get them going – and also track their progress.
I'd transform the ground floor into a big food hall, encouraging lots of independent food and drink brands to come in and have a base there. There'd be big communal tables in the middle and people would gather night and day. There'd be music, large interactive arts events... I'd never leave!
And I'd carry on running Creative Boom. It's my passion, and I'm not sure I could do anything else and be as happy.
---
My playlist this week is Satan's songs, a small and focused list celebrating the joy of wicked, satanic music.
From the raucousness of Bridge City Sinners and psychobilly punk of Creepshow to the elegant evil of Jill Tracy and an ode to the devil by Harley Poe, this is music that's close to my heart and perfectly complements almost everything I've ever written. Give it a play and let me know what you think!
---
That's it from me today. Say hi on Twitter if you want to talk about any of the above. If you liked this newsletter, recommend it to your friends! I've got interviews coming up with editors from a range of different publishers and publications, plus some of the leading English-language comic-book writers and artists in the world, so whether you're an emerging creator wanting to find out how best to pitch or you want an insight into your favourite artist's creative process, there should be something for everyone.