Discover more from IF YOU GO AWAY - News from P M Buchan
News about projects from writer P M Buchan, reflections on the creative process for projects that crashed & burned, plus dark & transgressive art recommendations.
LBDSM
The origins of La Belle Dame & an interview with Sarah Gordon.
After beginning to start writing one-page comic strips to serialise in national UK magazines in 2011, one of the first attempts that I made to write a long-form story was LA BELLE DAME SANS MERCI (LBDSM) with co-creator Karen Yumi Lusted.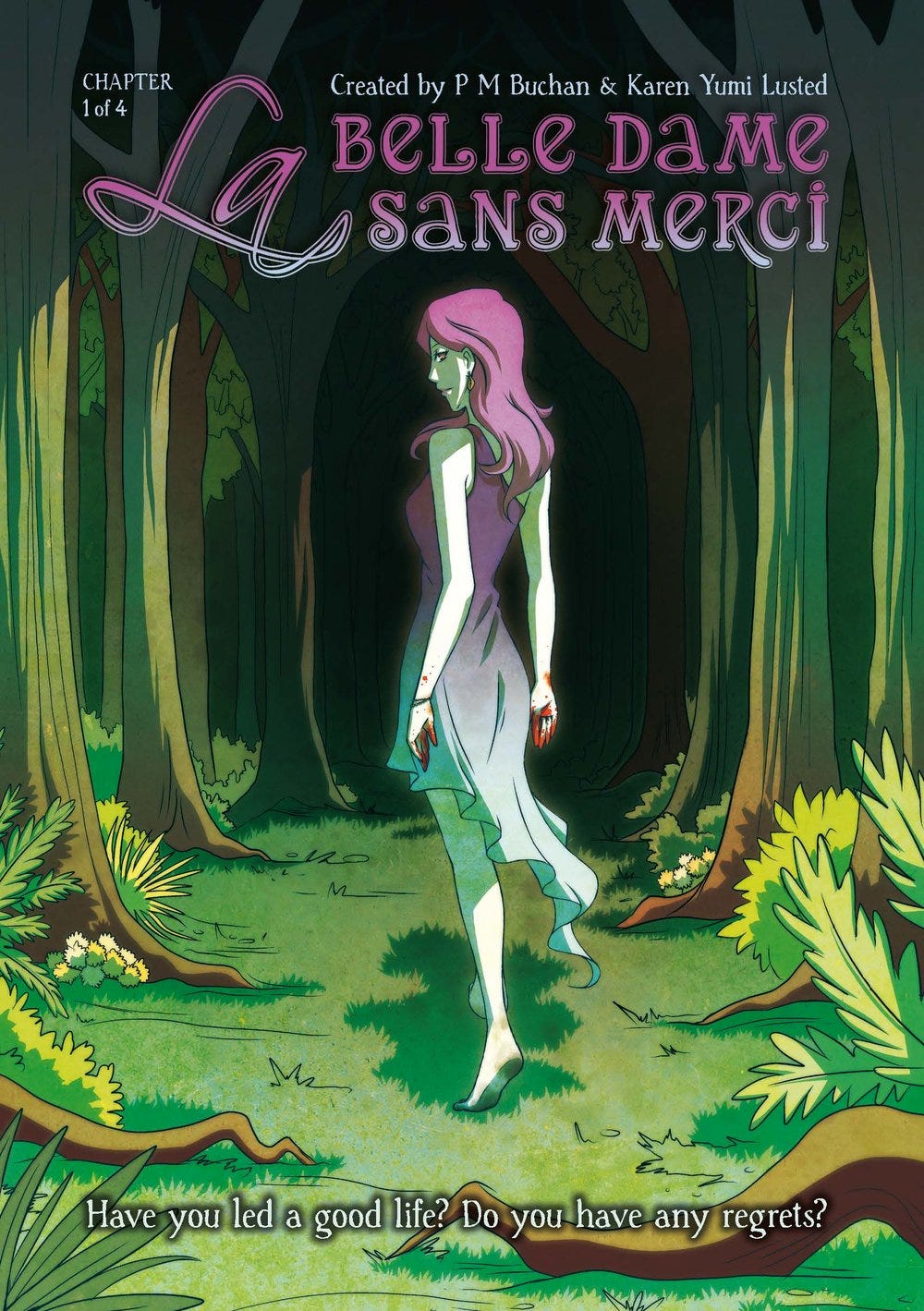 In 2012 the UK publisher Myriad Editions opened submissions to their inaugural First Graphic Novel Competition, inviting creators to submit 15 pages of sequential pages win a chance to have professional support and potentially your first graphic novel published with them. This was significant for a number of reasons. The market for comic-books and graphic novels is significantly smaller (proportionately) in the UK than in the US, ostensibly because we never quite got over the infantilization of the medium following the comic code crusade in the 1950s. In 2020 there are a few more options in the UK than there were in 2012, but at the time our UK comic-book industries were really in a slump, so opportunities like the ones offered by Myriad were significant.
An issue that I've always faced when submitting to UK publishers is that our market isn't very friendly towards "genre" creators, or at least, it doesn't think that it is, which makes writing unashamed horror a hard sell. There are a lot of modern UK creators carving out successful careers for themselves by making mostly horror and sci-fi comics, people like INJ Culbard whose Lovecraft adaptations for SelfMadeHero particularly were a resounding success, but there's still an overriding feeling that successful horror is an exception to the rule that UK markets prefer graphic non-fiction and diary comics. There always seem to be mitigating factors as to why horror succeeds in the UK. I haven't found a solution to this problem yet. An agent friend suggested that I try to sell BLOOD MOON by stealth, disguising the occult aspects and focusing on the relationships, but I struggle not to wear my heart on my sleeve. I feel like people can choose to read BLOOD MOON literally or allegorically and lose nothing through either interpretation. I'm not ashamed to have loved horror passionately for as long as I can remember, but clearly I haven't got all the answers yet.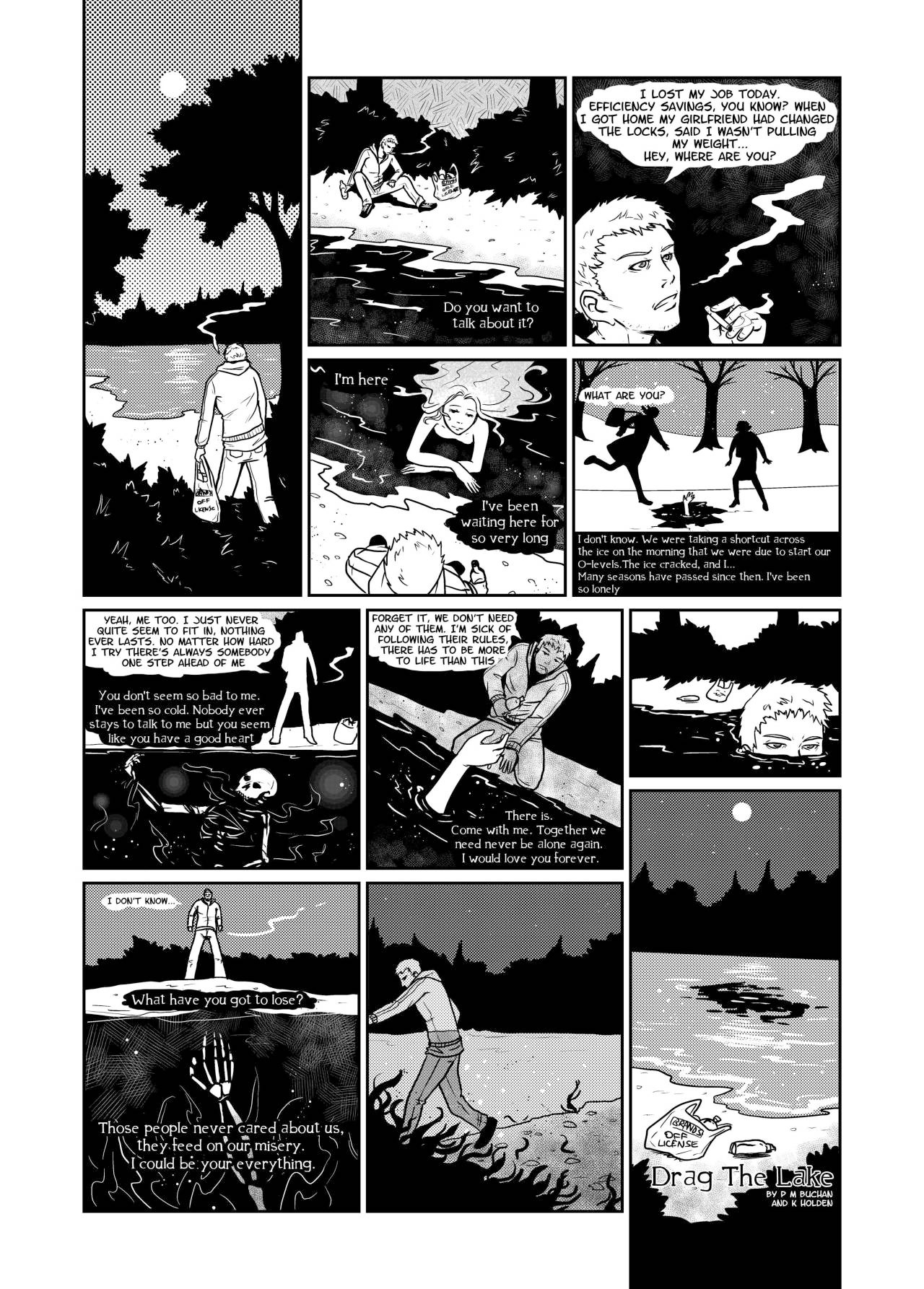 'Drag the Lake', P M Buchan and Kate Holden (2011)
The first SCREAM: The Horror Magazine comic strip that I worked on with an artist who I'd never met before was DRAG THE LAKE with Cumbrian artist Kate Holden in 2011. Making DRAG THE LAKE was eye-opening because I was completely inexperienced and had wild and unrealistic expectations, and to this day Kate remains one of the people I know who is least likely to take shit from anyone and first to offer a correction if she thinks that they've stepped out of line. It was an interesting experience. The strip itself looked great and we became friends afterwards, but working together was tense, and afterwards, when I spoke to Kate about my ideas for working on a longer project, she sat me down and explained what a massive investment of time drawing even a single speculative page for a writer is. Kate helped to hammer home the message a script I could write in my lunch breaks would take an artist away from days of paid work to draw. Kate's perspective really helped me, and she then suggested an artist friend who had a strong visual style and was looking for a new direction in her stories.
Kate introduced me by email to Karen Yumi Lusted and we began collaborating on LBDSM almost immediately, initially as a 15-page competition entry. The starting point for the story came from my time studying BA (Hons) English Literature at the University of Newcastle-Upon-Tyne when I was growing up. I discovered a deep love for the Romantics at university, which has influenced a lot in my life (ask me what my son's middle name is…) and which gave me a fertile vein to mine when I was starting out as a writer and finding my voice. My first, unpublished, novel was based on two of my favourite poems by John Keats, which led to me wanting to explore the ideas in his poem La Belle Dame Sans Merci in more depth. I felt a lot like the titular character in Keats' poem acted as the prototype for the femme fatale that was popularised in film noir in the 1940s and 1950s.
Now I love film noir, and I love femme fatales. There's something about the concept that appeals to me on a deep, primal level. I was a timid child and there's still a part of me afraid to take risks or take the plunge, so when I write stories there's always a temptation to punish characters for their transgressions and breaking of rules. The femme fatale embodies that concept perfectly, of the beautiful stranger you fall in love with, leaving your responsibilities behind, and you're invariably punished for it. However, as much as I love the idea of the femme fatale, there's something incredibly reductive and sexist about it, if not flat-out misogynistic. To say that some women are born bad, invariably beautiful women with the power to scorn men, is the kind of lazy trope that fools and simpletons embrace and regurgitate without scrutiny. I'm not a good enough writer yet that I can afford to repeat such lazy mistakes.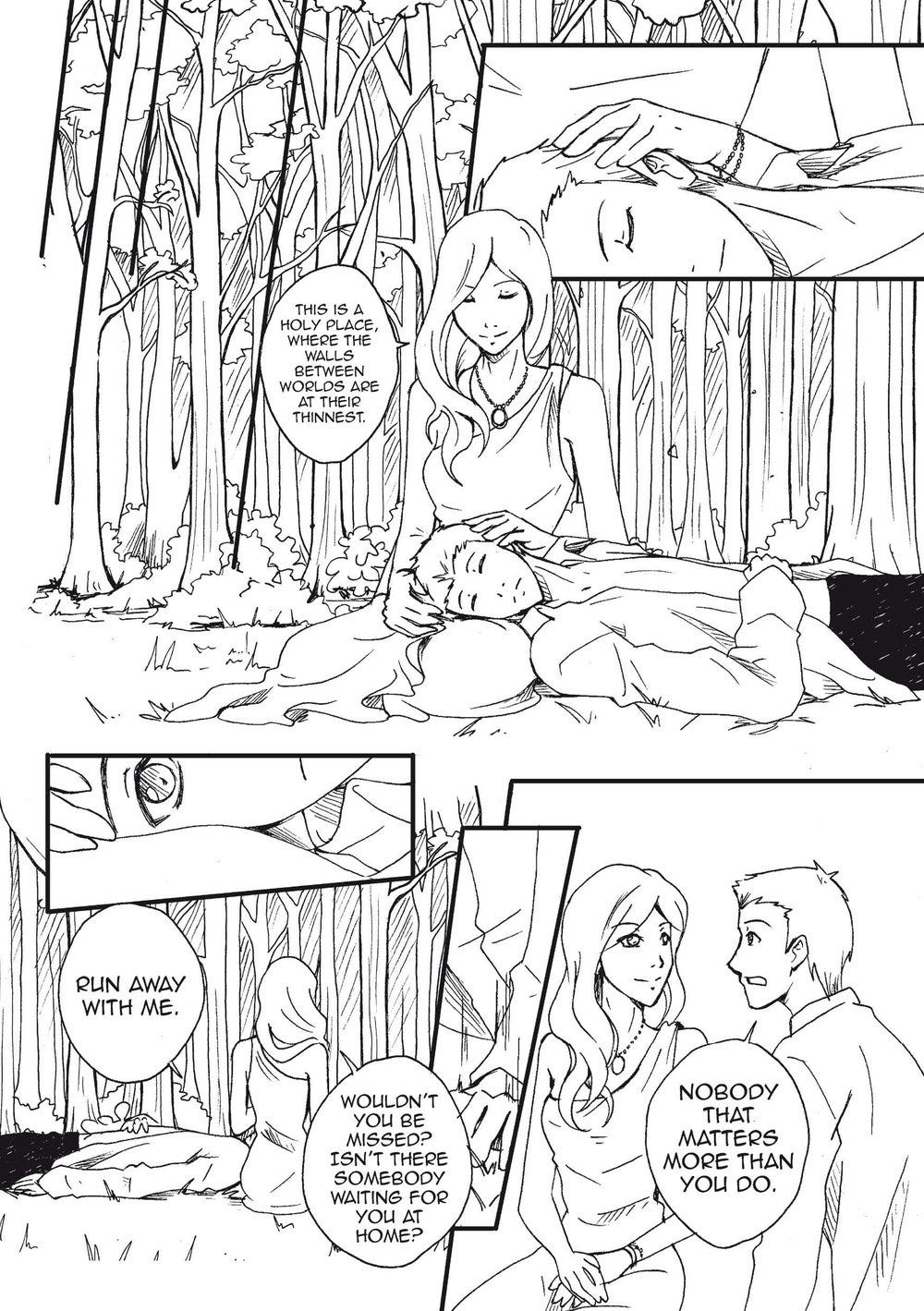 'La Belle Dame Sans Merci' Chapter One, art by Karen Yumi Lusted
That's how LBDSM was born. I wanted to interrogate the myth of the femme fatale, taking Keats' poem as my starting point. I wanted to write horror, as I always do, but in a way that could appeal to a broader audience and therefore find a home with a UK publisher. And Karen Yumi Lusted was clear from the outset that she didn't want to draw anything too overtly violent or graphic, setting the parameters for us to work inside. We submitted to Myriad Editions' competition 1 October 2012 and didn't win, but also didn't feel ready to stop there, so agreed to continue working until we had enough material to release the first of four chapters. As an aside, Gareth Brookes won the competition that year and in 2013 Myriad Editions released the graphic novel version of his The Black Project, an intense, crushing slice of urban horror about a disturbed young man's sex doll obsession.
Karen drew all of the sequential artwork and the linework of the cover to the first chapter of LBDSM. She lettered the internal pages herself and reconstructed my script into a form that she could work with. And then I messaged my friend Michael Stock, who I'd met (I think) when Leonie O'Moore paid him to letter our Starburst Magazine strip, Sleeping With The Fishes. Stocky loved working on comics and agreed for a very generous price to create a logo and design the content pages etc and lay the comic out for print. This was probably my first encounter with paying a collaborator for their work on a comic together. Until that point I'd hit various hurdles in the logistics of making comics, based on underestimating the investment of time that it takes an artist to draw a comic page, and not having the skills needed to transform a collection of sequential pages into a package ready to hand over to a printer. Working with Mike taught me that graphic design was a skill that some past collaborators had brought to the table, in the same way that I brought my knowledge of PR and ability to write a press release. More than that, Mike demonstrated that if you're going to invite a graphic designer into your team, they need to be paid for their time. Sorting your bleeds and compiling files for print is a vital part of creating comics, but it's also the same sort of time-consuming job that graphic designers do for multiple clients every day. It's not the same as deciding with an artist that you're going to co-create an idea that has never existed before and own it 50/50 at the end. Nobody is going to queue up for the privilege of compiling your pages into a PDF.
LBDSM chapter one was nearly complete, but there were still a couple of elements missing. A lot of my previous comics had been made with male collaborators, based mostly on the pool of artists that I knew, but more importantly because of the limitations of finding collaborators willing to work with me unpaid. This was an issue that I wanted to address in LBDSM from the outset, but was also clearly something causing discord across the wider UK comic-book industries that year, nowhere more evident than in the controversy surrounding the first British Comic Awards.
Thought Bubble 2012 was host to the first British Comic Awards, founded by Adam Cadwell after the apparent demise of the Eagle Awards, which were awarded by UK comic fans off-and-on between 1976 and 2014, and which towards the end tended to favour British comic creators working on mainstream American publications, overlooking the small number of British comic-book publishers and creators whose work needed all the help it could get to reach a wider audience. I have a lot of admiration and respect for Adam, who went on to run the British Comic Awards for five years and devoted an obscene amount of his time, at a high personal cost, to raise the profile of British comic creators and grow the market for comics in the UK. But there were teething problems in the first year, and some of the hard work that went into the first awards was undermined by a gender diversity problem in the judging panel and subsequently shortlisted books.
You can read a summary of the issue in Thal Sneddon's New Statesman article, 'Where were all the women at the British Comic Awards?', but my interpretation of the situation was that in order to run the first award ceremony, the core organisers needed people to give up a lot of time to make it a success, and the limitations of mostly men working with their friends and peers meant that significantly more men than women volunteered their time initially, which had an impact when it came time to highlight the kinds of comics that were most familiar to them. This, unfortunately, led to a male-dominated shortlist, and some phenomenally-talented female comic creators being overlooked.
Nearly ten years later, this is still a difficult thing to discuss in the UK, because some people who I respect tried to do something that we all needed, made some mistakes and then, crucially, responded to criticism badly on Twitter, at a time before it was well established that marginalised groups would use social media to level the playing field and speak up when they felt like they were encountering discrimination. It was a shit-show, basically, with a lot of people falling out publicly and vocally, overshadowing the achievements others who were shortlisted or won awards. The irony of the situation was that most of the people involved did grow from the experience and Adam Cadwell particularly put in a massive amount of work to address all of these criticisms in future iterations. It's regrettable that he went on to turn the BCAs into a something incredibly professional, with nationally recognised judges, but couldn't secure funding or sponsorship to make the awards viable in the long term.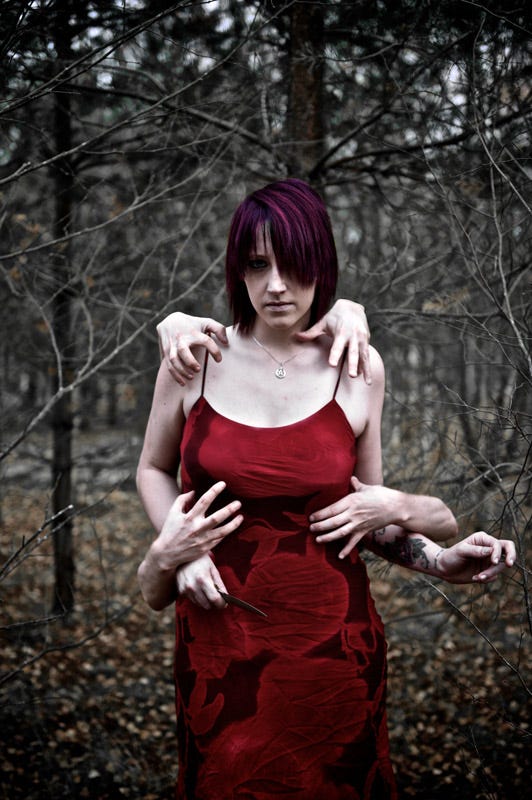 'La Belle Dame Sans Merci' short film by Mitsuko Studios, promo shot
Against the backdrop of the first BCAs, I didn't want LBDSM to fall into these same traps, particularly given that the subject matter was a deconstruction of the myth of the femme fatale. I couldn't help that the only graphic designer I knew was a man, but other than that I made the decision to make sure that everybody else who contributed to the series would be a woman, hopefully broadening the group of people who I'd be able to collaborate with in future. I invited my friend Miranda Brennan, who at the time led a feminist pop-culture blog called Bad Reputation, to write an essay as backup material. And I begged artists Kate Holden and Kate Ashwin to do black-and-white pinups. Finally, and most excitingly, I approached Kate Brown, whose work I completely loved and admired from Freakangels and her SelfMadeHero graphic novel Fish + Chocolate, to colour the cover.
NOTE – Working with Kate was another steep learning curve, revealing how little I knew about the cost of making comics. I can't remember how much it cost, but when she quoted me something like £150 I leapt with excitement at the thought that LBDSM could be full-colour. No, she corrected me, that was the cost-per-page. So she coloured the front cover, and it was incredibly exciting because to this day she remains one of my favourite colour artists in the business, and has since worked for Marvel, The Phoenix and found success through her original Kickstarted works.
La Belle Dame Sans Merci - Mitsuki Studios
That was the genesis of LBDSM. Alongside the release of the first issue I worked with my friend Antoni McVay on a DIY short film adaptation. Something went wrong with the sound recording during the filming process, but Brendan Ratliff (AKA Echolevel/Syphus) who I studied at university with, stepped in to help, composing an original score and bringing the whole thing to life. Brendan has since composed the soundtrack to games including Fist of Awesome and Pineapple Smash Crew, and works regularly on audio dramas for BBC Radio 3 & 4. I live in hope that we'll get to work together again at some point.
The literary angle of LBDSM opened doors to me that I couldn't have anticipated. Miraculously for a self-published comic, Michael Caines from The Times Literary Supplement agreed to take a look at it, covering the comic in one of the most prestigious publications that any British writer could hope to feature in, running since 1902. Not only that, but Michael subsequently passed my details onto some of the other TLS staff so that I could pitch graphic novel reviews, leading to my first paid magazine-writing credits. I reviewed Rob Davis' second SelfMadeHero Don Quixote adaptation for TLS 5749 in June 2013, which gave me an air of respectability that I'd previously lacked. I owe a lot to the opportunity that Michael Caines created for me.
We released the first chapter of LBDSM in November 2012. Subsequent issues each featured pinups by a mix of established and emerging artists, including Sally Jane Thompson, Jessica Monster, Anna Fitzpatrick and Luna-Razuli. And to tie in with the release of chapter two, I collaborated with Labadie House (then called For the Wolf), a dark alternative rock band from Tulsa, Oklahoma. I met the singer of the band, Kristy Emory, through Joe Whiteford, when I collaborated with the Harley Poe singer on my failed horror-punk anthology. After bouncing ideas back and forth about ways that we could collaborate, Kristy suggested that she write a song based on the first chapter of LBDSM, which in 2014 was distributed by HorrorHound Records on the For the Wolf album Turn On The Dark. It was incredibly exciting to hear this new interpretation of our comic, but possibly more exciting was that 'A Faery's Song' was featured as part of the editor's weekly playlist in Kerrang! Magazine issue. When I was growing up, Kerrang! was the UK's best-selling weekly music magazine and it was my bible as a disillusioned teenager, so it was a dream come true the first time the magazine featured one of my creations!
For the Wolf - A Faery's Song
From the outset, LBDSM was planned as a full story divided into four chapters. We published chapter three in 2017 and the series has been on hiatus since then because Karen has had a busy life travelling the world and spending a lot of jealousy-inducing time in Japan. We're both committed to finishing the series together as intended, and have waited for the opportunity to return to it. As of January 2020, Karen has started drawing the final issue, though it would be premature to plan a release date until we're closer to the finish line. It's a strange thing, completing such a short story eight years after you started it. I'm certain that there'll be wild discrepancies between the style of those early pages and the things that we've learned since, but there's no point trying to paint over our history. I love that we've made a Gothic-horror story based on a poem by John Keats, I love how manga-influenced it is and I hope that in some small way it does credit to the notion that no femme fatale is just born evil.
If this newsletter has inspired you to read the first three issues of LBDSM, if you send me a message (contact details at http://pmbuchan.com) before the end of February 2020 I'll email you the PDFs. I could direct you to my online store, but the truth is that the time it takes to post a physical single issue is time that could be spent either with my kids or writing, and I can never get enough time for either!
---
This week I've interviewed easily one of the most inspirational artists that I have the privilege of knowing, Sarah Gordon, whose macabre and unsettling comics and illustrations make the world a better place. A comic creator, artist and printmaker, Sarah's work has been described as "disturbing" by The Guardian and she has a talent that cannot be repressed. Sarah contributed an image to the HERETICS folk-horror exhibition that I co-hosted in Leeds and I still dream of finding a way to collaborate with her more fully.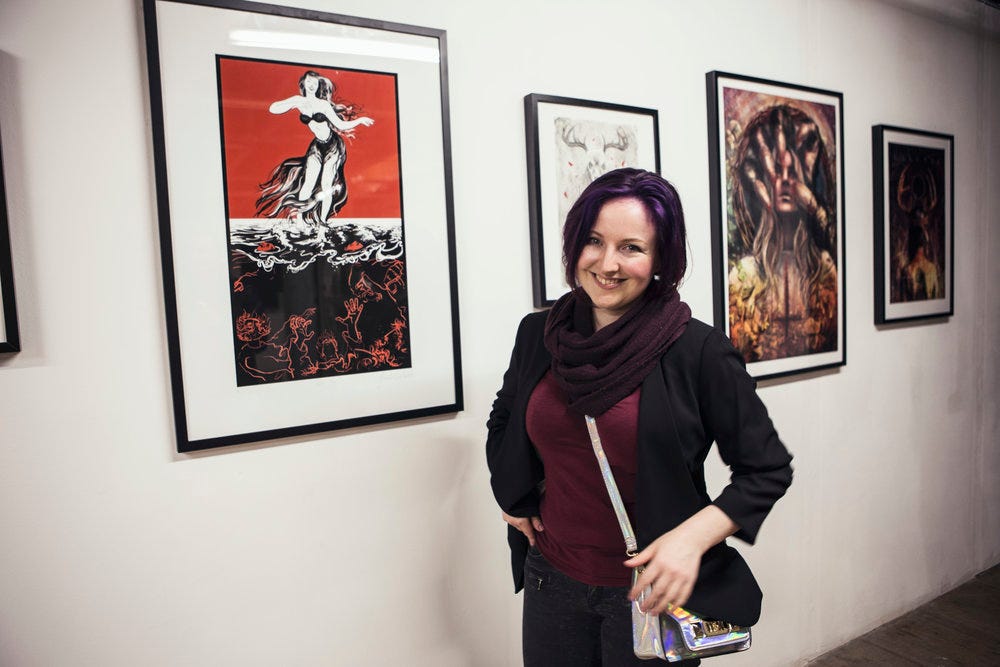 Sarah Gordon at the HERETICS exhibition (2016)
1/ What were your hopes when you chose to pursue the life of an artist and have your motivations changed over time?
Does fear of death count? I keep a memento mori as the wallpaper for my phone and my laptop. I find it incredibly motivational.
I came to my creative career with very few notions of where exactly I wanted to end up. My basic hopes were to not live in a bin, and to not have to continue working in a bar or as a reprographics assistant in an office as I had done before/during college. I can't remember a time when I wasn't creating things, it's a part of life like eating or sleeping, and I didn't want that to change when I hit the adult world. Life's short, and sitting in an office, bored out of my skull for eight hours a day didn't appeal to my teenage self.
Early in everyone's career, I think there can be a lot of scrabbling around for survival, so your creative motivations can often get caught up in that. At the start, a lot of the work I was doing was all about either paying the bills (so, work for hire and almost always me realising someone else's vision), or I was trying to find my voice underneath everything I had been told about what art is, what it should look like, who should be making it, and why it should even exist. It can take a while to sift through all that debris, and you sort of find the purpose of the work by making the work. 
These days it's much more about making things I'd like to see in the world. I like it when art provides a certain provocative catharsis for its audience, so I try my best to provide that. My latest project involved me burning a seven-foot wicker owl effigy full of letters from my readers, and making ink from its ashes to turn into a book of horror stories. I would have been far too scared about where my next month's rent money was coming from when I was a recent graduate. I still get scared about bills from time to time, like lots of people, but the need to bring a bit of weird beauty to the world has, it seems, won this particular fight.
2/ Who or what has been the greatest source of inspiration across your career?
Inspiration comes from all over. As far as I can tell it's living life and paying attention to what happens that keeps you fresh. 
If I'm feeling a bit stuck with work I am prone to making playlists, as I find music can trigger ideas and generate a bit of confluence of thought. Historically that has meant listening to a truly uncouth amount of Nick Cave & The Bad Seeds, or the experimental weird stuff they play on Radio 3 near midnight. 
3/ What have you learned in the process of making comics or working as an illustrator that you wish you had understood at the beginning of your career?
That you don't have to do things the way other people are doing them. It's not a bad thing if your work isn't on-trend or the definition of a comic book. Convention is fine, but it's okay (more than okay) if you want to step out of the designated boundaries of your medium and muck about a bit. Or a lot.
4/ If you woke tomorrow and were no longer constrained by time, budgets or even skills that you haven't learned yet, what would you make?
I'd send a new moon into orbit to sit alongside the regular moon. It would be painted in Black 3.0 (Stuart Semple's perfect black pigment that absorbs 99% of light), and impossible to photograph or observe from Earth. But it would be up there, looming.
Failing that I have a couple of solid book ideas in the works. The next big narrative step for me will be to transition from the short story form into long-form or serialised story-telling. I'm looking forward to it!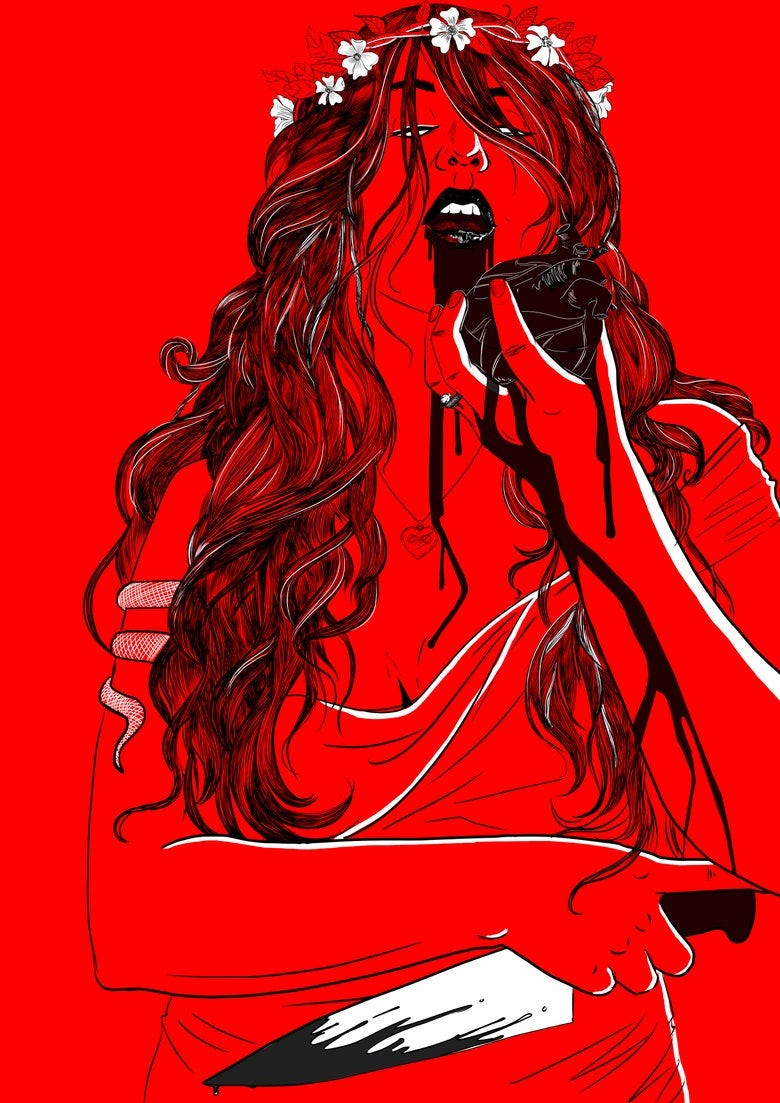 'Ouroboros' by Sarah Gordon
---
This week I want to share my playlist for LBDSM, created to help me get into the mood to sit down and write the series. If you only listen to one song from this one, skip to Burn Witch Burn by Ego Likeness, Opheliac by Emilie Autumn, and of course A Faery's Song!  Sometimes when I'm writing, a single song can act as the launchpad for the tone that I want to capture in my writing, and for LBDSM the lyrics of Burn Witch Burn embody the strength of character that I was aiming for in La Belle Dame:
"You connived and deceived and learned how to read
You've made the men wary and say you won't marry
Speak your mind and deny
All the things that you have done
You are guilty
You are found guilty of every crime under the sun."
Ego Likeness – Burn Witch Burn
This used to be a much bigger playlist on my iPod and I have bittersweet memories of listening to it as I cried on the drive to Sunderland from Manchester for my grandmother's funeral, but I haven't been able to fully replicate it on Spotify yet.
---
That's it for another bumper newsletter. I never mean for them to be this long, but there's so much to say…
John Pearson is still hard at work on BLOOD MOON chapter two. Hopefully I'll have an update in the next newsletter. Until then, give me a shout on Twitter if you want to talk about anything I've discussed today, and hang in there.