Discover more from IF YOU GO AWAY - News from P M Buchan
News about projects from writer P M Buchan, reflections on the creative process for projects that crashed & burned, plus dark & transgressive art recommendations.
My life in the UK comic-book CULT
An interview with Rue Morgue's Executive Editor + our first comic-art collective...
If you're reading this, you survived to 2020. BLOOD MOON chapter two is progressing nicely, though John Pearson keeps sending me notes like "drawing people talking in cars is fucking hard FYI" and I don't think he realises that if he keeps sassing me then next issue they'll be talking in a crowd of people on horseback.
Speaking of sass, it's probably time to address the genesis of my long-running rivalry with Owen Johnson, who I met as a consequence of writing for Starburst Magazine. Starburst has been a force for nothing but good in my life ever since Jordan Royce decided to take a punt on buying it and bringing it back to life as an institution in 2011, offering me an ongoing platform to write about comics.
After my stint writing for SCREAM: The Horror Magazine, I was ready for a bigger challenge. SCREAM came out every other month but Starburst was going to be monthly. It began with a digital-only issue and the response was so overwhelmingly positive that we went to print with the next one, beginning a monthly schedule that I met for years with three or four-page columns about comic-books, beginning broadly by writing about a mixture of mainstream comics, and progressing over time into creating a forum to showcase the UK comic-book industry and independent comic creators who might not yet have been covered by national media.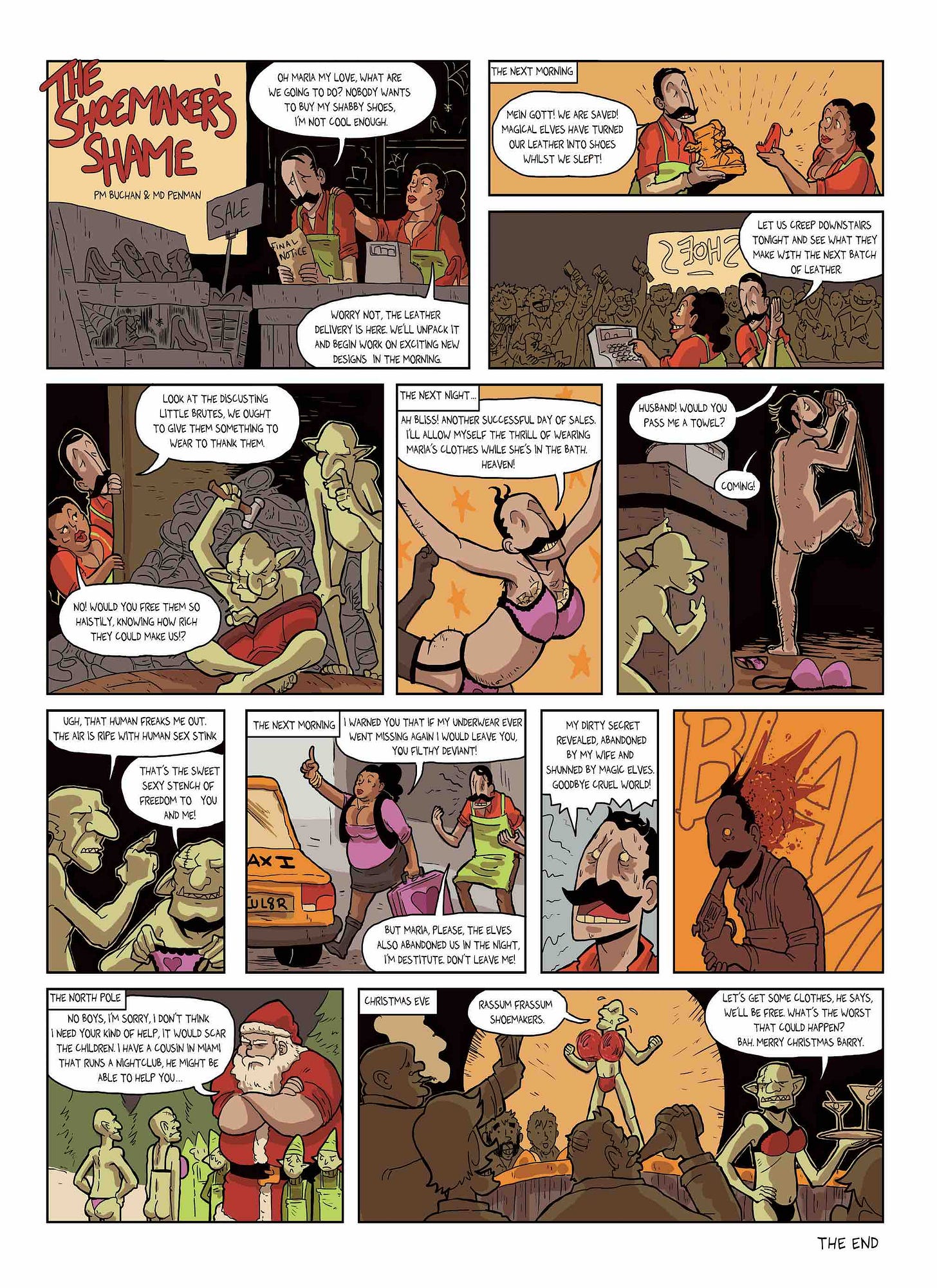 The Shoemaker's Shame by P M Buchan & M D Penman, January 2013.
Writing the column itself was comparatively easy. Alongside it, I committed to writing at least a one-page done-in-one comic strip with a different artist every month, which came with its own challenges. Logistically, this was dependent on me persuading a new artist to collaborate with me, to deadline, every month. And because it didn't pay monetarily, this meant that every month I'd need to convince a stranger of the relative value of adding to their portfolio a printed comic-strip in a national magazine.
More importantly, the format necessitated coming up with a completely new idea every month, turning this into a story from start to finish, normally in nine panels at most, and generally restricting the strips to something that could have a punchline. I did experiment with the format but found that, at least for the kind of stories I enjoy telling, it's hard to have an emotional impact or get seriously invested in only nine panels, and much easier to pull off a joke than it is a drama. The alternative would have been creating something in the style of a newspaper strip with recurring characters, where the cumulative weight of their recurrences allows me to explore them in greater depth. That's something I'd love to do one day, but that format is much better suited to a single cartoonist than a writer/artist pairing, IMO.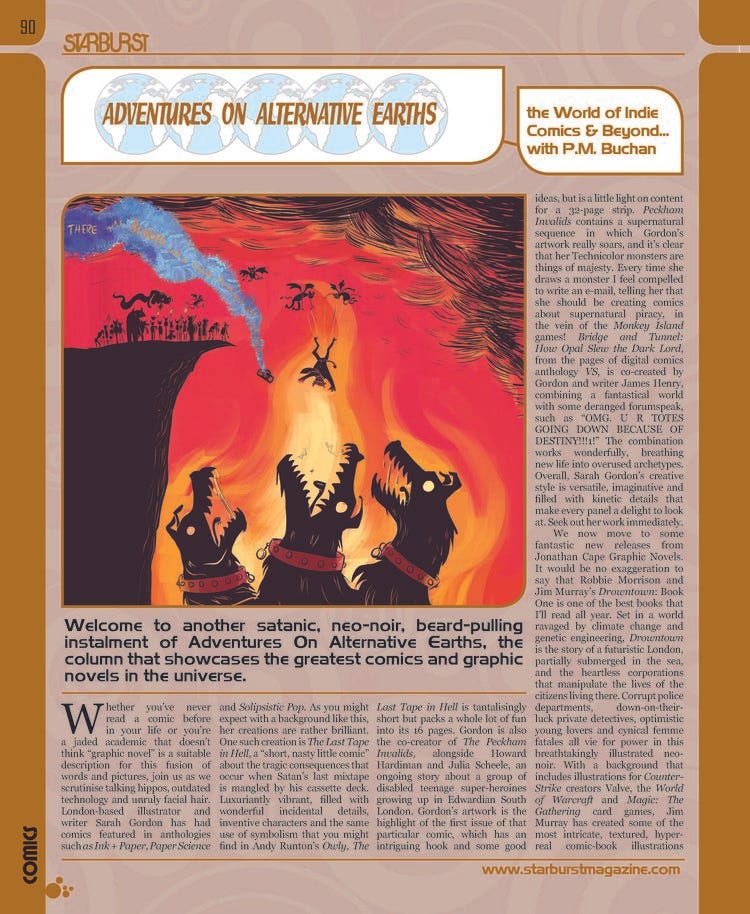 I kept up those monthly comic strips until 2014 and they taught me more than I could anticipate about how to structure a script, how to write dialogue, how to write panel descriptions, and more abstract concepts such as not to be too precious about my ideas. I always remember a talented tattoo artist I knew growing up, who sat me down in a pub one day and told me all about the comic-book series he was going to create. He told me about these angel and demon characters and the war between heaven and earth, how the pieces would fit together and how many issues it would take. We were there for hours, his eyes glowing with heartfelt enthusiasm. As far as I'm aware, he never did anything with that idea. It's a problem when you plan out these massive, life-defining works well in advance of actually creating anything.
The best advice I can give to aspiring comic creators is that your ideas are not rough diamonds to be hoarded lest somebody steal them. Any idiot could have the idea to write about a kid going to wizard school. All that matters is what you do with your ideas. Writing one-page strips for Starburst to deadline meant that if I had an idea, there wasn't time to spend nine months planning it out as my magnum opus. I had to boil it down to nine panels and get it sent off to the artist. The sooner I got it to them, the more time they'd have to make us both look good. That tattoo artist with his angels versus demons story would have balked at the notion of giving away his lifelong dream project in nine panels. But it would have unblocked his mind and given him free reign to have new ideas, rather than obsessing over something he probably conceived when he was eight years old. It would have helped him to distil the essence of that story into a start, middle and end, and if it was such an amazing idea then he could have revisited in more depth after that initial one-page test.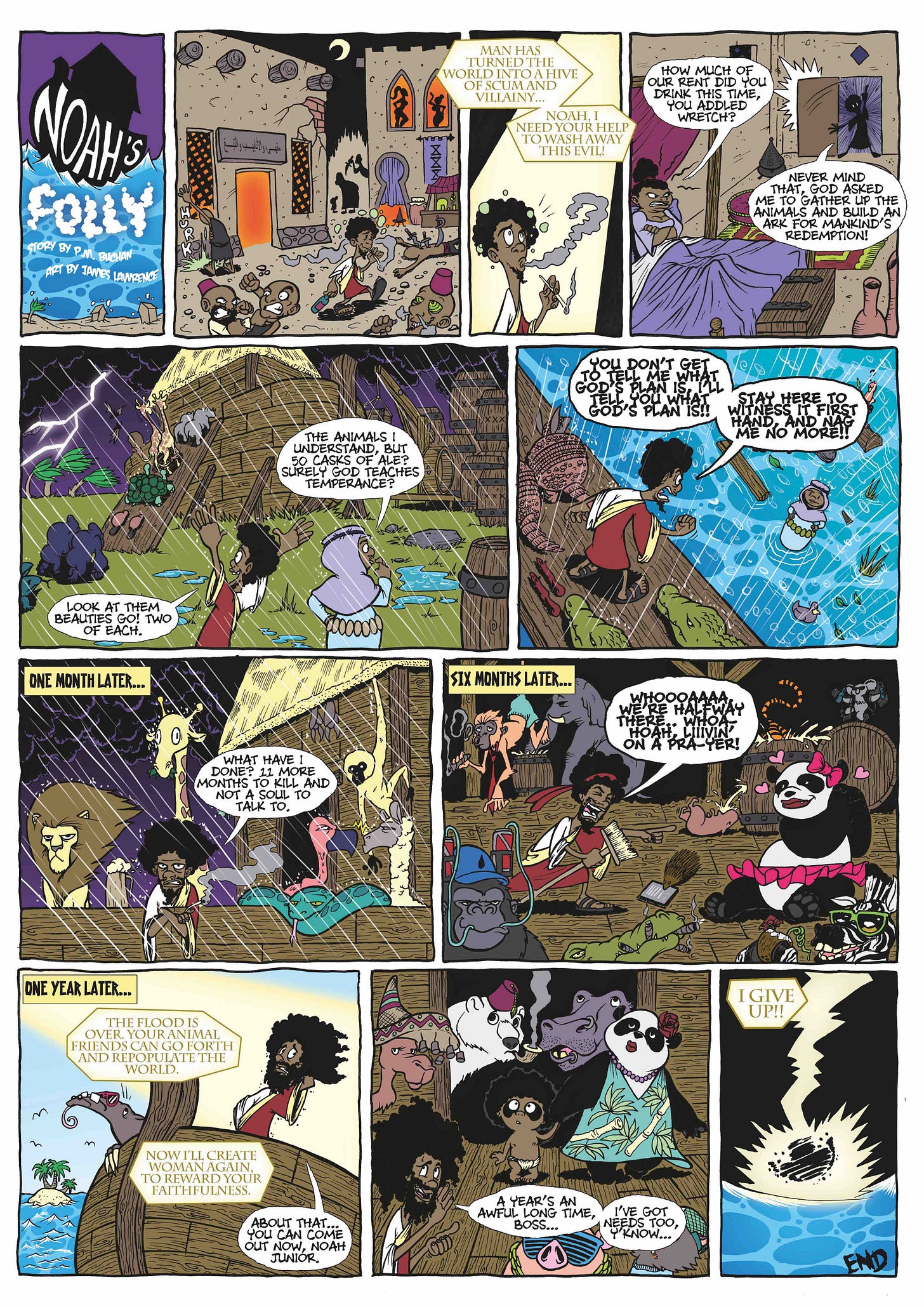 Noah's Folly, created by P M Buchan and James Lawrence, December 2013.
It was through Starburst Magazine that I met my ongoing friend and professional rival, Owen Johnson, Publishing Coordinator at 2000 AD. We met at the Starburst launch party in Fab Café Manchester, around the time that I reviewed his first graphic novel with Accent UK, Who In The World Was Thaddeus Mist? Owen introduced me (I think!) to Manchester-based artist Mark "M D" Penman, who was working on a series called Peabody and D'Gorath published by Slave Labor Graphics. I collaborated with Mark on a strip based on the Elves and the Shoemaker for Starburst issue 385, January 2013.
Mark was working on Peabody and D'Gorath with artist Andrew Tunney, who not long later was shortlisted for a British Comic Award for his brilliant Girl & Boy, which reached massive levels of popularity driven in part by viral shares on Tumblr. Through them I met James Lawrence, who I created two Starburst strips with, one that I love (Noah's Folly) and one that I gave him a terrible script for.
We were all emerging comic creators in the UK, having worked on numerous small projects of varying quality and with an appetite to continue developing and reaching wider audiences. There came a point in 2014 when we realised that we could achieve more together than we could individually, so decided to put on a group exhibition of our work in Orbital Comics, London, combining our talents to extend our reach.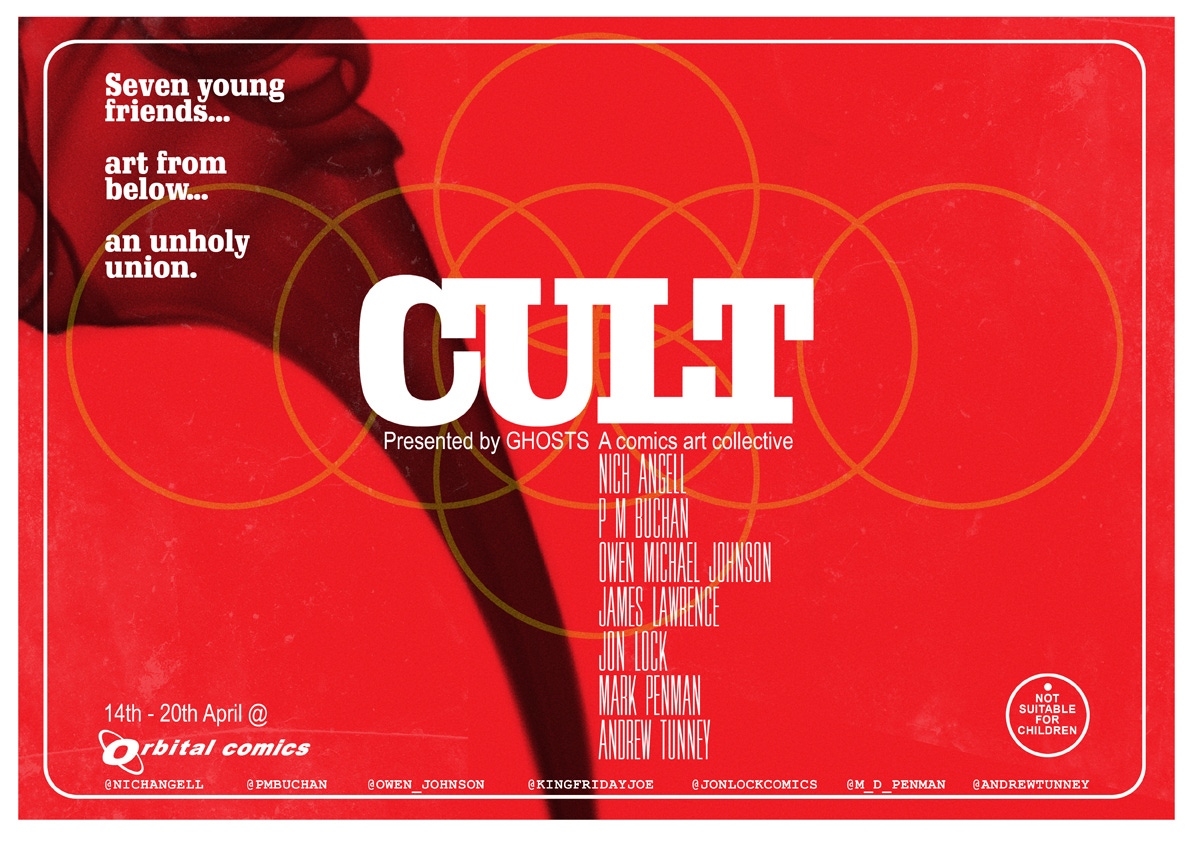 Here I should introduce the remaining members of our collective, Jon Lock and Nich Angell. I met Jon Lock at something like Thought Bubble 2009 or 2010, when he introduced himself in a bar in Leeds and told us about his travels around the world to develop his voice as writer, learning everything he could about the medium of comics before launching his webcomic Afterlife Inc. Through Jon I met Nich Angell, an incredible artist whose clients include Hasbro, Nickelodeon and the BBC.
Together, the seven of us became the GHOSTS comic art collective – Me, Owen Johnson, Andrew Tunney, Nich Angell, James Lawrence, M D Penman and Jon Lock. We planned to host a group show in Orbital Comics titled CULT, each bringing different skills to the table to help us put on a successful exhibition, with national promotion and a slick brochure as a tangible and lasting outcome of our work. My problem was that all the others were writer artists and I was not. To meaningfully contribute to the show, I needed to find someone to collaborate with. Enter John Pearson, my BLOOD MOON co-creator.
John, I met through Twitter when he started following me in November 2012, after picking up one of my comics at Thought Bubble in the same month. It was clear from the outset that we were on the same wavelength, interested more in dark art than the autobiographical diary comics that were the darlings of UK independent comics at the time. John's artwork was raw and grounded in realism, which was something I'd been looking for after multiple successful collaborations with more cartoony artists.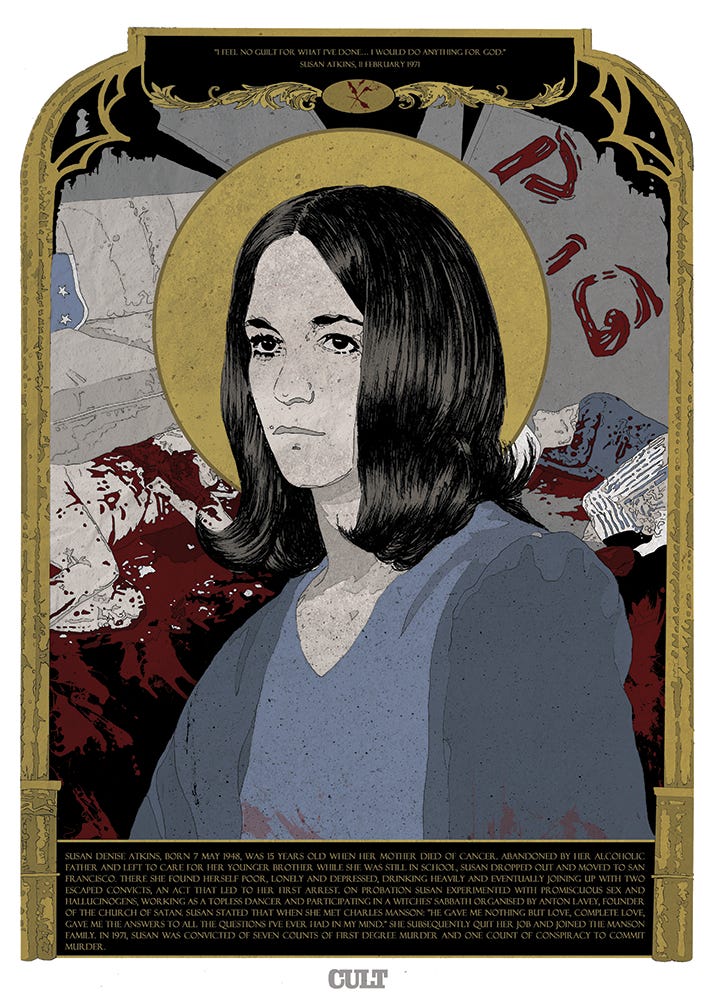 Together we created a triptych of Manson Family inspired pieces, including biographical info about the backgrounds of three of the most notorious members, based on the premise that nobody is born a monster (a theme that runs through a lot of my work!). Charles Manson and his disciples recurred in different guises in a lot that I wrote during that period, including my still unpublished second novel, which is currently gathering dust because it took so long to write that since conception there was a cultural zeitgeist that saw everything from the publication of Emma Cline's The Girls to Quentin Tarantino's Once Upon A Time In Hollywood.
Those prints with John Pearson were our first collaboration and the first time that a lot of the collective met John, which led to Owen Johnson working with him and Colin Bell on their series BEAST WAGON, a black comedy that reads like Fear and Loathing in Las Vegas meets Animal Farm.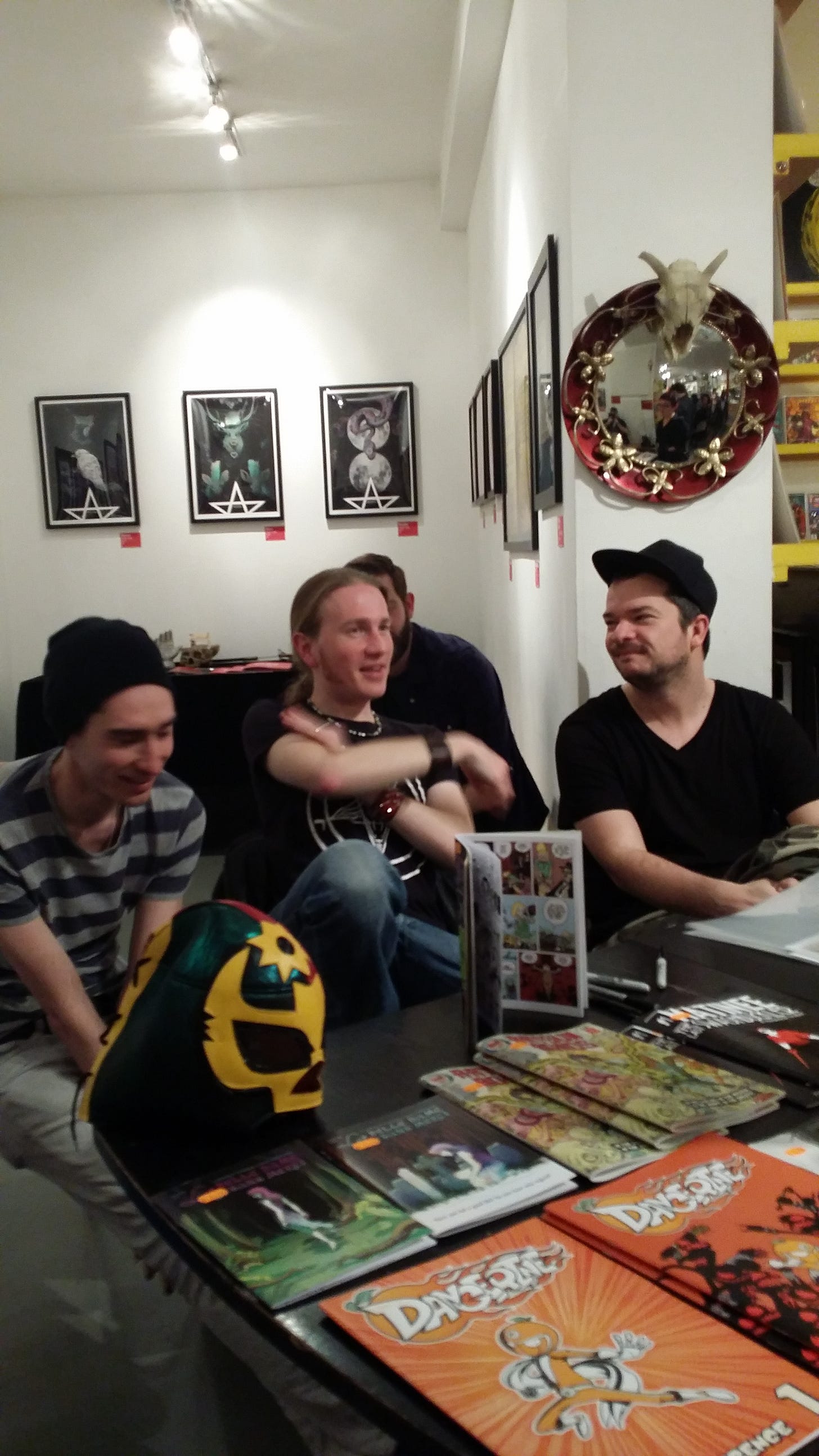 Look how young we are! L to R - Owen Johnson, P M Buchan and Andrew Tunney.
The CULT exhibition at Orbital was a roaring success, thanks in no small part to the support of the brilliant Karl Asaa, Camila Barboza, Adam Karenina Sherif, and probably a lot of other names that I don't remember. Every member of GHOSTS travelled to Orbital (for the first time, in my case) to sign comics in the afternoon, which was a significant event for a group of geographically divided creators from different regions across the UK. Any regional artist in the UK will tell you that you're at a serious disadvantage compared to peers who live in the capital. The signing culminated in a lock-in, performance and after-party in the evening, with everyone working on live art pieces and Owen singing with his band Vince Paradise & The Kittelbach Pirates to promote their British Comic Award-shortlisted comic RAYGUN ROADS.
That was the first night that I met INDIO (co-creator of RAYGUN ROADS) in person, who had stepped in at the last minute the year before to illustrate a Starburst strip for me when the original artist pulled out. INDIO must be at least eight feet tall, a great wall of a man who also works as a tattoo artist and has a winning smile that disguises the fact he could probably put you through the ceiling without batting an eye.
After the event finished, everybody moved on from Orbital to a private room in a nearby pub, where we ran into difficulties because I'd painted my face like a skull with greasepaint that takes an average of 12 hours to remove and definitely couldn't be successfully washed off in the toilets of a comic-book shop. The bouncers at the pub we went to were sceptical but I got away with it, leading to many hours of drinks with comic creators based in the capital, my first trip to the Crobar (where I'm reasonably sure we reunited with some of the White Noise boys, before they had the name), and eventually being propositioned and declining a threesome with a couple of young punks who were entirely unconcerned about the mess that black and white greasepaint could make in the bedroom.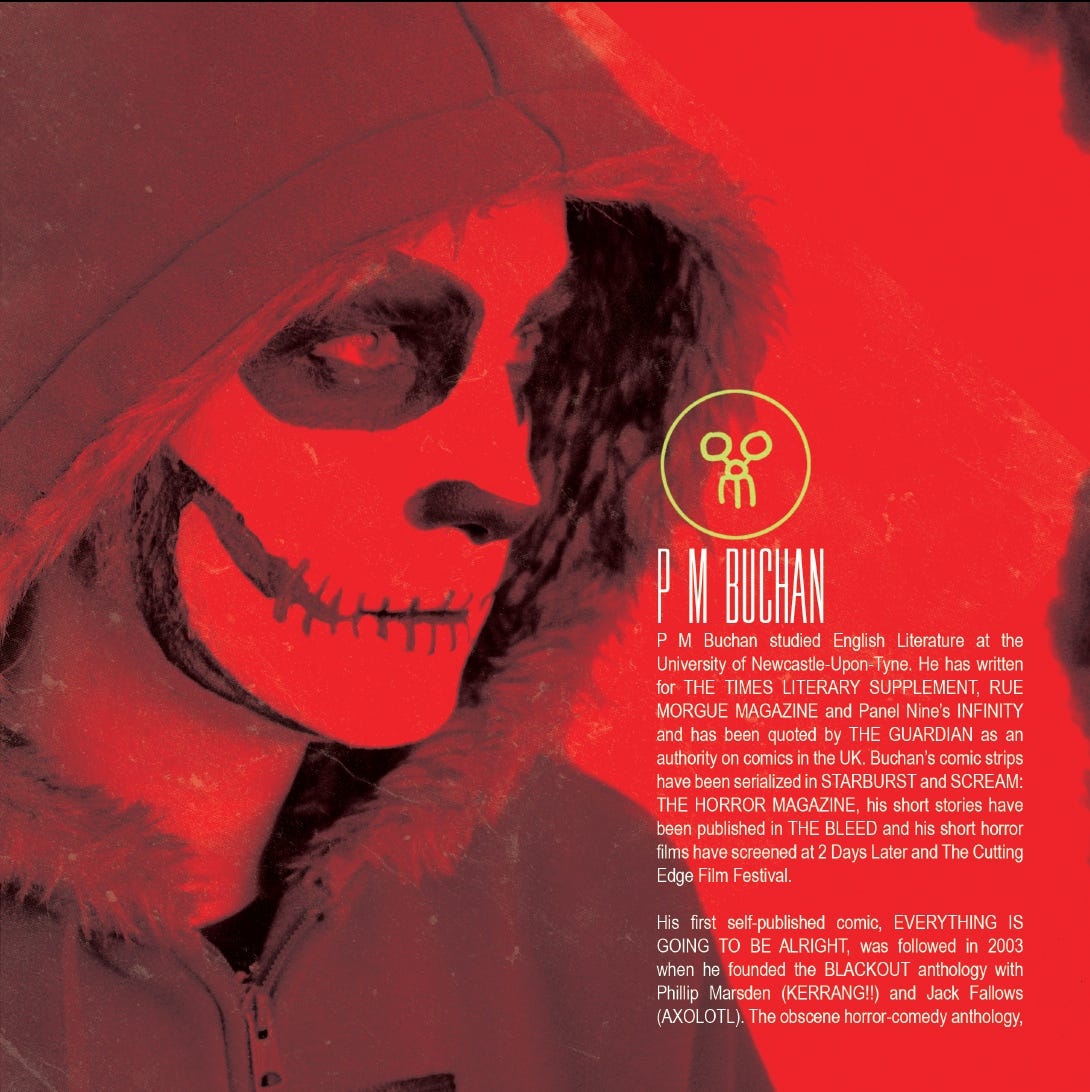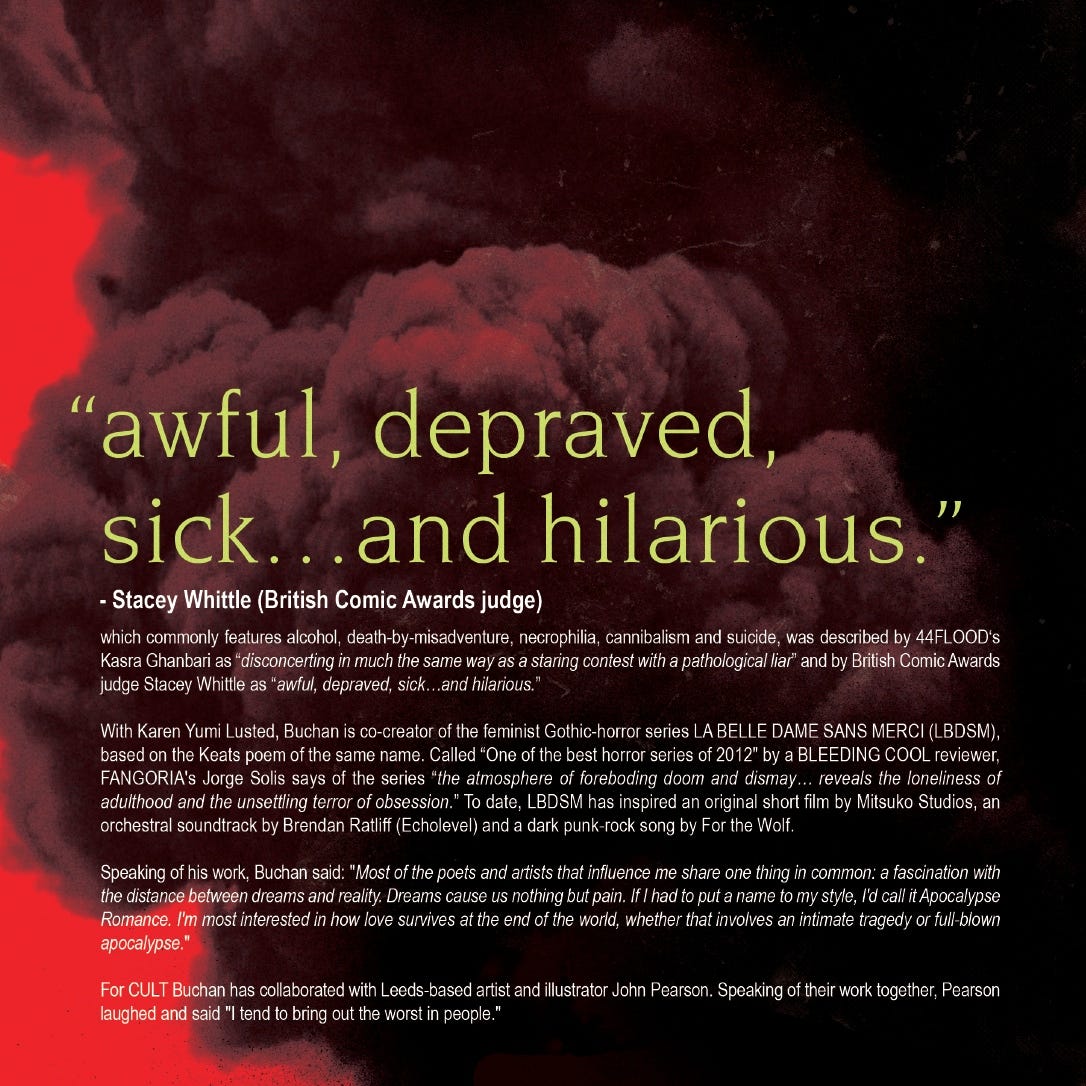 The CULT exhibition was a step-change in my approach to making comics, showing me that I could host and take part in art exhibitions even without any formal experience or training, that the onus was on us to create the kind of scene for comics in the UK that we wanted to be a part of, and that Owen Johnson would be my lifelong rival in the comics world after he swooped in and teamed up with John Pearson to create BEAST WAGON and turned their collaboration into a massive success. We've fought for John's immortal soul ever since, vying for his affections by throwing increasingly obscene scripts his way. 
Owen and John particularly took the lessons of CULT to heart, going on to arrange fringe events as part of Thought Bubble, the UK's leading international comic art festival, for at least four or five years, hosting parties that have since become legendary. Their commitment to creating professional-quality popular events on a shoestring, I'm sure, played a part in the success of the 2000 AD – 40 Years of Thrill-Power Festival in 2017, which had their fingerprints all over it.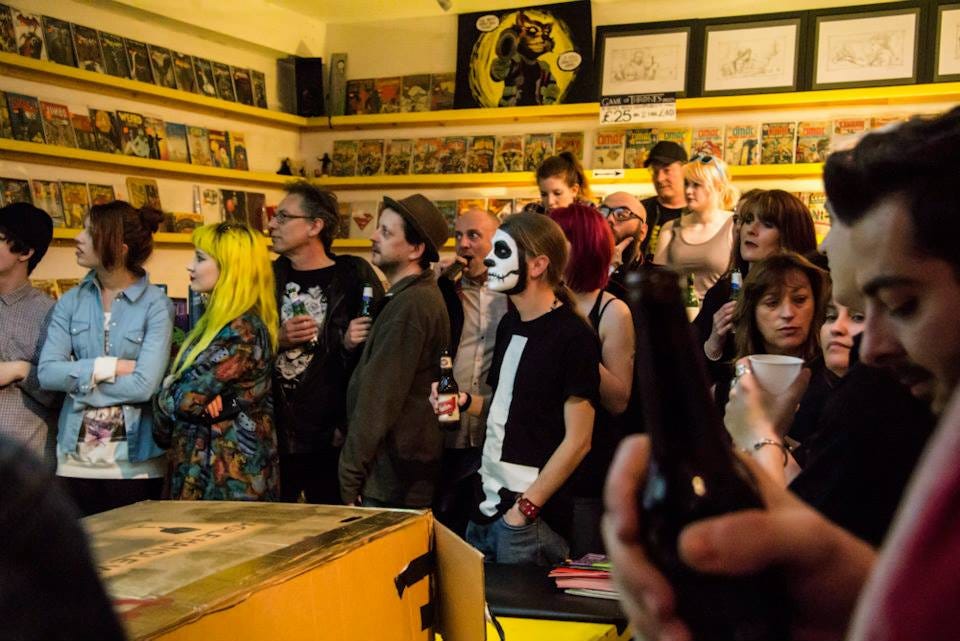 P M Buchan at the CULT launch - How many other comic pros can you spot?
Since CULT all the separate members of GHOSTS have drifted apart, finding success in their own fields. M D Penman runs the acclaimed webcomic EIMURIAN TALES, James Lawrence is the creator of the luchador-themed The Legend of La Mariposa, Jon Lock and Nich Angell have turned their creations into an absolute industry (quarterly magazines, webcomics, podcasts, board games, card games, Kickstarters…), Andrew Tunney has worked for clients including Hachette, BBC and Time Out, John Pearson is lucky enough to still be working with me, and Owen most recently had his graphic novel Reel Love published by Unbound.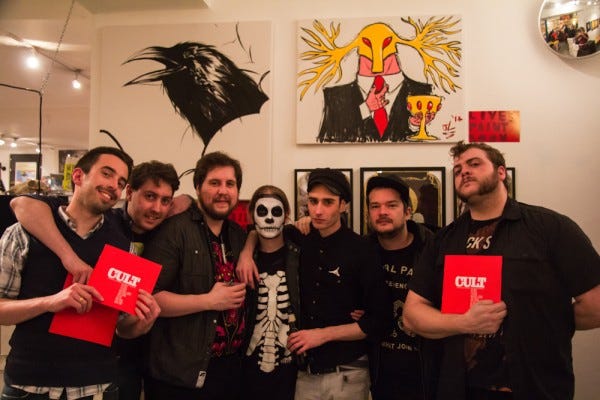 L to R - Jon Lock, Nich Angell, James Lawrence, P M Buchan, Owen Johnson, Andrew Tunney & M D Penman
The collective might not have been long-lived, but its impact can still be felt in our careers today. I made lifelong friends and met comic-shop owners, writers, artists and critics that I'd never have met otherwise. It inspired me to take part in future events, taking comics out of my head and into bars and nightclubs. Without CULT, there'd likely be no BEAST WAGON, no BLOOD MOON, and when I later worked on the launch of HERETICS issue zero with 44FLOOD, I wouldn't have had the resources to secure funding for the print-run, to co-host an international exhibition of folk-horror art, or the resilience to pick myself up when our unannounced contract was cancelled and I had to face the consequences of putting all my eggs in one basket. More on that in a future newsletter!
---
This issue of IF YOU GO AWAY is coming to you way later than I had planned because since Christmas I've worked to build a backlog of interviews with inspirational people, to ensure that future newsletters aren't delayed.
This week I've interviewed Rue Morgue Executive Editor Andrea Subissati, a sociologist and journalist who's also co-host and producer of the Faculty of Horror podcast (with Alexandra West), and co-curator of the Toronto-based horror lecture series The Black Museum. Rue Morgue Magazine has been running since 1997 and I make no secret of the fact that I have nothing but love and admiration for everybody that's helped build that house of horror. It took me years to get over the demise of Rue Morgue Radio, but The Faculty of Horror is definitely covering some similar ground!

1/ What or who was it that originally inspired you to write and have your sources of inspiration changed since then?
Like so many of my colleagues, Stephen King really grabbed me as a teenager. This was before the age of Facebook and Instagram, but I loved my King novels and I would pick them up, open the book at any page and just read for hours. Since then, I've been inspired by numerous creatives in the field – I admired Jovanka Vuckovic when she was editor of Rue Morgue, and that was when I realized that I could have a voice in horror as a journalist.
2/ What is it about horror that you'd want to share with a sceptic who didn't yet understand the appeal?
There's really no accounting for taste, and if I can accept that people like green peppers on their pizza, I think they can accept that I like movies about bloody murder! I guess what I'd like more sceptics to understand is that there's a cerebral, emotional element to my horror fandom – it's more than spectacle and bloodlust.
3/ Rue Morgue (and everything associated) has always stood out to me as being deeper than its competitors - more passionate, more educated, more nuanced. Regardless of medium, what qualities do you look for when somebody approaches you wanting Rue Morgue to cover their work?
Aw, thanks! I agree – it's something I've always felt about Rue Morgue and something I'm proud to uphold for my time here. I look for the fundamentals of good journalism (good, clear writing, a solid knowledge of the genre and it's tropes and trends, the ability to meet word count and deadlines), but also a strong voice and an ability to express themselves in a manner that's sincere and accessible.
4/ If you could go behind the scenes and witness the creative process for any film in history, which set would you visit and why?
I would give anything to watch Ken Russell direct Ann-Margret and Tina Turner in Tommy. So many brilliant, bonkers performances in that one, I'd love to be a fly on the wall!
5/ If you woke tomorrow and were no longer constrained by time, budgets or even skills that you haven't learned yet, what would you make?
I think I'd put more energy toward video content. YouTube has become a really fascinating place where the usual studio barriers don't exist and people are just being themselves. I think it's a really pure form of media, and I'd dig deeper if I had the time (and the skills!).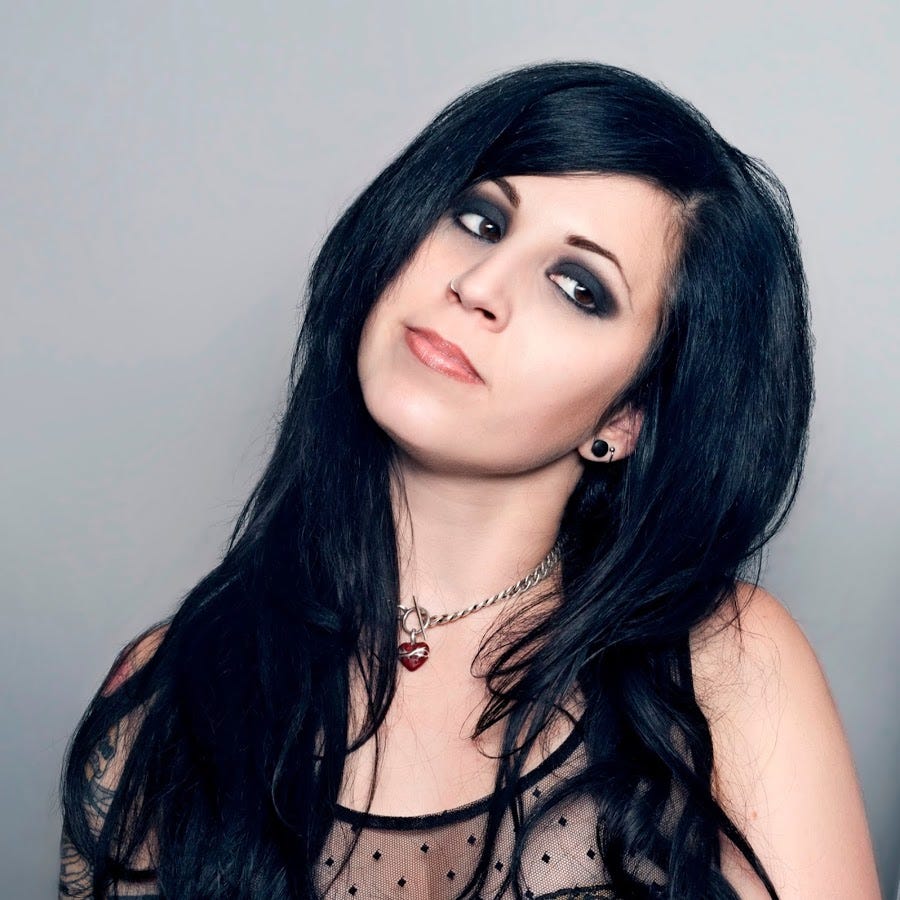 Rue Morgue Executive Editor Andrea Subisatti
---
Before I go, I want to share a playlist that I've created of murderfolk, Southern Gothic and generally rowdy folk-punk that hints at a mood and vibe that I'd love to explore further in my work once I clear the decks on some of these projects that I'm midway through.
I probably wouldn't have discovered any of these bands without listening to Harley Poe and realising that horror-folk-punk even existed, and that led me down a rabbit-hole of bands like The Unsettlers, Amigo the Devil (currently touring the UK) and the Bridge City Sinners, who channel what it must sound like to throw your marriage away in favour of whiskey, cigars and gambling during the Prohibition. If that sounds appealing, then you'll probably love these bands as much as I do. If not, I have my doubts about you.
---
Look out for news of BLOOD MOON chapter two soon. As always, patrons of co-creator John Pearson's Patreon will get first access before we post the pages publicly. Things in Trenance are beginning to heat up for Eddie Morrow and his friends as the consequences of their actions come back to haunt them and Owen Fitzwilliam deals with demons of his own. If you haven't read the first chapter yet, visit http://bloodmooncomic.com.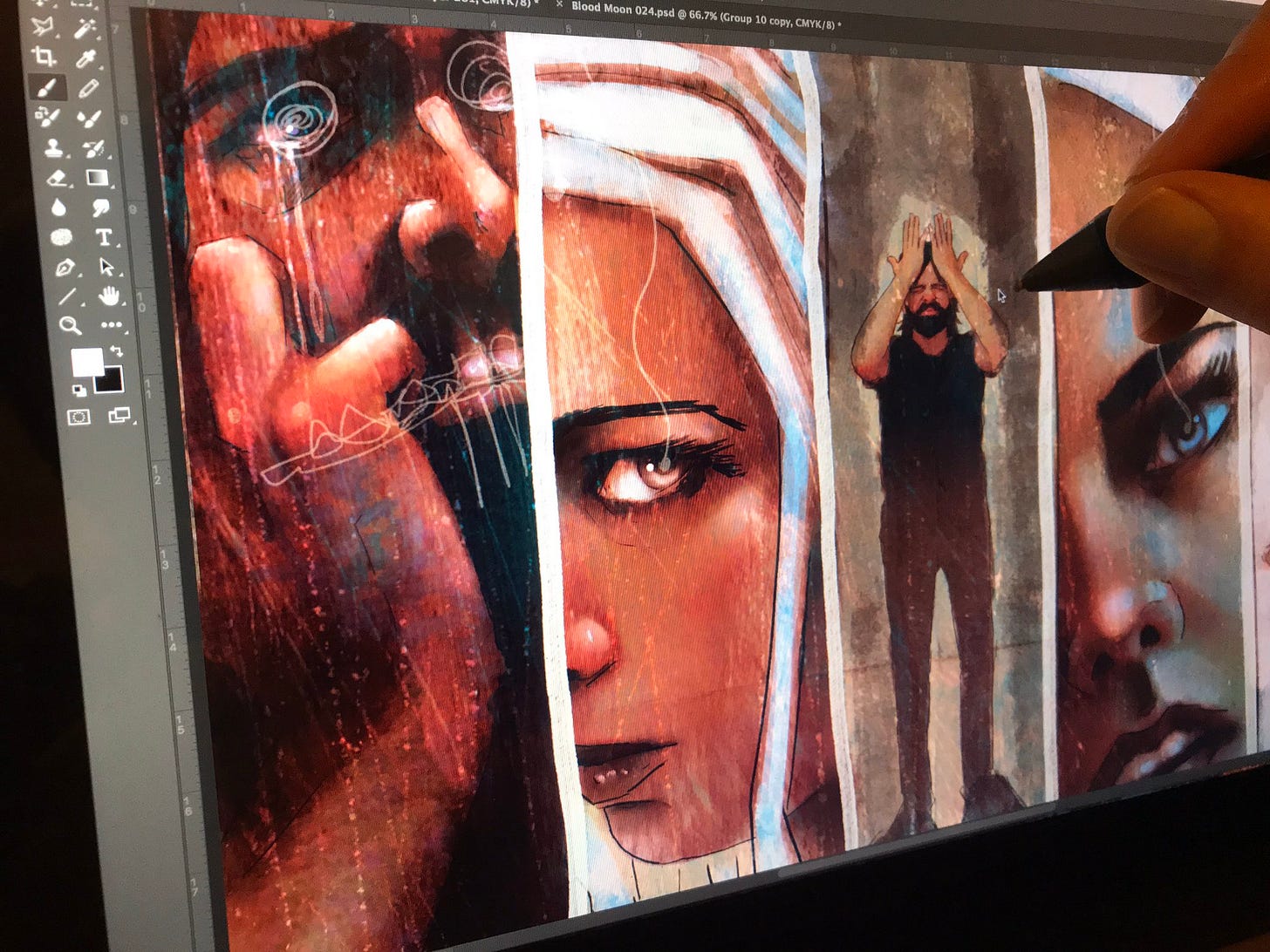 Work in progress - BLOOD MOON chapter two, artwork by John Pearson
If you enjoyed this newsletter, tell your friends, if you didn't, curse at me on Twitter at @PMBuchan, and look out for future newsletters, featuring interviews with some of the most exciting (and disturbing) modern comic creators, plus editors of world-leading creative magazines.