Discover more from IF YOU GO AWAY - News from P M Buchan
News about projects from writer P M Buchan, reflections on the creative process for projects that crashed & burned, plus dark & transgressive art recommendations.
The rise & fall of HERETICS...
+ an interview with Shelly Bond, BLOOD MOON ch2 & Fortean Times.
Are you ready for BLOOD MOON chapter two? Head to http://bloodmooncomic.com now to read Chapter Two, part one, and if you're a subscriber to co-creator John Pearson's Patreon then look for an email soon letting you know that part two has been unlocked.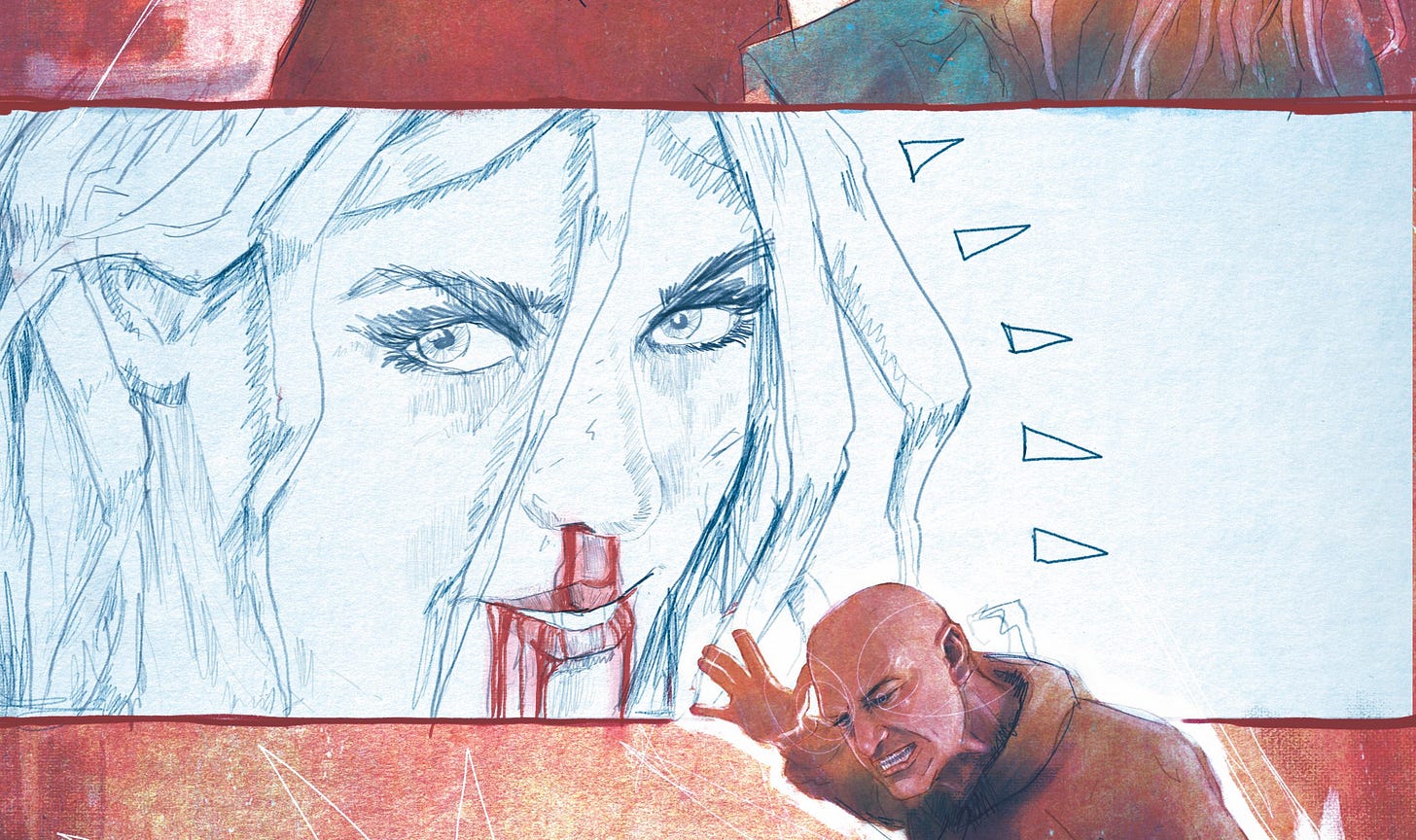 Our contemporary English folk-horror, set in isolated Cornwall on the eve of the UK's divisive Brexit referendum, BLOOD MOON is co-created by John Pearson (who's currently working on the Image Comics series BLUE IN GREEN), Aditya Bidikar (who has lettered series including THESE SAVAGE SHORES), and Hannah Means-Shannon (Managing Editor of Waxwork Comics and former Managing Editor of Heavy Metal Magazine and Associate Editor of Dark Horse Comics), and me, P M Buchan.
"Thirst for revenge us a key ingredient in many a horror tale and one that writer P M Buchan has placed front and centre in his new, serialised web comic. The story of a man who turns to the occult in order to take vengeance against SPOILER, BLOOD MOON is more than a simple revenge thriller."
– Pedro Cabezuelo, RUE MORGUE MAGAZINE
---
Since setting up this newsletter, I've wanted to find a way to tell the story of HERETICS, my greatest success and failure to date wrapped up in one. I feel like there's a lot to learn from in the story of why HERETICS hasn't been completed yet and I hope that somebody reading this will benefit from our experience.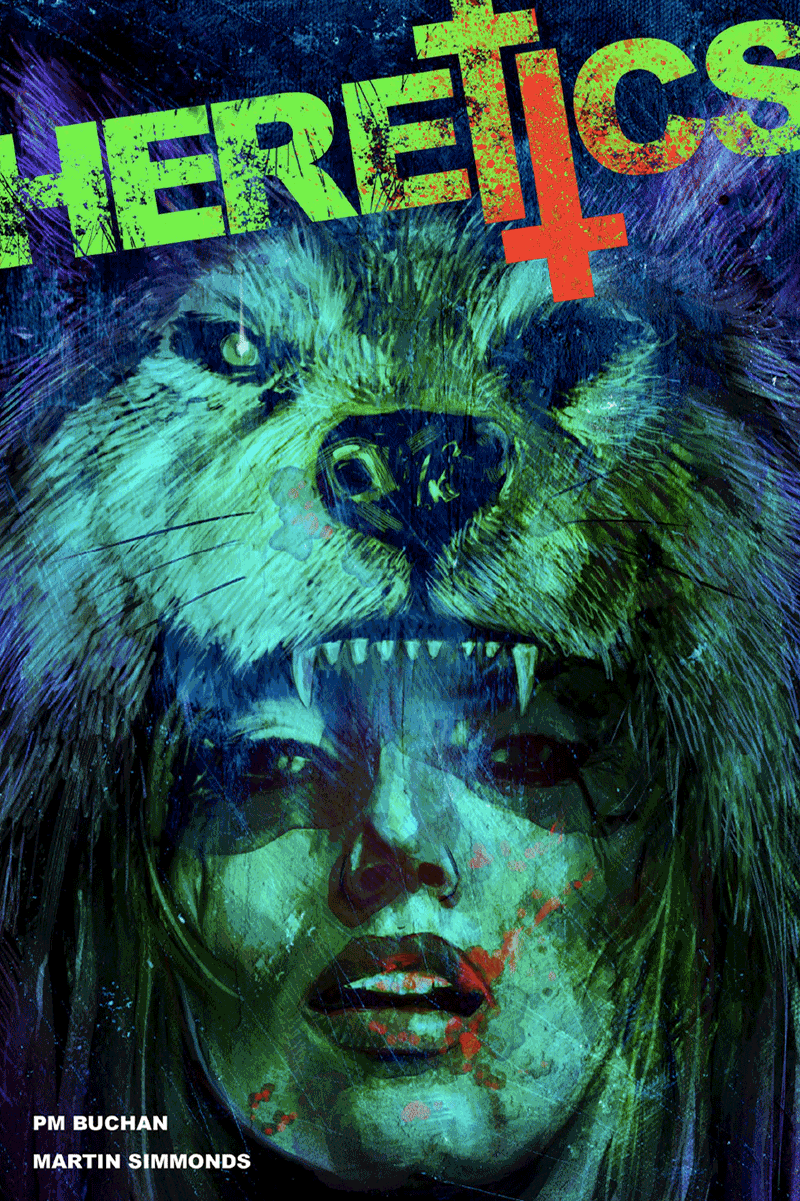 HERETICS - Original blue/green pitch cover vs final cover by Martin Simmonds
I met artist Martin Simmonds, who is currently working on THE DEPARTMENT OF TRUTH with James Tynion IV for Image Comics (due to launch at the end of September), through Lizzie and Conor Boyle, when they were teaming up writer and artist submissions for their DISCONNECTED anthologies. They paired me and Martin and we hit it off right away, so much so that before DISCONNECTED even came out we'd already also worked on a two-page strip for the pages of STARBURST magazine (with a letterer and graphic designer that Martin knew, Michael Stock). Our strip for DISCONNECTED, ALL ROADS LEAD TO HELL (with letterer Jim Campbell), was so successful that it was only a matter of time before Martin and I found another project to work on together. So we kept in touch, talking ideas and looking out for that opportunity.
In June 2012 I was on holiday, staying at a friend's rented flat in North Shields, when a chance came up to interview the recently formed art collective, 44FLOOD, which at the time included MONOCYTE co-creator Kasra Ghanbari and 30 DAYS OF NIGHT co-creator Ben Templesmith. Their Kickstarter for TOME, a new anthology designed to showcase world-class artists using comic-books, painting and music to express an original theme, seemed destined to be astronomically successful, and with contributors such as Bill Sienkiewicz, Ashley Wood and George Pratt, it was tonally everything that I loved in the world. So I happily interrupted my holiday for the chance to interview its founders, and to keep that conversation going in the months that followed.
By this point, I had reluctantly accepted that my first novel was probably too weird and personal to find a wide audience. My horror-comix anthology, BLACKOUT, was getting a great response, but even the publishers who liked it made it clear to me that they'd happily read but not publish it. I had a platform, through all the magazines that I was writing for. I had connections, from all the reviews that I'd written. But I needed a story that people would connect with. I decided to try to write the kind of story that I felt like people would connect with. Not ALL the people, obviously, but people like me, people who loved horror. I decided to write HERETICS.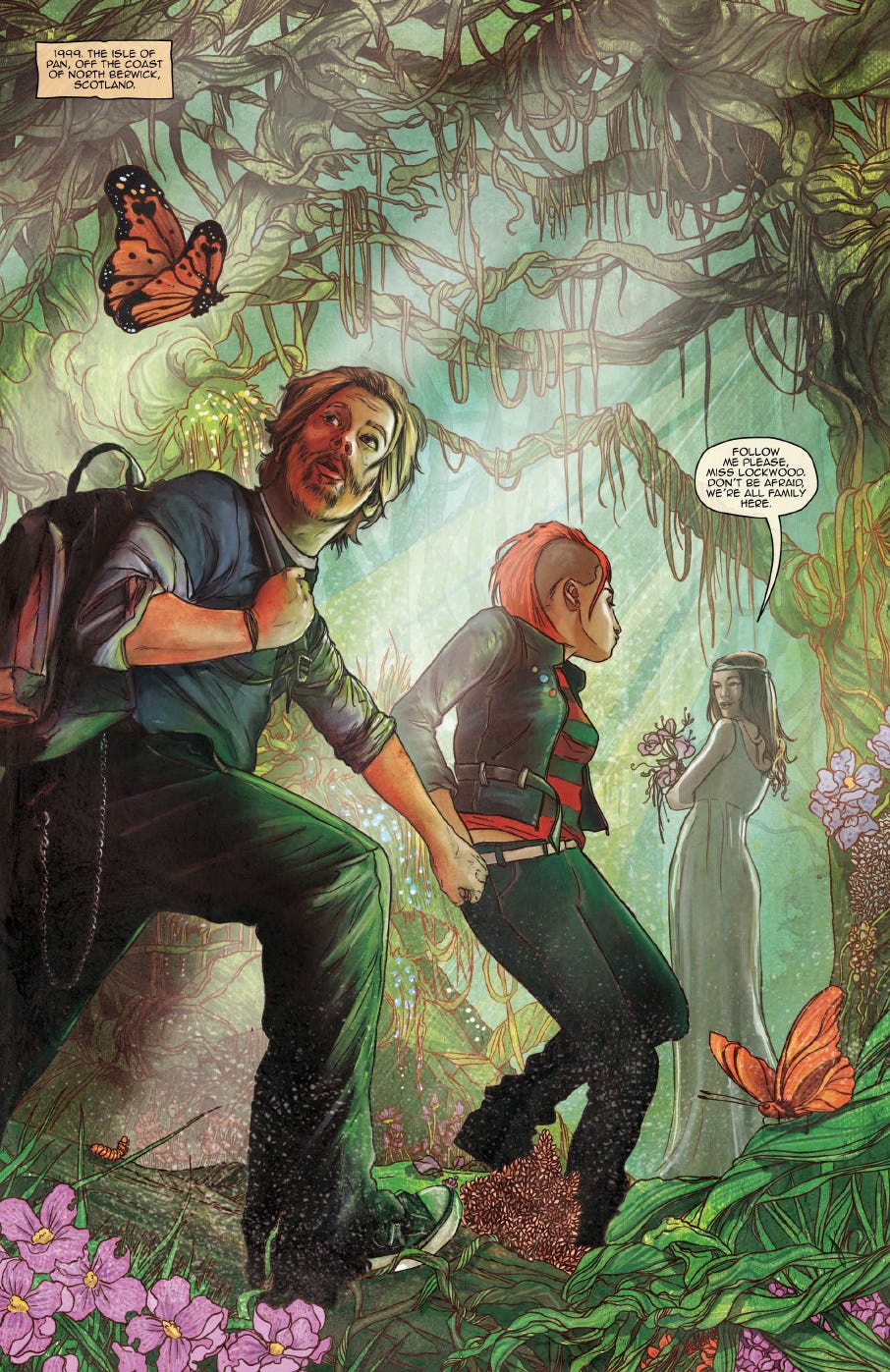 HERETICS pitch page by Martin Simmonds, P M Buchan and Mike Stock
I don't remember what happened when I first discussed it with Martin. But however that conversation went, we knew that this would be the big one. Following in the footsteps of classics like THE WICKER MAN, inspired by my burgeoning research into the Manson Family, and set in 1999, the year of the Columbine Massacre, the year when Lollapalooza turned sour and the year of the Y2K bug, the story elements clicked into place quickly and the story outline was ready in no time. We enlisted Mike Stock again and Martin got to work on the artwork without delay. We sat up night after long night talking about what we were going to do with HERETICS. We were going to go all out and create the most ambitious story that we could manage, investing all of our time and energy and skills. The artwork would be a combination of pencils, ink, charcoal, oils and everything in between. We would tell a story with more than just the art within the panels, we would tell a story in the panel boundaries themselves, creating our calling card for the world and showing everybody what we could do.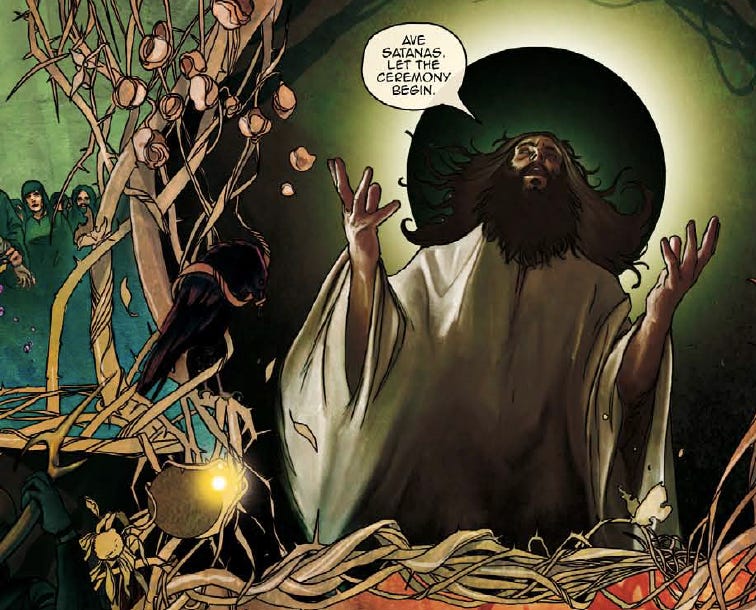 Preview one from HERETICS pitch pages by Martin Simmonds & P M Buchan
Set in 1999, HERETICS follows the journey of investigative journalist Isobel Lockwood as she travels to a remote island off the coast of Scotland in an attempt to save her younger sister from the Children of the Sun, an abusive cult, founded by their father, that believes in free love and group sex. HERETICS is a tale of two sisters and a family poisoned by an idealistic ideology that couldn't survive in the real world. A tale where nobody is above temptation.
We created pitch pages that I still feel are some of the most accomplished we've ever worked on. And we took them to Thought Bubble to pitch to publishers. They were the best pages anybody had ever seen. Everyone thought so. We pitched in person to two of the big five publishers. They weren't interested. We knew that we were onto something, so we doubled down to improve the pitch package. We brought on board my friend Rob Talbot, who I had written alongside at SCREAM: The Horror Magazine, and later at STARBURST. He agreed to write a series of essays about the international history of folk-horror cinema, to be serialised across the six issues. We brought onboard John Pearson, an ambitious and insanely talented artist I'd recently met and collaborated with on an exhibition at London's Orbital Comics. He was going to illustrate each of the folk-horror essays. We spoke to Mike Stock about increasing his workload to lay out each of the essays. Martin re-painted the HERETICS cover and we packaged the whole thing together.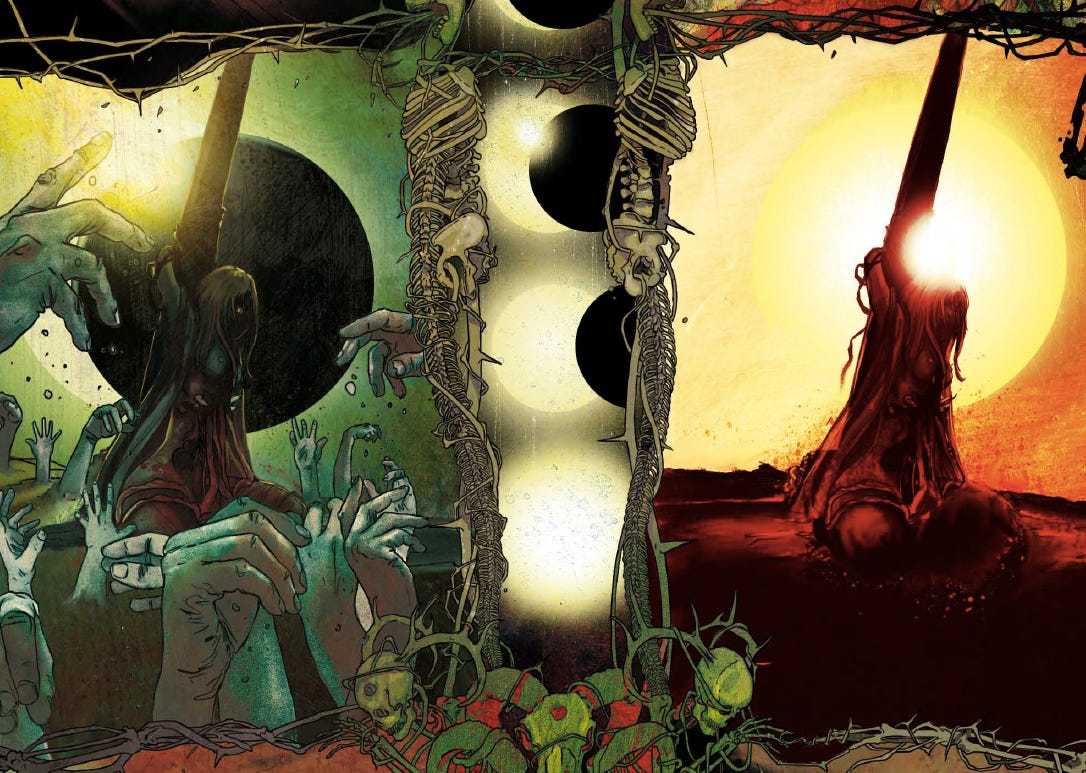 Preview two from HERETICS pitch pages by Martin Simmonds & P M Buchan
Finally, to make sure that we hadn't missed anything, I shared the pitch package with Kasra Ghanbari from 44FLOOD for his advice. 44FLOOD weren't just an art collective, they had also signed a deal for IDW to publish and distribute many of their upcoming projects. Kasra offered to co-publish HERETICS, alongside a publisher that would have been announced when the first issue was solicited to comic shops. So we signed contracts, set out a schedule and celebrated at the first unofficial Thought Bubble fringe party in 2014, organised by John Pearson and Owen Johnson in an empty shop-front. The party was incredible - a massive success, the talk of the convention and also the first night that I met Alex Paknadel, who is part of the White Noise collective and last week published his first Marvel. We celebrated and drank until Martin had to be carried out of the party, on the road to our first creator-owned series, with a deal that everyone in the industry would have envied. If it had worked out.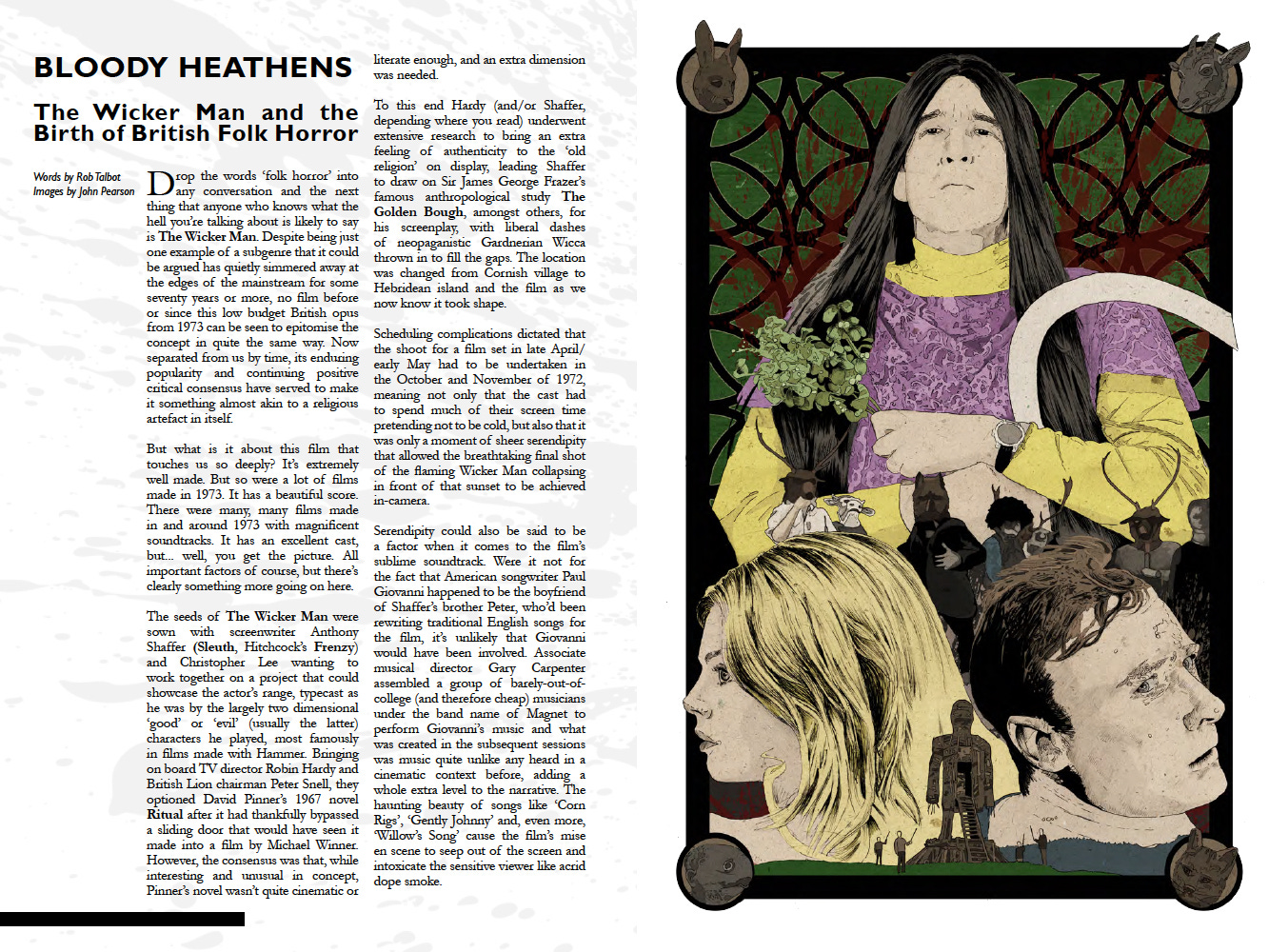 HERETICS - Backup essay by Rob Talbot, John Pearson & Mike Stock
Next newsletter, I'll tell you about how carefully we drew up a press and marketing plan for the series, how we announced it with the launch of a zero issue and an exhibition featuring original work by artists like Caspar Wijngaard, Sarah Gordon and Will Kirkby, and how HERETICS was so utterly derailed that we still haven't found a way to get it out into the world yet.
---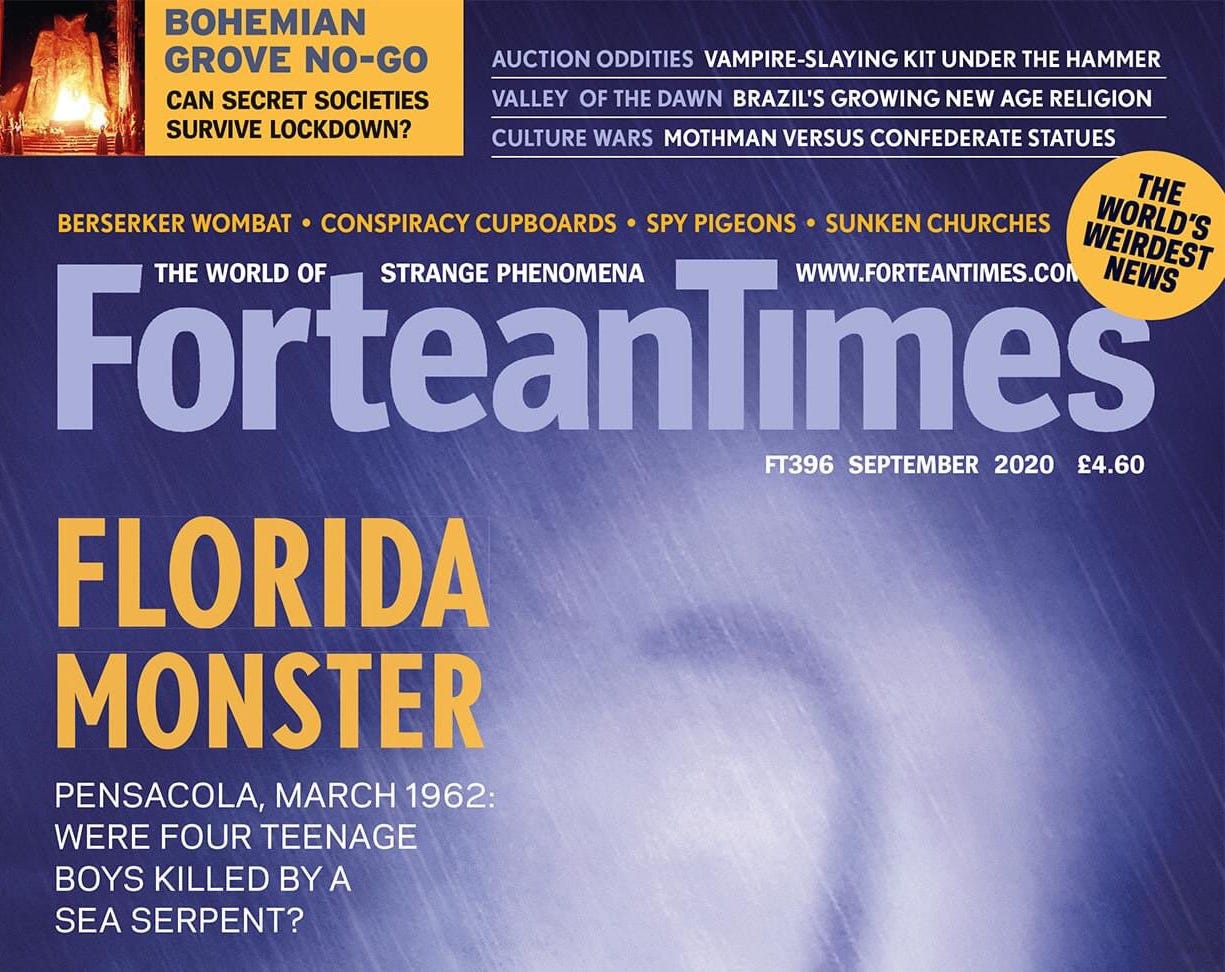 BLOOD MOON is featured in the September 2020 issue 396 of the world-famous FORTEAN TIMES monthly magazine of news, reviews and research on strange phenomena and experiences, curiosities, prodigies and portents! Thanks to Steve Toase for the amazing review, in which he says "The folk-horror elements here (witches, magic, and the occult) are well integrated, both into the community and the storytelling. So far, I've read the first chapter, but there is a lot of power here."
---
For this newsletter, I conducted possibly my most exciting interview to date, with American comic-book editor Shelly Bond! Known across the industry for her two-decade tenure at DC's Vertigo imprint, which she joined as an Assistant Editor one month after it was formed and became Executive Editor and Vice President of from 2013 to 2016. Shelly is an absolute legend who has worked on series including DOOM PATROL, 100 BULLETS, SANDMAN and HELLBLAZER, playing an integral part in defining American comics.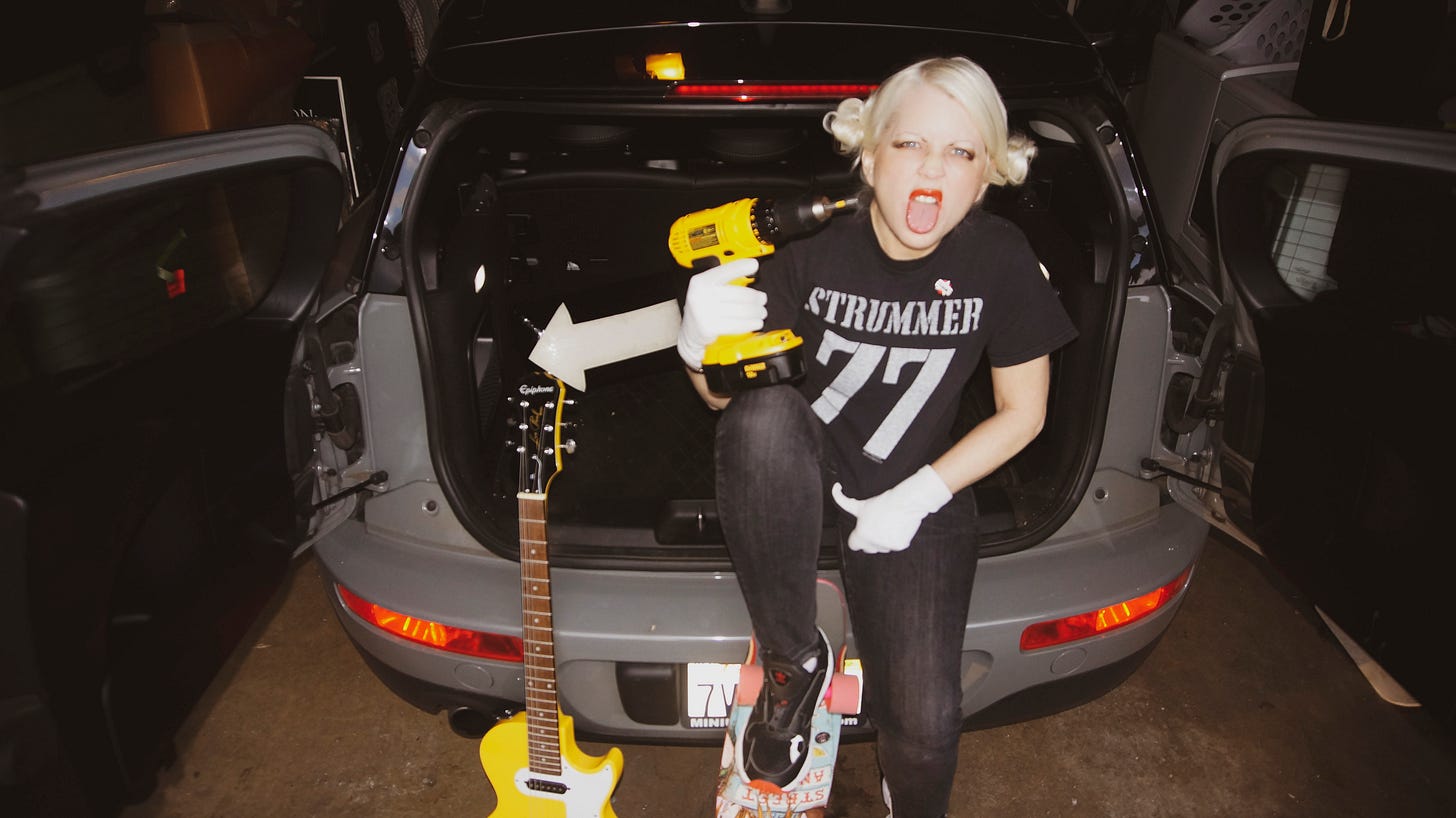 More recently, Shelly founded BLACK CROWN, the imprint that became home to series including PUNKS NOT DEAD, one of the comics that artist Martin Simmonds co-created (with David Barnett) after HERETICS. Which fits nicely with the topic of this newsletter!
1/ What piece of art, in any medium, has most inspired you throughout your life and why?
It's safe to say that if I've made a fabric print pillow out of it or received it as a gift from my favorite artist (Philip Bond), it's inspired me beyond belief.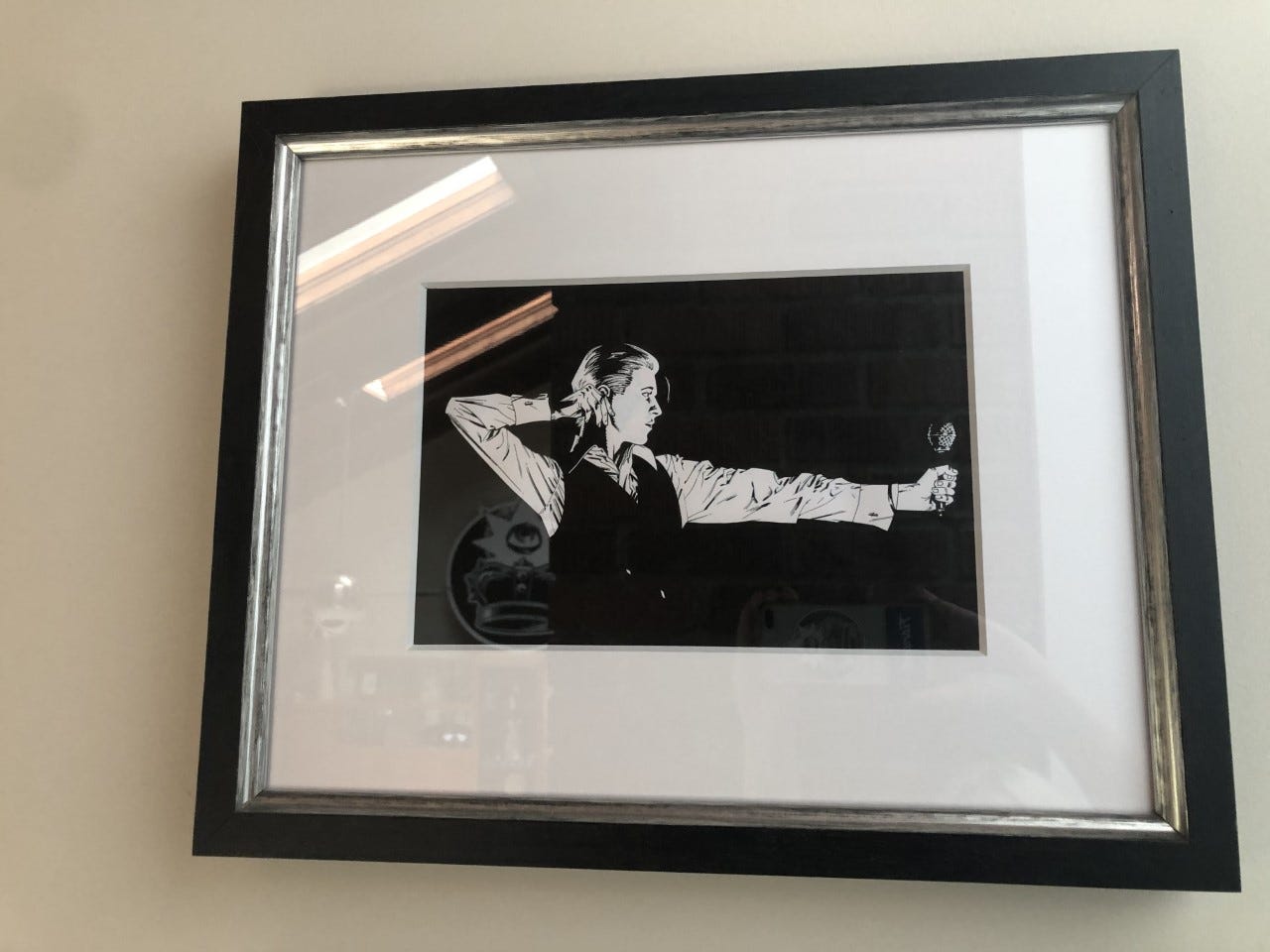 Bowie in Berlin is fearless, epic. The Thin White Duke remains my favorite character in history with Michael Moorcock's Jerry Cornelius a close second, but only because he/she wore Courregés.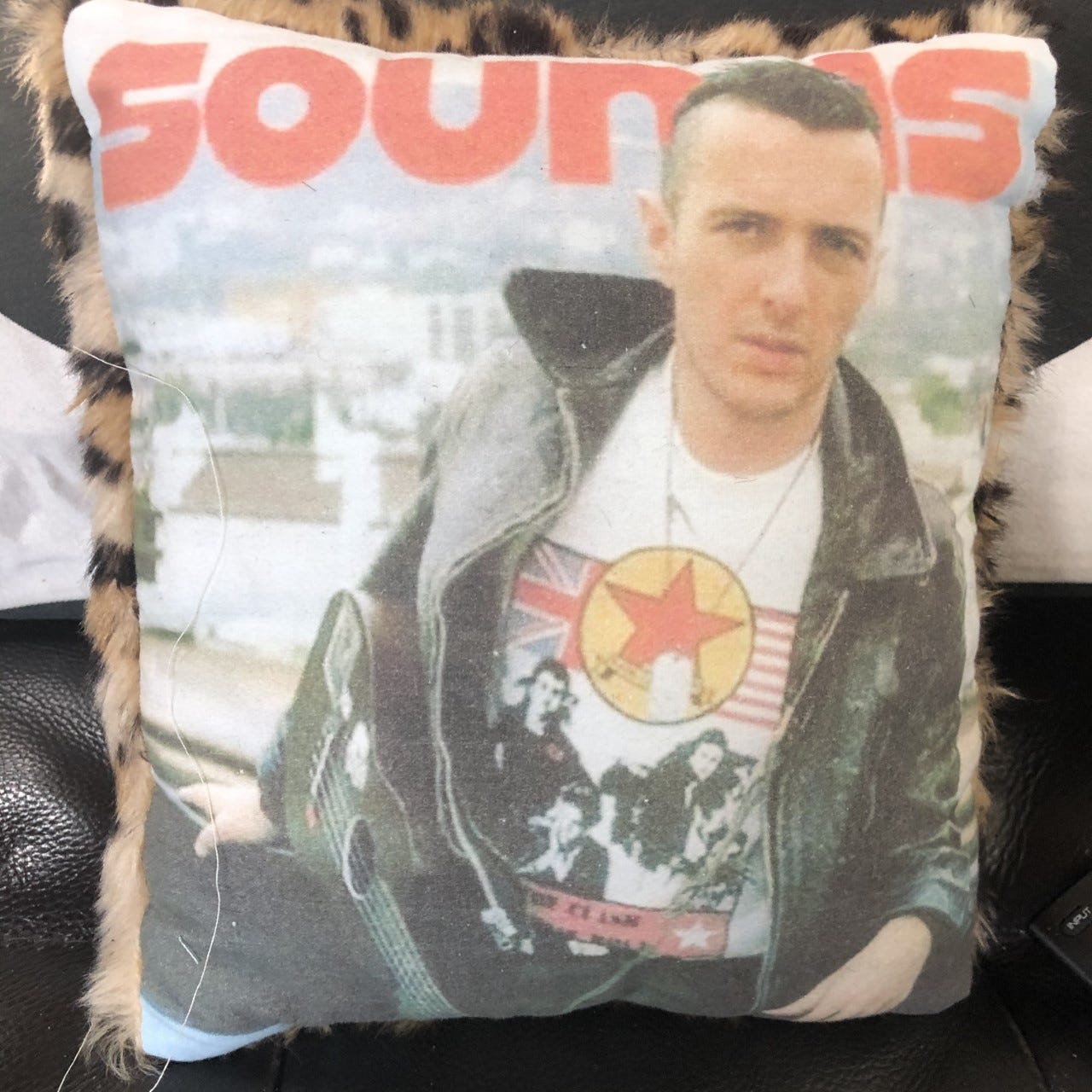 Strummer is not only easy on the ear and eye, but he's THE poet/mouthpiece/heart/soul frontman of a band/modern life. Sandinista! is 1980, today and the future. Wanna see and hear a band having fun creating art w/guitars? These six sides will teach you everything you need to know about existing in the modern world—or what it has become.
2/ As an editor, what do you look for in collaborators and how can you tell when you've found a project that you want to work on?
When you work in comics for over 30 years, you'd better be able to spot talent at 50 feet. But I want work with people who aren't poseurs or sellouts. People that don't need to be bugged to turn in the script or art agreed to do, or people who don't complain about what the final story has become. If you don't leave your ego at the door and accept the part of comics that's collaborating—including the input from the editor—work solo. Or get another day job. The best art is organic and happens fast. It's only for the fearless. 
As for a project I want to work on, I know it in an instant. It feels urgent and unlike anything else I've wiped my red ink/paw prints on. When I get pitches that are boring or worse, derivative, I just put together my own. See those crazy anthologies like HEY, AMATEUR!, The BLACK CROWN OMNIBUS and INSIDER ART: A Compendium of Comics, Crafts & Cats. And soon, my memoir/roman à clef, FILTH & GRAMMAR.
3/ What do you know now that you wish you had known at the beginning of your career?
That no matter how hard you work, no one will ever fully appreciate (or sometimes even thank you for) your contribution to any medium. So get over yourself. Don't do it for the glamour.  Do it because you love it and it makes you feel like you've made a positive dent in the mad world we're living in. No one owes you anything. Stick with people who appreciate you and leave the assholes and amateurs in the dust.
4/ How much of a role does music play in the creative process for you?
Music is everything to me. But step away from my record collection! The comics I put my imprimatur on need to resonate as long and hard as my favorite tracks on scratched vinyl. The conceit behind the BLACK CROWN imprint (2017-2019) that my husband and I created for Chris Ryall at IDW was a testament to the music and comics connection. It was basically IDW's indie record label and we loved every minute of curating/editing/assembling/designing every single one of those thousands of comic book pages. If you don't believe me, see for yourself at blackcrown.pub.
Those 10 trades are everything to us and still represent the beauty of comics as sound and vision.
5/ If you woke tomorrow and were no longer constrained by time, budgets or even skills that you haven't learned yet, what would you make?
In my dreams, Mick Jones would agree to work with me on the Graphic Novel History of The Clash and BAD. I've reached out to his management for years but haven't had any luck. I'm also a huge Róisín Murphy/Moloko fan so that's another graphic novel I'd jump through hoops of fire to edit/assemble. DFA Records/James MurphyLCD Soundsystem? SUEDE? ROXY MUSIC? I could go on... See my record collection!
---
To raise money for female & non-binary comic book retailers who need financial aid because of the COVID-19 pandemic, Shelly Bond set in motion the creation of INSIDER ART, a digital comics anthology and a female and non-binary comic book retailer fund.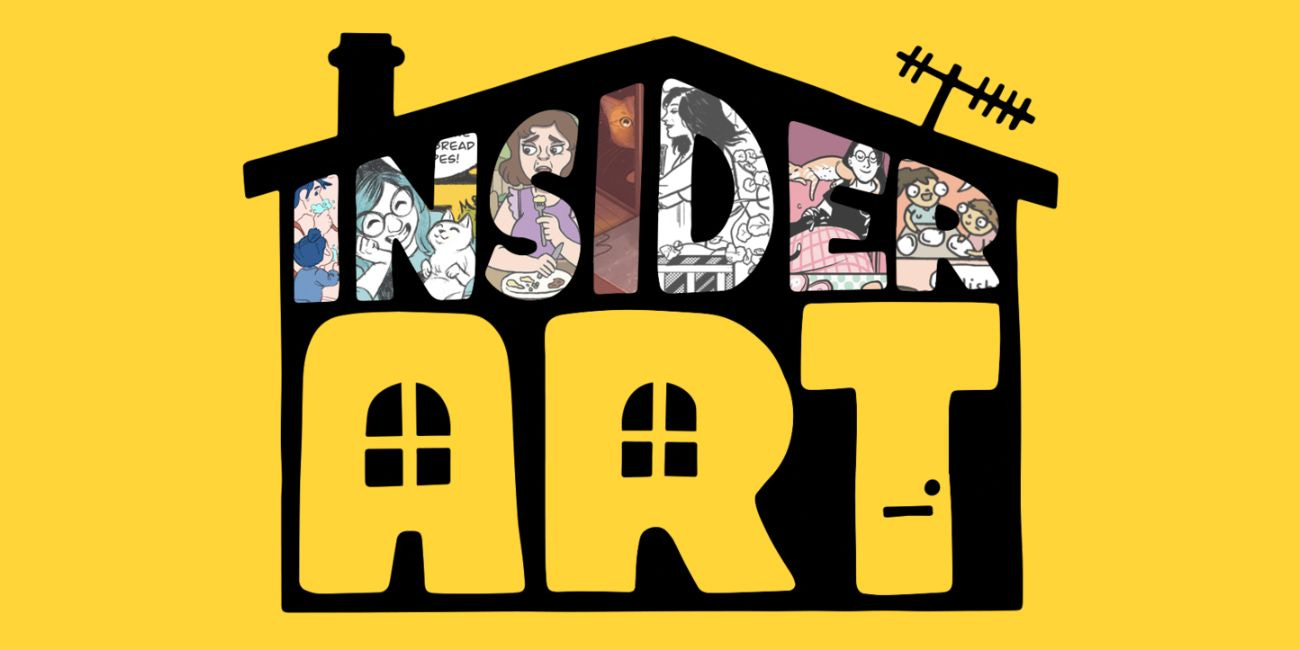 All-star contributors include Jill Thompson, Gail Simone, Kelly Sue DeConnick, Stephanie Hans, Lilah Sturges, Janet K. Lee, Trina Robbins, Myriam Bloom, Jessi Jordan, Amanda Gonzalez, Tini Howard, Chynna Clugston Flores, AJ Mendez, Aimee Garcia, Sam Maggs, Sweeney Boo (who helped me carry my comics at Thought Bubble last year when she found me spilling them all over the road!!!), Margaux Saltel, Vita Ayala and more. You pay what you want to download the 200+ page anthology on Gumroad, with a suggested donation of $9.99. It's an amazing collection of work for a cause that everybody in 2020 can empathise with, so go and buy a copy now!
---
Normally, around this time in the newsletter I'd share with you one of the playlists that I listen to when I'm writing, because music is air and the world would be a cold, dead place without it. But today I'm going to recommend an album that I urge you to check out instead.
Creeper's second album, SEX, DEATH & THE INFINITE VOID, is the height of punk-rock in the UK right now. Aiming for the stars, this is what happens when a band realises that horror-punk is an aesthetic and a launching point, not a strict set of blueprints that need to be adhered to. This is Creeper's BLACK PARADE, a bombastic, ambitious burst of art-pop that's equal parts Pulp and Michale Graves-era Misfits. I would 100% recommend checking out their first album and the EPs that preceded it, where you'll find all the doomed love songs about drinking in the graveyard when all your friends have moved on and left your hometown, but nothing can compare to the grandiose catchiness of a song like ANNABELLE, which sounds like Romeo and Juliet versus the Westboro Baptist Church. Check them out and support one of the UK's finest exports.
---
This week I finally got round to watching the most recent JOKER movie. It paints a bleak, nihilistic picture and shoots for a level of empathy with a monster that I'm not sure is fully earned, but I enjoyed it a lot nonetheless. I can see why people would have problems with a movie that basically promotes an incel as the hero antagonist, and I can equally see why some people would think it some kind of revolutionary revelation of storytelling. My personal view is that this is the sort of transgressive story that follows in the footsteps of Hubert Selby Jr's THE DEMON, which takes a very similar narrative path but takes less pains to offer excuses for the behaviour of its reprehensible protagonist, and which undoubtedly paved the way for Bret Easton Ellis' AMERICAN PSYCHO.
The feeling that has stayed with me more than other after watching JOKER is one of injustice. Why does JOKER get to win an Oscar when Rob Zombie's HALLOWEEN remake is seen as an object of scorn? I'll admit that Rob Zombie is one of my favourite directors, so I'm biased, but in his first HALLOWEEN remake, he devotes a lot of screen time to giving Michael Myers a backstory and motivation that were absent from the John Carpenter original. He focuses on the idea that nobody is born evil, but that circumstance and adversity can poison even the best of us. It's a gritty, dirty interpretation of the HALLOWEEN mythos, and it takes these twisted ideas to their logical conclusion in HALLOWEEN II, making decisions that are braver than any other slasher from that generation.
More than a decade before JOKER came out, Rob Zombie put the spotlight on what motivated one of cinema's greatest villains. He also had the courage of his convictions and showed us what violence and trauma really lead to, where JOKER plays fan service and revels in the anarchy. I really enjoyed JOKER, but with production values that high and a cast so talented, they made it easy to empathise with the monster. I just wish Rob Zombie would get his due for getting there first.
---
This newsletter comes after a massive gap since my last one, which hopefully won't become the norm, but given the love that I put into writing these things, I made a conscious decision not to force myself to write until I had something to say. I feel like even my own wife doesn't want to hear from me when I don't have something to say, and it would be much more difficult for her to shut me up than hitting an unsubscribe button. Thankfully.
That said, if you're reading for the first time and haven't subscribed yet, please do. You won't want to miss the next newsletter, which will include an interview with Karen Walton, the Canadian screenwriter best known for her work on the transcendentally-brilliant teen horror film, GINGER SNAPS.
Until then, get in touch with me on Twitter @PMBuchan if you want to talk about anything in this newsletter, subscribe to John Pearson's Patreon if you want to be the first to see new pages of BLOOD MOON, and tell all your friends about our contemporary English folk-horror that's filled with revenge, witchcraft and melancholy!