Discover more from IF YOU GO AWAY - News from P M Buchan
News about projects from writer P M Buchan, reflections on the creative process for projects that crashed & burned, plus dark & transgressive art recommendations.
Under a blood moon...
Folk-horror on the eve of the Brexit referendum.
When I think about BLOOD MOON, I consider it to be a contemporary British folk-horror ongoing comic-book set on the eve of the Brexit referendum. But I don't know how helpful that is, as an elevator pitch. If you pitched a book like that to me, I'd want it, but I don't know whether it translates to an international audience, or whether it will take longer for readers overseas to see the cultural significance of the moment when an island of former global influence allowed populism to take root and turned our back on outsiders. 
Growing up in the UK, you're encouraged to think that US media downplays the significance of any events outside the USA, creating a closed-loop system where Americans want to Make America Great Again because they have no concept that anything valid is happening elsewhere. There's something smug about the way we tell ourselves this in the UK, ignoring the fact that our perceptions of ourself as a nation are becoming at odds with the way the rest of the world sees us. I feel pretty confident that anybody watching Brexit from the outside sees us with the car crash horror that you'd otherwise reserve for Saturn devouring his son.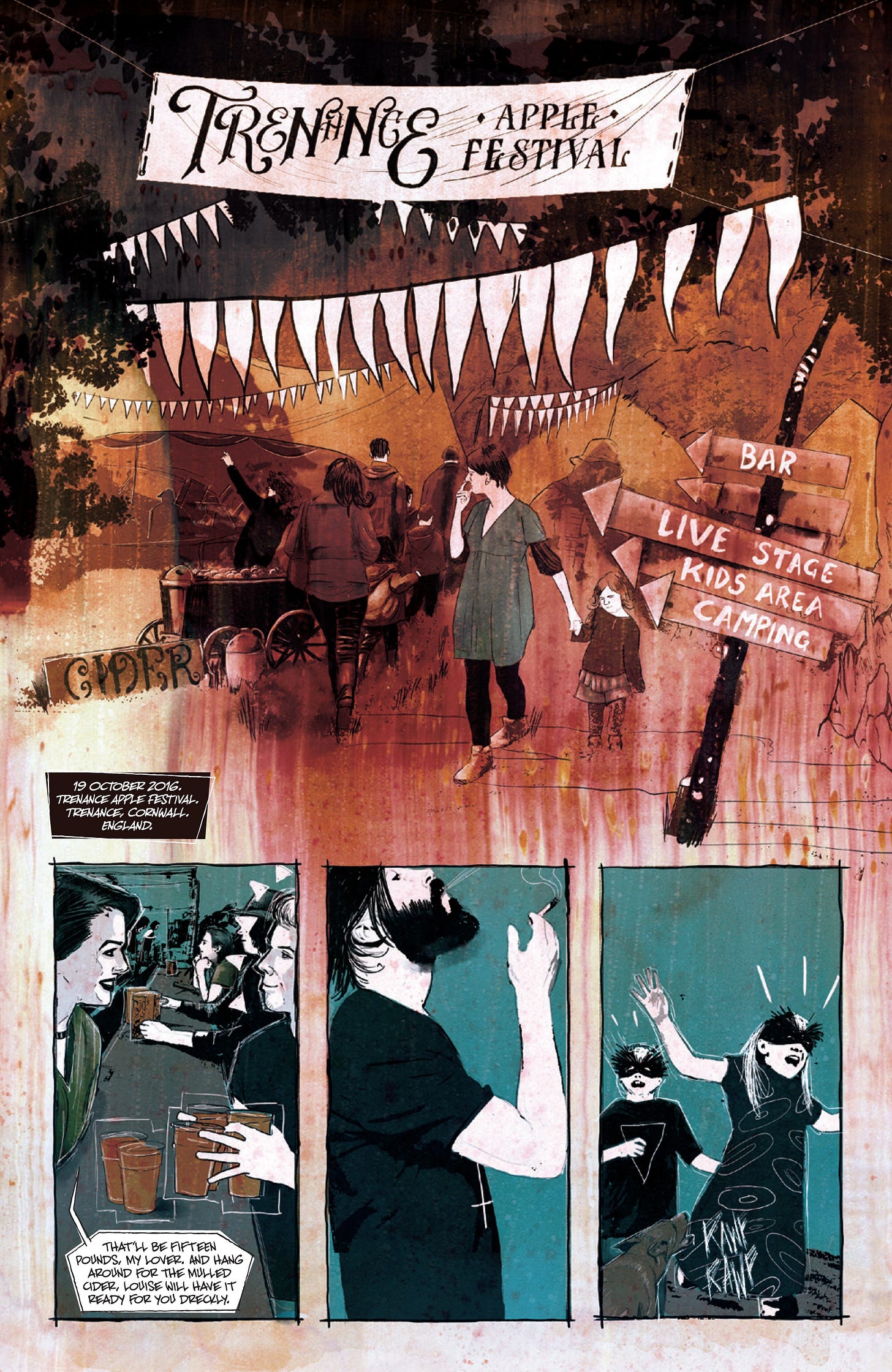 Preview of the first page of BLOOD MOON
BLOOD MOON is our indirect response to a lot of things that are wrong in the world, but most importantly it's also personal story, a love story, about families, about fatherhood, and about human weakness. You can take that description with a pinch of salt, because I describe everything I ever write as a love story, but the human relationships here are what matter most to me, playing out against a reactionary backdrop of rising hate.
The idea for BLOOD MOON began surfacing in my mind years ago, after reading a feature on ossuaries in Rue Morgue magazine, leaving me haunted by the potency of these sites and the cumulative psychic energy that must run through them. That initial concept has had so much time to breathe in the years since, that nobody but me would recognise those early ideas as having any bearing on the finished story. All the same, BLOOD MOON was born from thinking about these macabre, holy places and the power of our beliefs – about invoking the power building in that symbolism, and the personal metamorphosis that could result from invoking such power.
If ossuaries were the genesis of BLOOD MOON as a concept, it didn't really come to life until John Pearson agreed to collaborate with me. I've known John since we worked together on a triptych of Manson Family prints for the CULT exhibition at Orbital Comics in 2014 (more on that in another newsletter!), which led to John illustrating back-up features for each issue of HERETICS. HERETICS is the folk-horror series that I created with Martin Simmonds, which was indefinitely delayed and hasn't yet seen the light of day…
John is a remarkable person in many ways. Trained in Fine Art, he has that creative problem-solving mindset that can match whatever challenge you set for him. John was integral to the HERETICS launch exhibition at Thought Bubble 2016 (more on this another newsletter too…), securing a gallery, curating the space, decorating, and displaying the art.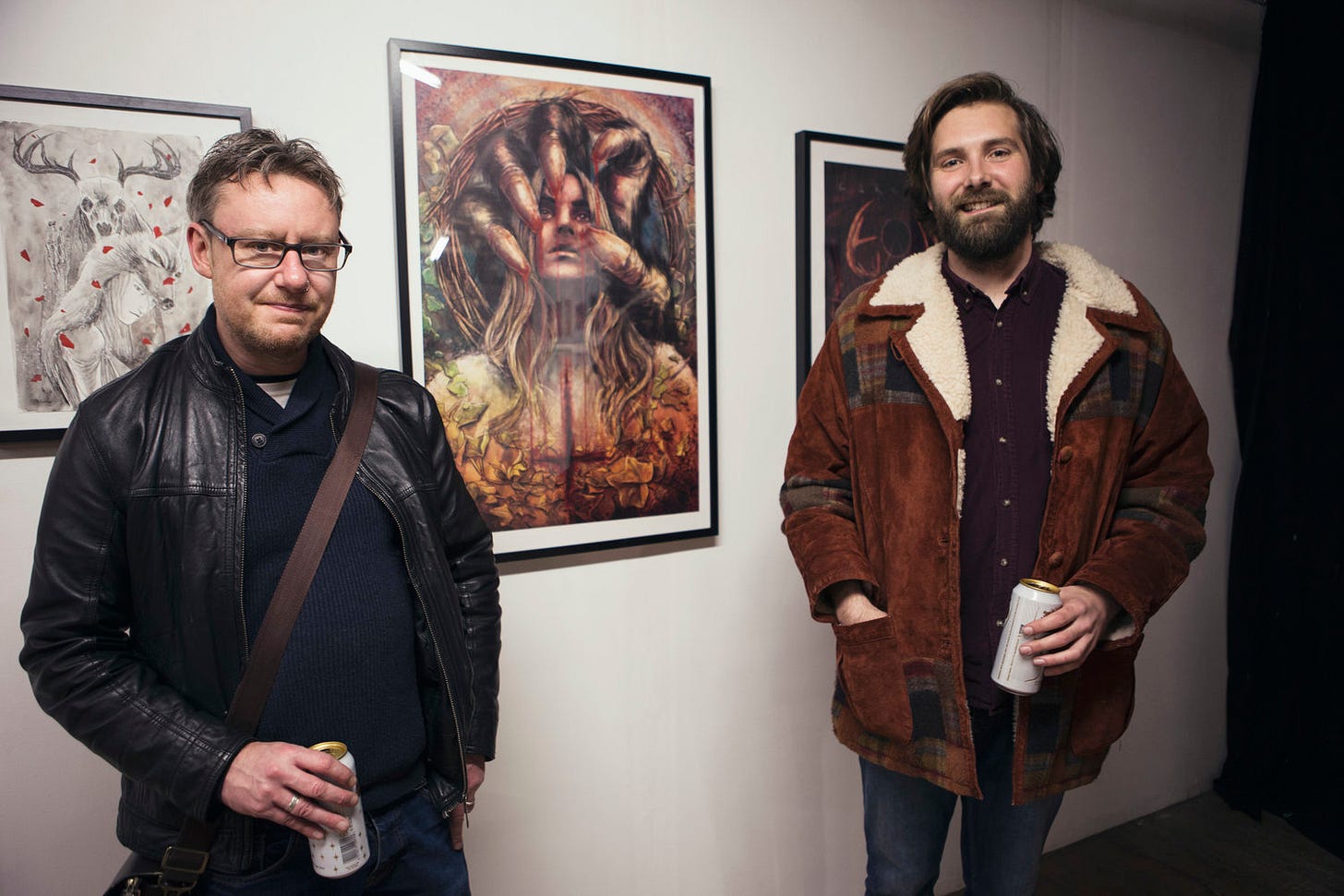 L to R - Rob Talbot and John Pearson at the HERETICS exhibition
He printed a lot of the work for the HERETICS exhibition then framed and hung it all before I'd even arrived in Leeds for setup, as well as working on promotion and ensuring that we were listed as part of the Thought Bubble fringe events. Hell, he even made oversized inverted crucifixes and affixed them to lampposts around Leeds to signpost the exhibition. Which is a longwinded way of saying that BLOOD MOON is as much John's baby as it is mine.
Working on HERETICS turned into a formative moment in my adult life and there's a lot that I want to unpick another day about the process, but in preparing for the launch of BLOOD MOON there was one aspect that became particularly relevant. One of the reasons HERETICS never made it into comic shops yet was the insane level of detail that Martin Simmonds and I were putting into each finished page, to the extent that I was writing as much storytelling into the panel boundaries and page borders as I was the main narrative, which is a heavy burden on an artist.
John and I wanted to learn from that lesson, going into BLOOD MOON, and so worked together on a stripped-back visual style that would be achievable at a consistent level without plunging John into abject poverty while he makes time to draw it.
Primarily we tried to learn from the artist Ashley Wood, whose sequential narratives alternate between divine oil paintings and chaotic pen-and-ink scribbles, concentrating energy and attention at the point where it is needed most. This has led to a unique visual style for BLOOD MOON that we feel captures the right level of energy and spontaneity, whilst acknowledging that John has at least another hundred pages to draw before we're done. The irony is that this stripped-back visual style is the best work John has ever done. There's a lesson in there somewhere.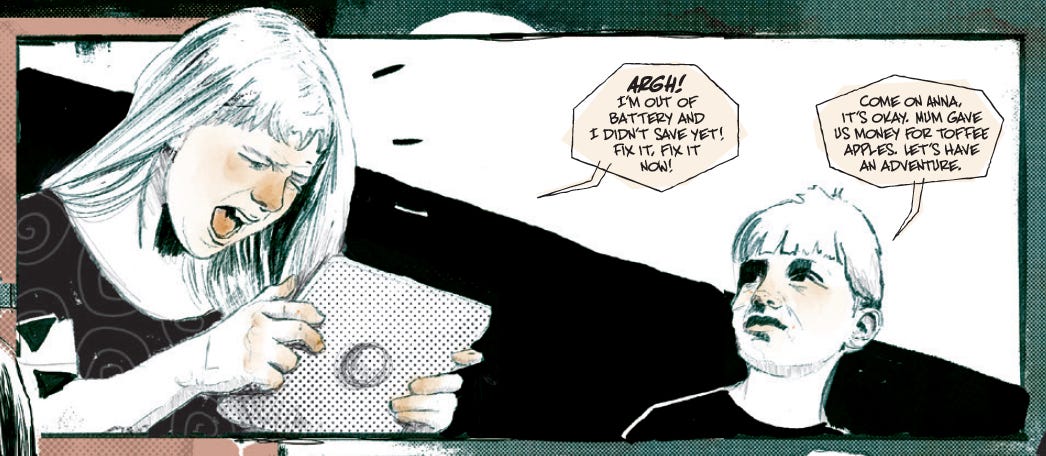 Preview panel from BLOOD MOON
If you want to see more about the BLOOD MOON creative process, John will be sharing previews of artwork there first. This week he's sharing character concept designs exclusively (I think!) with Patreon subscribers.
We haven't got a confirmed date for the first pages of BLOOD MOON going online yet. But John and I will be at Thought Bubble in the comiXology Originals Hall, table number 136, on the 9 and 10 November 2019. If we haven't started releasing BLOOD MOON by then, something has gone horribly wrong.
---
Music is integral to my creative process. Even on the most basic, practical level, I do most of my writing on public transport or surrounded by small children, so I rely on music to drown out distractions and help me take a shortcut into the emotions that are needed for whatever I'm working on. I don't work well around televisions or radio, because I find the narratives or inane chatter too distracting, but music is my shortcut to another state of mind.
IF YOU GO AWAY is the playlist that I listen to whenever I work on BLOOD MOON. Named after and inspired by the Ambulette cover of the 1959 Jacques Brel song 'Ne me quitte pas' (with English lyrics by Rod McKuen), this playlist is filled with the songs that inform my emotions when I write, the songs that take me into the state of mind of the characters and the situations they find themselves in.  It's filled with From Autumn To Ashes, Emilie Autumn, Mocklove, Creeper and Dead Man's Bones. Listen to it on shuffle.
I *can* write without music, but to do it well I'd have to enter into states of keening misery and woeful dirge. For the sake of my children, I'd rather not meditate on the most miserable moments of my life every time I sit down with a laptop.
---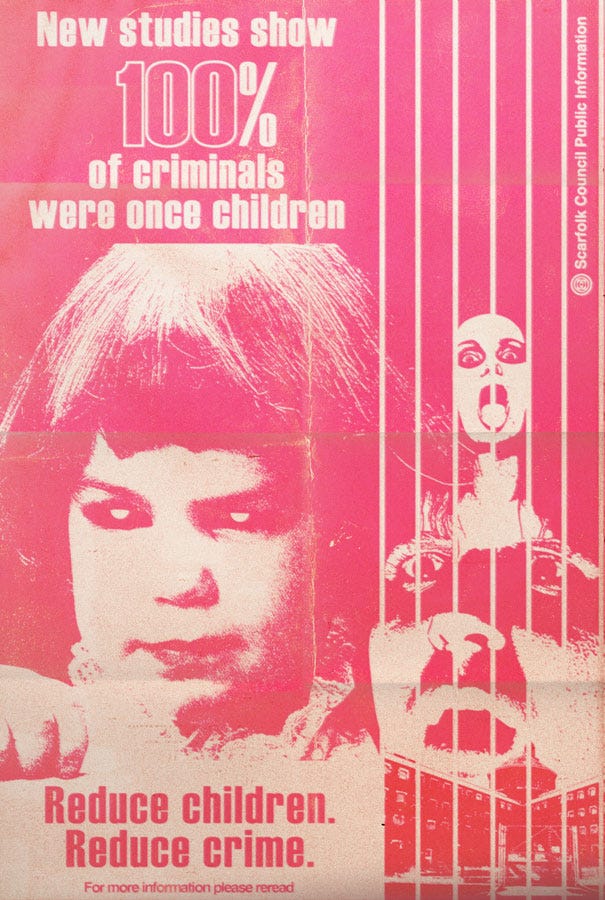 Speaking of Brexit and ideascapes inspired by small minds in the British isles, this week I've interviewed Richard Littler, a screenwriter and graphic designer who was born in Manchester and has lived in America, Russia, Germany and Ireland. Richard is best known as the creator of Scarfolk, a small town in Northwest England perpetually trapped in the 1970s, where "pagan rituals blend seamlessly with science; hauntology is a compulsory subject at school, and everyone must be in bed by 8pm because they are perpetually running a slight fever."
It would be a misnomer to think that Scarfolk was inspired by Brexit, but it is certainly informed at times by the kind of political doublespeak and denial of reality that led to a world where people place votes based on lies printed on the side of a bus. Scarfolk brilliantly satirises the risks posed by Big Brother when living in an Orwellian nightmare. Which we currently do. It's utterly deranged and completely brilliant.
1/ There's something innately British about Scarfolk - how do you reconcile these formative influences with your status as a "citizen of nowhere"?
They say that expats often develop a nostalgic, idealised vision of their homelands, though in my case I would say it was anti-nostalgic. Being a 'citizen of nowhere' means I can easily imagine, or reimagine (memory distorts over time), my own versions of places and then mix them up: Scarfolk refers not only to my 1970s childhood in the UK, it also incorporates my later experiences in Russia and the Ukraine, Poland, Germany and other places I've lived or visited. Scarfolk's also informed by the places I've visited in fiction: Airstrip One, Gilead, the unnamed city in Fahrenheit 451, etc.
2/ Have you found the positive reception to Scarfolk liberating, or do you ever feel limited by expectations around what your creations "should" or "shouldn't" be?
I don't feel limited by the parameters. A well-functioning fictional identity is defined as much by what it isn't as what it is and expectations should only be managed by the rules of the world itself. Most people seem to automatically know those rules when they play along with the conceit - and it's great fun when they do - possibly because of shared childhood experiences and feelings.  
3/ What inspired you to take your first steps as an artist and has that changed? If so, who or what inspires you now to keep creating?
I've drawn pictures and told stories since I was toddler. It's all I know. Professionally, I've worked in drama storyboarding, computer game art, screenwriting and graphic design where I'm typically working towards someone else's or a joint vision. If not that then, when I have written a personal screenplay, for example, I've always had one eye on genre or industry expectations or requirements.
Scarfolk, on the other hand, was liberating because it is instinctively 'me' without any considerations or compromises for perceived commercial viability. Until I became fully aware of people's interest in the oddness of a 1960s-80s upbringing, which lead to Hauntology, I'd kind of assumed Scarfolk would just be a personal thing that others wouldn't relate to. It's a cliché but true that you should just try to stay as close to your own vision as possible. People sense when something is forced or contrived. 
I'll keep creating as long as the ideas come. Inspiration comes from all sorts of places: music, politics, personal life, books, art and films. I tend to start with a 'feeling' or mood that I want to pursue (or wallow in!) and build out from that.
4/ If you woke tomorrow without any limiting factors, without time or financial constraints, what would you make?
I'd write an intertwined story that crosses multiple platforms and genres, something that I don't think has been fully or successfully done yet.
Richard's new book, The Scarfolk Annual 197X, is out now, available from Hive, Waterstones, The Guardian Bookshop, Blackwell's, Forbidden Planet, WHSmith and others.
---
Finally, this week I also got a chance to read a preview of the first issue of Martin Simmonds' new comic-book series with Joe Hill, DYING IS EASY. Created also with Dee Cunniffe, Shawn Lee and Chris Ryall, this is brilliant neo-noir with more pathos than a story about washed-up cops & comedians has any right to have. Obviously I'm biased in thinking that this is another lurid, grimy leap in Martin's evolution as an artist, but also I'm incredibly pleased to see my good friend getting the chance to collaborate with such a phenomenal creative team. Joe Hill's HEART-SHAPED BOX remains one of my favourite horror novels and his series with Gabriel Rodriguez, LOCKE AND KEY, remains one of the high points in the history of Western comic-books.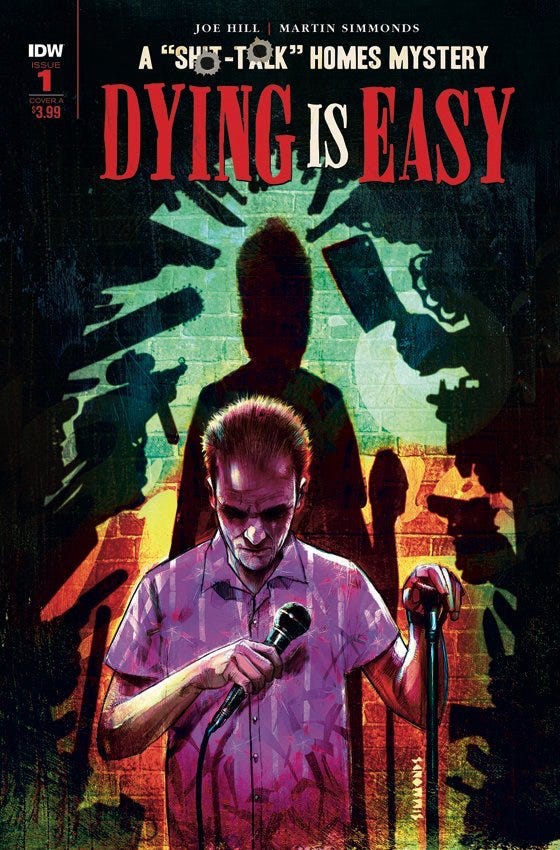 That's it for the second issue of IF YOU GO AWAY. This newsletter is still a pretty new thing for me and I'm aiming to send it out once every two weeks, barring any catastrophes.
If you haven't done already, subscribe for more news next time about BLOOD MOON, the first pages of which should have gone to John's Patreon subscribers by then, more interviews with dark artists that inspire me, and probably a lot of excited chatter about our plans for Thought Bubble this year.
If you or someone you know has been affected by any of the issues that I've talked about today, get in touch on Twitter to let me know, @PMBuchan.