Discover more from IF YOU GO AWAY - News from P M Buchan
News about projects from writer P M Buchan, reflections on the creative process for projects that crashed & burned, plus dark & transgressive art recommendations.
Writing from the ❤️
Also SNIFF GLUE, WORSHIP SATAN + an interview with Konner Knudsen
BLOOD MOON Chapter Two, Part Two, is coming. Catch up on everything that's happened to Owen Fitzwilliam and family since their ill-fated excursion to Trenance Apple Festival at http://bloodmooncomic.com and subscribe to co-creator John Pearson's Patreon to be the first to read the full chapter we've called SNIFF GLUE, WORSHIP SATAN.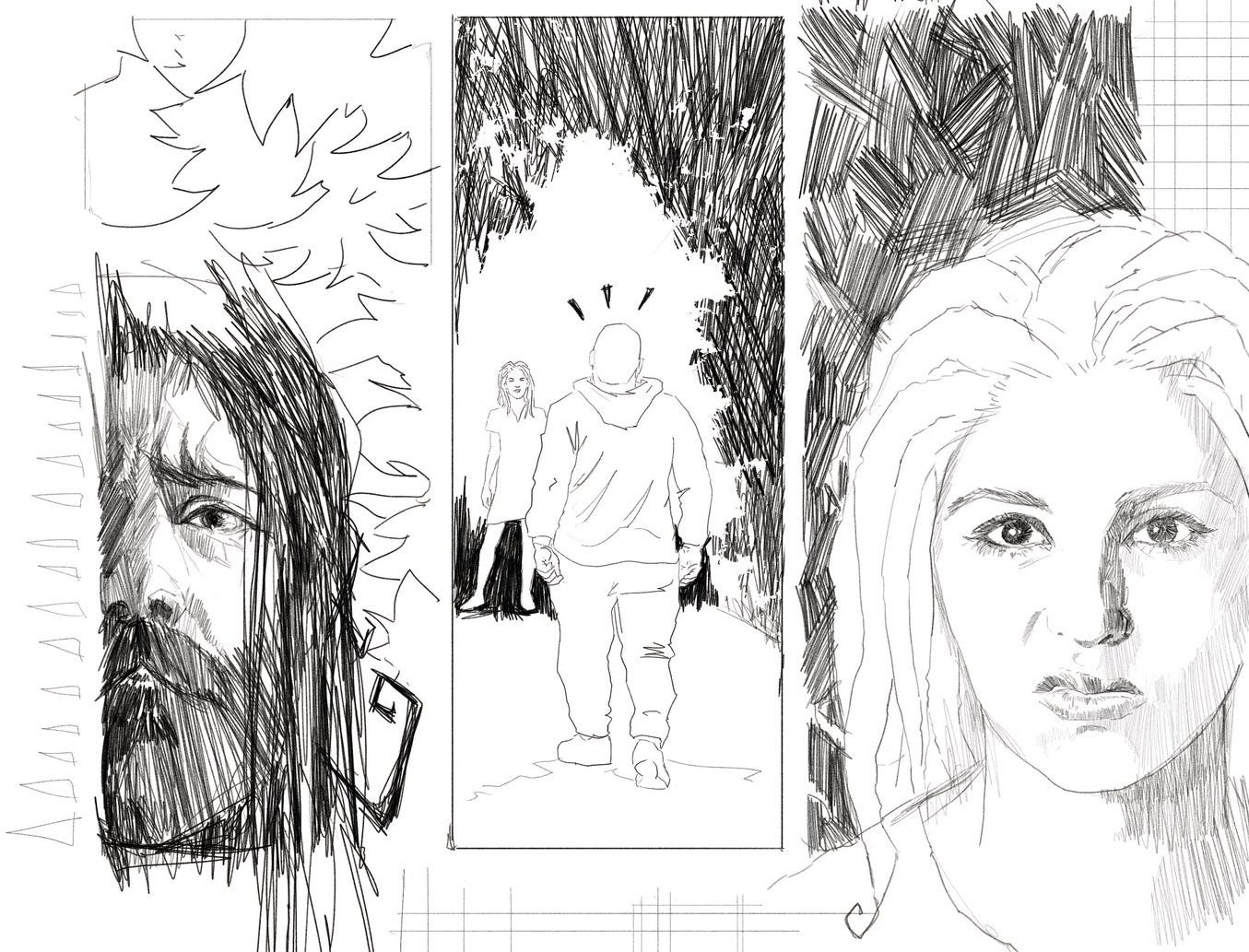 BLOOD MOON Chapter Two, Part Two preview by John Pearson
John and I have both been busy recently working on concepts that we've been asked to submit to a couple of different publishers. It's possible that nothing will come of either opportunity, but being asked is always a welcome confidence boost, particularly while the world is falling down around our ears.
---
Last newsletter, when I was thinking about generating story ideas, I incorrectly credited Phillip Marsden for WHAT'S INSIDE A GIRL?, which I worked on with Jack Fallows (as a remake of an older strip I'd drawn myself). Phil messaged me to let me know my mistake, also sending me a photo of an unfinished strip that we began working on years ago and which I'd never seen before. That got me thinking about the period when I was trying to mine personal experience for story ideas but hadn't found a good way to make it work yet. 
I created my first comic, EVERYTHING IS GOING TO BE ALRIGHT, during my second year of university, at a time when there was no reason that any artist should give up their time to draw my ideas because I had no way to demonstrate that I'd be any better at writing comics than they were. EIGTBA was a very literal account of how I was feeling at that time in my life – hopeless, despondent and lost.
Fun fact: after I'd given up on convincing anybody else to draw it, one of my housemates at the time stepped in and offered to help, but by that point I'd convinced myself that it was something I needed to learn how to do alone. That housemate went on to play pivotal roles in the development of games including Far Cry 4 and Wheelman, most recently acting as a Creative Director at Electronic Arts Montreal, leading the creative vision for the single-player campaign in Star Wars: Battlefront II. Given his prodigal talents, just think about an alternate reality where we'd teamed up and made comics before he relocated to Canada...
Not long after idiotically persevering at drawing EIGTBA myself, I started working in a Newcastle-based comic-book store called Travelling Man, a chain established in 1991 that has been nominated for Eisner awards three times. During my lunch breaks, I tried to read every graphic novel in print and there seemed to be clear water between successful superhero comics and manga, and alternative diary comics such as Jeffrey Brown's EVERY GIRL IS THE END OF THE WORLD FOR ME and Liz Prince's WILL YOU STILL LOVE ME IF I WET THE BED? I didn't have anybody to collaborate with on more mainstream-syle comics, so that made slice-of-life diary comics looking like the only viable option.
The problem was that diary comics didn't feel like they belonged to me. The most successful British diary comic at the time was British Comic Award-founder Adam Cadwell's THE EVERYDAY, which was a gentle, meandering account of his social life and everyday observations. Diary comics were for normal people, not for alternative types who wore red nail varnish and eyeliner to ska-punk nights and sunny Mad Caddies t-shirts to goth nights, never quite fitting in anywhere.
I might have persevered, but the real problem was that cartoonists have all the tools at their disposal to document the minutiae of their everyday lives, whereas if I wanted to create diary comics I'd need to convince an artist to draw them for me.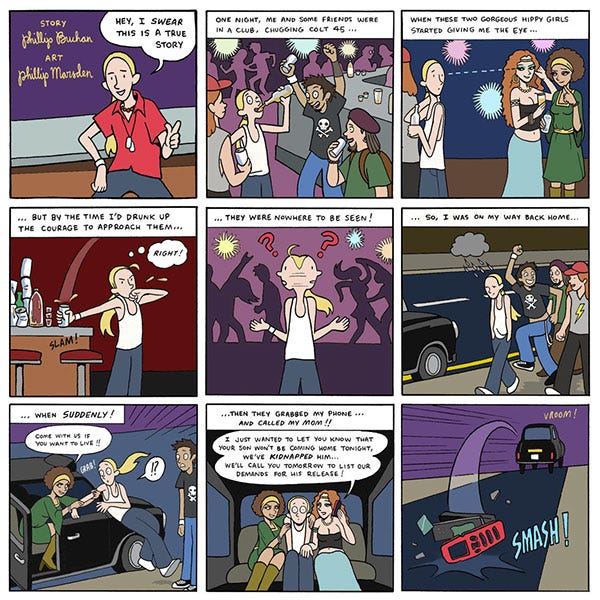 TRUE STORY page one – Art by Phillip Marsden
I had a couple of aborted attempts with Phillip Marsden, who I met working at Travelling Man and who I co-created BLACKOUT with, along with Jack Fallows. Phil and I worked on an entry for a Colt 45 competition that involved submitting a three-page comic strip about a good time that we'd had drinking their beer. In our case, this involved documenting the true story of the time that I was kidnapped walking home from a nightclub by two girls who bundled me into their car and drove me back to their flat, where they stole my phone and we stayed up all night talking and smoking weed. In hindsight, there was probably an invitation there for me to do more than sleep alone on their settee, but nonetheless that's all that happened.
The competition entry was unsuccessful. Because I had so many improbably tales from my misspent youth, I hoped that Phil and I would turn them all into comics, but he had better things to do with his time. See below an aborted attempt at a comic about being 16 years old and hanging around Old Eldon Square in Newcastle-Upon-Tyne with my friend Gav, an older punk who took me under his wing and was always happy to drink super-strength cider with me before we went to watch bands at the Black Swan. At a time when everyone else at my school was hanging around fields on a Friday night drinking alcopops, the Black Swan was the first place that I ever drank alcohol and became my home away from home for a couple of years.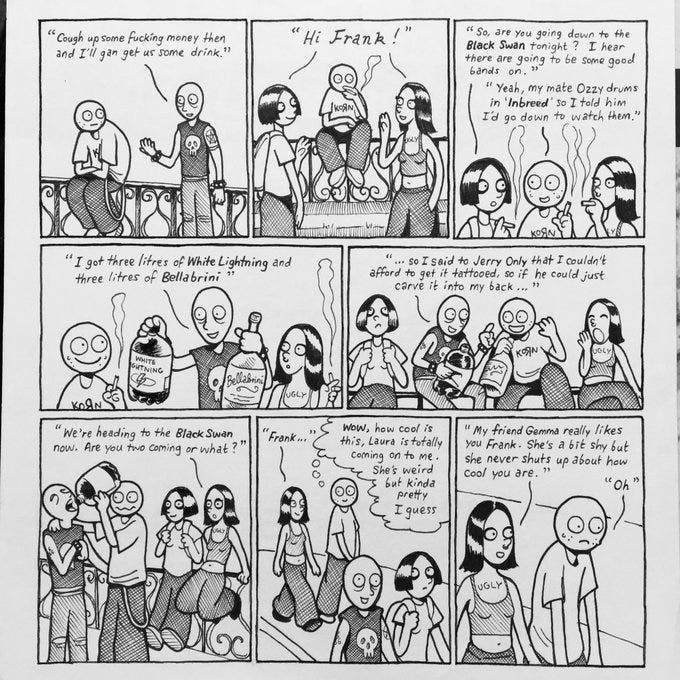 Unfinished strip by Phillip Marsden & P M Buchan
Fun fact number two: the Black Swan is where I met another Newcastle teenager, Richard Dawson, who was part of our extended circle of friends, and who grew up to be one of the UK's best-loved folk-influenced musician. The Guardian gave his most recent album five stars!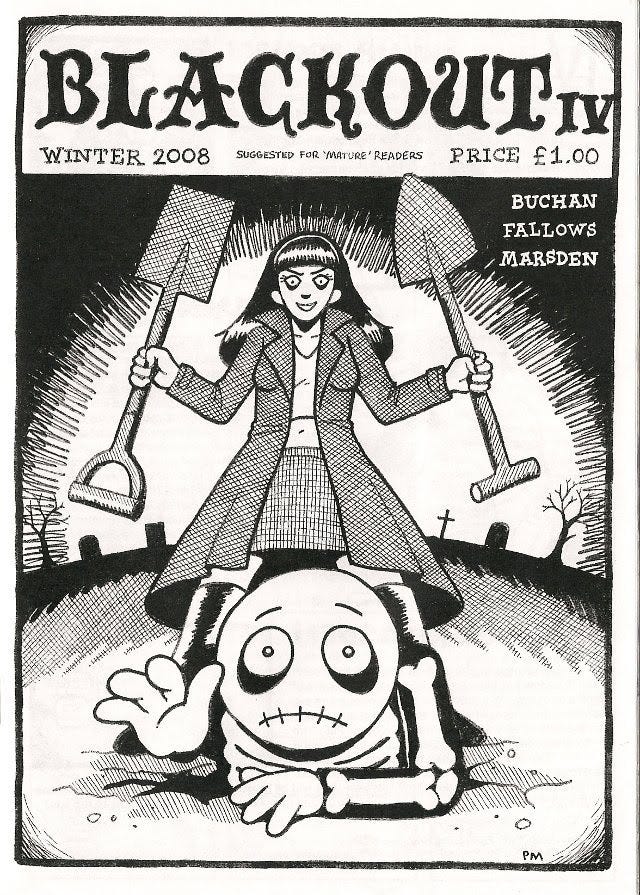 BLACKOUT IV cover by Phillip Marsden
The more literal comics weren't working and it wasn't until Phil Marsden and I created THE THREE COFFINS for BLACKOUT that I really found a way to make autobiography work for me. Set in the afterlife and filled with succubi and suicides, it took all my feelings of inadequacy, fear of missing out, fear of making the wrong decision and fear of indecision, and used them as fuel to create something new. That was probably the turning point when I realised that emotions, not events, were what I should be mining when I write. Emotional truth is what I care most about. I can't stand stories where you know that the characters will eventually drop a ring off in Mordor, whatever string of coincidences and manipulations are needed to get them there. What I love are stories like SCALPED, where the characters are true to themselves and where plot is led by characters, not the other way around.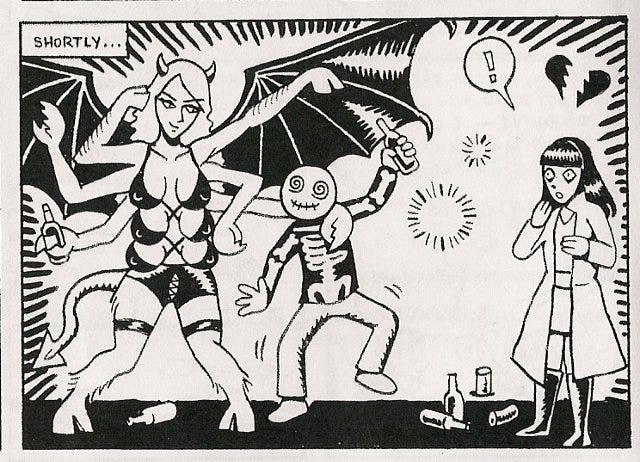 THE THREE COFFINS - Art by Phillip Marsden
That was where my writing style was born. I want to write in a way that's emotionally honest, whatever the cost, because the world is full of bullshit and I don't want to live surrounded by liars. Emotional integrity informs the majority of what I've written since BLACKOUT, where every strip is an inverse wish-fulfilment cautionary tale about getting what you wish for and everything turning to ashes in your mouth as a result. LA BELLE DAME SANS MERCI began as a cautionary tale for people tempted to stray from the path of their relationships. I guess you could call it my adult version of Little Red Riding Hood.
Everything that I've written since builds on that core concept. BLOOD MOON is populated by a cast of characters who are tempted to do what's easy instead of what's right, to turn their backs on commitment and responsibility because it's easier to pursue something new than it is to put in the work to fix something difficult.
The witches and ghouls and goblins that I write could be real or imaginary, but they're not what interests me the most. What interests me is how people respond to the threat posed by monsters. What happens when a person reaches their breaking point, or feels pressured to do the thing they promised to themselves that they would never do. What's left when you deconstruct the charade that we create to protect ourselves? I don't know if I'll ever find the answer, but I enjoy asking the question.
---
Each newsletter I speak to an artist whose work has inspired me and this week I've interviewed Konner Knudsen, a writer and editor of comics, short fiction and poetry who currently works as an Assistant Editor at Dark Horse Comics.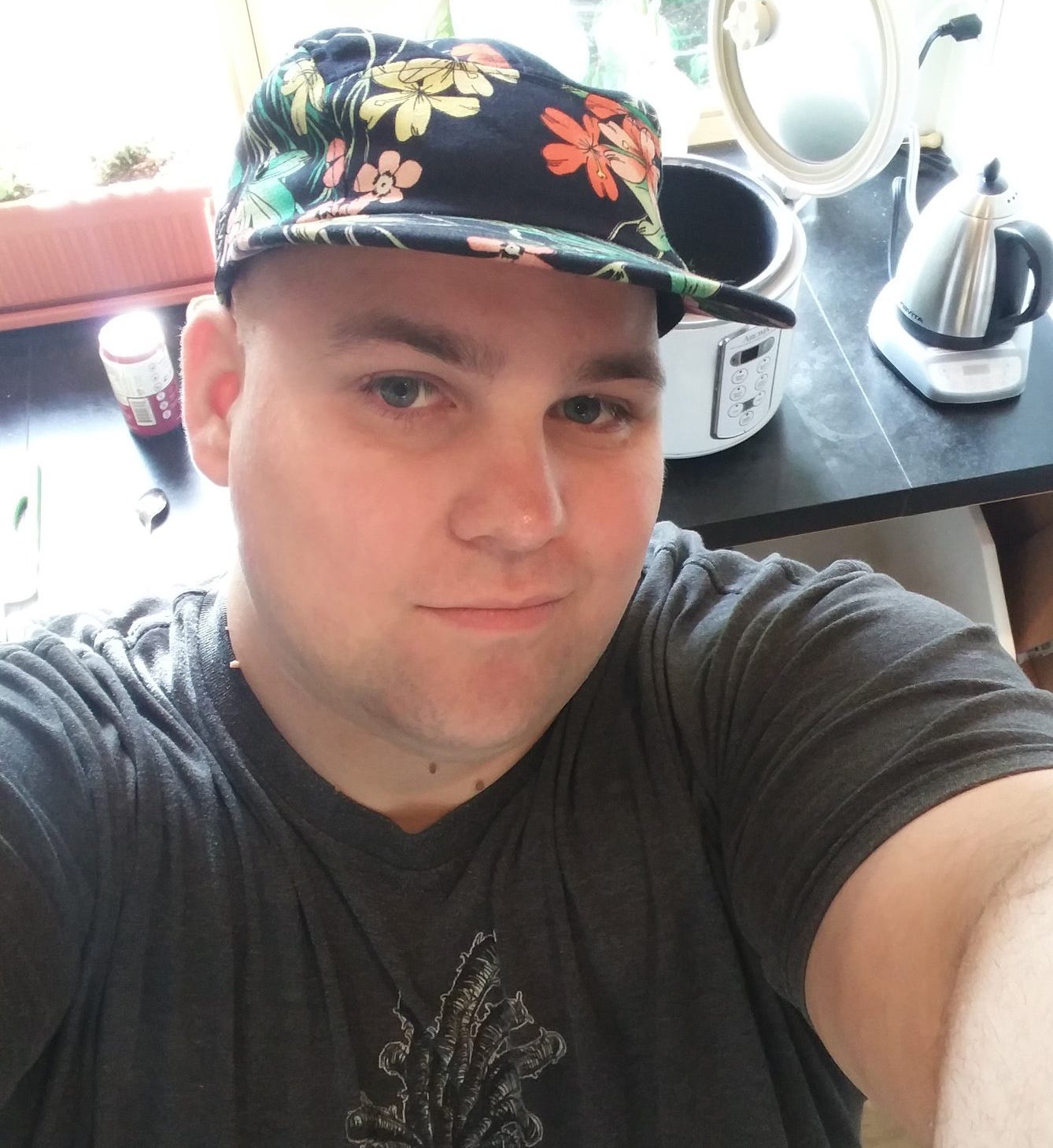 Konner is one of a new generation of professionals who are challenging the status quo in the comic-book industry. My money is on Konner to be the editor behind some of the most exciting new titles in the coming decade, after paying his dues and working on a string of successful licensed comics including Stranger Things, Aliens, Eerie, Creepy and American versions of one of my favourite manga series, Berserk.
1/ What drove you to become an artist and how have your motivations changed over time?
You know, I have written and deleted about five different answers to this question, because it is about deciding which moment was the moment, right? But all those answers boiled down into one truth: I was a lonely kid in rural Oregon with very few friends and a big imagination. So I started creating my own stories. Art (to me) is about sharing stories, emotions, and feelings. My motivation has never changed in that regard, it is a constant reaching out for connection.
However, I think there is a difference between creating art and "becoming an artist". That moment happened when I was about half finished with a degree in psychology when I came upon the realization that I wanted to be a writer instead of a therapist. I began taking my art seriously, no longer just leaving my poems and short stories in notebooks to rot, but typing them up, seeking out critique. Investing time and sweat into my craft.
Then again, years later re-committing to being an artist when I decided to go back to school for comics after spending my mid-twenties working 40 – 50 hours a week in a very cold butcher shop at a horribly-cheap American grocery chain. It is really easy to lose sight of your creative goals when your day job feels like a pissed off elephant putting its foot on your back and pressing you into the mud... I decided, the risk was worth it and the debt was worth it, if it meant I could have more tools to tell the stories I wanted to tell.
I don't think my motivation ever shifted; it's always been about connection. It has always been me reaching out with my truth, hoping that others would relate or feel better about their own lives, even for a moment.
2/ How did your creative path lead you to start work as an editor?
Honestly, I initially became an editor because I was seeking out community. Before I was an editor at Dark Horse, I started a small regional lit Journal called Cascadia Rising Review with my writing group. We just wanted to figure out what the "voice" of the Pacific Northwest is, you know? Help other folks in our community share their work. It was great, and my friends have been continuing that dream.
In pursuit of honing my own craft as a writer, I sought out every possible avenue for learning that I could afford, which eventually led me to apply for an internship at Dark Horse Comics. I suppose in the pursuit of improving my craft I discovered I didn't only want to tell my own stories but wanted to help other people tell their stories too. And of course, comics are wonderfully collaborative as a medium, and the world is full of passionate folks eager to tell stories together.
3/ Who or what has been the greatest source of inspiration across your career?
This is cheesy, your readers might hate it, but it is my father. You see, he is a fantastic oral storyteller (as was his dad), the kind of person you may find at any bar or pub. The noisy bastard in the corner with four or five people gathered around him laughing or on the edge of their seats awaiting the punchline.
As annoying as that person tends to be, you start listening, you lean in, you are hooked by whatever yarn he is spinning, and even though you might not admit it out loud, you were entertained. I grew up with that guy. He would come home at 10pm from a 12-15 hour workday and make up some fantastic tale from scratch just to get me to go to sleep when I was a kid. He has been there at every crisis, and every life-altering catastrophe ready to help, and willing to listen. He taught me how to always get back up after getting knocked down and never once told me to give up on my dreams.
4/ What kind of qualities do you look for in collaborators as part of your role at Dark Horse?
I seek out those with an extreme love for comics. People who are telling their stories in this medium because they can't imagine telling them any other way.  Folks who choose to do things the harder way if it means the final piece will be that much better.
I look for people who are: flexible, determined, innovative, passionate, honest, and unique. People who get that glint in their eye when you start talking about the comics that inspire you. Those who see the alchemy of every page and aren't afraid to jump in.
5/ What have you learned about making comics that you wish you had known earlier in your career?
That you don't need anyone's permission to make comics. You don't need an agent or a publisher to approve of your pitch. You can literally sit at your kitchen table by yourself or with friends and make a comic by hand from scratch and print it out at a local library.
Also, don't be shy about seeking collaborators, you never know what one of your peers might think of your work. Just taking that awkward first step of saying to a stranger or acquaintance, "hey, I really love your work on ______, it would be a dream to work with you on something someday."
There might be other things, but they are small compared to these two. Take that leap, dear reader. Tell your stories, reach out!
6/ If you woke tomorrow and were no longer constrained by time, budgets or even skills that you haven't learned yet, what would you make?
Oh boy, remember those piles of notebooks I told you about earlier? I have a story in there that has been waiting to find its way onto the printed page for way too long. I would finish making that, probably as a massive graphic novel.
---
This week's playlist, Top Shop Tyrant, began as a compilation of my favourite new tracks released each week on Spotify over the past year or so, and grew into a catalogue of some of the best bands I discovered in 2019 and 2020.
From the timeless heavy metal of Bokassa to the stomping insights of IDLES via a handful of Japanese punk bands, Tropical Fuck Storm and the increasingly relevant political punk songs Die For The Government by Sharptooth and Hate Conquers All by Anti-Flag, I hope you'll give this one a go and discover something new.
---
I started collecting links to some of the most interesting things I've found on the internet recently, for your amusement.
Since the coronavirus pandemic, museums have been increasingly active on social media, sharing virtual access to their collections. One of my favourite examples has been a tweet from Barnsley Museum that enticed museums from around the world to share the creepiest objects in their collections.
The Studio Ghibli museum is offering video tours during lockdown, revealing its secrets to those of us who have never been able to visit. We've more or less raised both of our children on Studio Ghibli movies, following a love affair that I had as a child with the US-dubbed re-release of Nausicaä of the Valley of the Wind as Warriors of the Wind. 
---
If you want to talk about anything discussed in this newsletter, say hi to me on Twitter. I'm P M Buchan, co-creator with John Pearson, Aditya Bidikar and Hannah Means-Shannon of the comic-book series BLOOD MOON, a contemporary English folk-horror set on the eve of the UK's divisive Brexit referendum. I'm co-creator of HERETICS, LOVE WILL TEAR US APART, LA BELLE DAME SANS MERCI, and BLACKOUT, and have written for magazines including The Times Literary Supplement, Rue Morgue, Starburst and SCREAM: The Horror Magazine.
The world is burning out there so take care of yourselves and make sure the people that you care about know that you love them. I'm so deeply embedded in UK politics that I don't feel qualified to talk about what's happening in the US right now, other than to say that #blacklivesmatter and that "'A riot is the language of the unheard." Everything that I know about policing and the American legal system, I probably learned listening to the third series of the SERIAL podcast.
We haven't had much of a history of civil disobedience in the UK in the past couple of hundred years, but I do know that tackling gross structural inequality and achieving meaningful change isn't easy wherever you are in the world. Whatever you do, stay safe.